National Diversity Education Program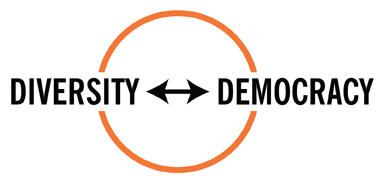 "How and why is diversity the foundational
and functional basis for American democracy?"
---
The National Diversity Education Program is designed to bring to a broad spectrum of students and teachers in America a new approach to diversity education!
After engaging educators from across the nation in researching best practices in diversity education, and in surveying and testing methodologies in communities throughout the country, the Japanese American National Museum recommends a simple, highly accessible approach for teaching and exploring the complexities of diversity: DIVERSITY ↔ DEMOCRACY
At the core of this approach is the principle that diversity and democracy are integrally related to each other. One cannot be adequately discussed or taught without the other.
The project's initial scope worked with education partners in five key states – Arkansas, California, Illinois, Michigan, and Texas – to develop resources that modeled this new approach to diversity education. Please visit Program Updates for project overview and to find educational resources and project samples produced by National Diversity Education Program participants.
Photos: Don Farber
The guiding principles below are the basis of the Diversity ↔ Democracy approach for diversity education:
– We, the people, shape democracy
– I, too, shape democracy
– Those who have struggled for freedom and equality have expanded democracy's reach for all people
Why follow these principles for diversity education?
Because equality is ingrained in American democracy. When the United States was founded, it was not just a new nation, but a new kind of nation – one in which all people "are created equal."


Because America is a nation of diverse cultures – and the struggles of these peoples have expanded and strengthened the notion of democracy in this country.


Because an American democratic society encourages active participation by an informed, diverse citizenry.
No longer taught in isolation, diversity is now seen in context with multiethnic American history, civil rights—and more significantly—civic engagement, because improving the understanding of diversity requires active participation by all citizens.
Diversity and American democracy are inextricably linked.
One cannot be adequately discussed or taught without the other.
---
Ongoing Projects of the National Diversity Education Program
This diversity education model has been informed and/or tested by the Japanese American National Museum's major areas of work below:
NATIONAL CENTER FOR THE PRESERVATION OF DEMOCRACY, an educational center devoted to exploring the intersection of diversity and democracy (launched in October 2005)


ENDURING COMMUNITIES, a five-state diversity education and history project that was awarded a prestigious $1 million federal grant (FY06-FY09)


REVISIONING + ENGAGING MULTIETHNIC ARTS AUDIENCES IN AMERICA, a landmark new three-year effort (sponsored in part by The James Irvine Foundation) examining the cultural interests of ethnically diverse audiences (FY07-FY09)


NATIONAL INSTITUTE FOR EDUCATORS, a professional development program in diversity education that has involved educators from 13 states and won Congressional praise in 2005.