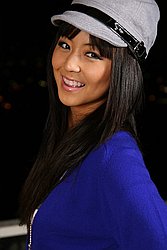 Raised in Los Angeles, Sheri was deeply influenced by gospel and R&B. Rooted in her passion for music, she has blossomed without restraint to the soulful voice she is today.
Through the years, Sheri has experienced a positive and successful response to her dual talent in singing and songwriting. Her success had propelled her to embark on an independent tour through various notable clubs and performance venues in Los Angeles, including B.B. King's (Universal City, CA), The Gig (Hollywood, CA), Boardners (Hollywood, CA), Cohiba (Long Beach, CA), and more.
Sheri had enjoyed success as a performer within her local sphere of influence, and was discovered at one of her performances by a multi-Grammy award winning producer, Scott "Shavoni" Parker. Sheri has since recorded Can't Stop, Can't Breathe, and her very own original ballad, With or Without You.
Recenlty, Sheri has also been awarded, as part of Million Dollar Babies, the People's Choice Award at the 2008 Kollaboration Acoustic Show 2. She hopes to expand her audience nationally and globally and is currently undergoing preparation to do so.