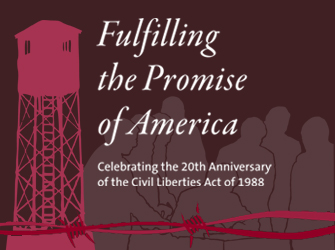 Honoree Biographies
The 2008 Annual Gala Dinner will recognize some of the key players who contributed to making the Civil Liberties Act of 1988 a reality.
Aiko Herzig-Yoshinaga
(National Council for Japanese American Redress)
Aiko Herzig-Yoshinaga played a pivotal role in both the coram nobis cases, NCJAR's lawsuit, and the redress campaign through her historic research at the National Archives in Washington, D.C., including as the senior research associate for the Commission on Wartime Relocation and Internment of Civilians (CWRIC) hearings. She worked as a consultant and researcher for the Office of Redress Administration of the Department of Justice in the 1990s to help verify the eligibility of Japanese Americans for reparations. She is retired and living in Gardena.
William Hohri
(National Council for Japanese American Redress)
William Hohri founded the National Council for Japanese American Redress (NCJAR) and pursued $24 billion class-action lawsuit against the U.S. government on behalf of Japanese Americans for having their civil rights violated during World War II. Though the suit was disallowed, it was credited as a motivating factor for Congress to craft its own redress bill rather than let the courts decide how much the government should pay in reparations. Mr. Hohri is retired and living in Pacific Palisades.
Daniel K. Inouye
Daniel K. Inouye, senior U.S. Senator from Hawai`i, suggested the creation of the Commission on Wartime Relocation and Internment of Civilians (CWRIC) in 1979 as a stepping stone to enabling a successful redress bill to pass through Congress. Senator Inouye also helped to turn redress payments for Japanese Americans into an entitlement, keeping it from the difficult annual budget process. A recipient of the Medal of Honor, Senator Inouye is the third-longest serving member of his chamber, having been elected to the Senate in 1962 after first being elected to the House when Hawai`i became a state.
Rod Kawakami
(Lead Counsel, Gordon Hirabayashi coram nobis case)
Rod Kawakami was the lead attorney for the Gordon Hirabayashi coram nobis case in the 1980s. The judge ruled in 1986 for Hirabayashi involving his forced removal conviction, but denied him as it pertained to curfew laws. Hirabayashi appealed and his curfew conviction was overturned in 1988. Today, Kawakami maintains a solo general practice in Seattle, where he has been recognized with numerous awards for his support of civil and immigrants' rights.
Dale Minami
(Lead Counsel, Fred Korematsu coram nobis case)
Dale Minami led a team of mostly Sansei lawyers who represented Nisei Gordon Hirabayashi, Fred Korematsu and Minoru Yasui, all falsely convicted during World War II, whose cases were revived in the 1980s through a little known procedure: writ of coram nobis. Minami was lead counsel for Korematsu's appeal and, in 1983, the conviction was vacated. Today, Minami is a partner with Minami Tamaki in San Francisco. Minami has been recognized by the American Bar Association with its Thurgood Marshall Award and by the American Civil Liberties Union with its 2003 award, among many others.
Norman Y. Mineta
Norman Y. Mineta, who was incarcerated with his family in the Heart Mountain, Wyoming concentration camp during World War II, was first elected to Congress in 1974. Rep. Mineta along with Rep. Robert Matsui personally advocated for the passage of the redress bill before the House of Representatives on September 17, 1987, the 200 th Anniversary of the Constitution. After serving in Congress for two decades, Mineta retired to private sector. He became the first Asian American to serve in a Cabinet post when President Clinton nominated him as Secretary of Commerce in 2000 and then was asked to serve as Secretary of Transportation in 2001 by President George. W. Bush, which he did until July of 2006. He currently works for Hill & Knowlton.
Peggy Nagae
(Lead Counsel, Minoru Yasui coram nobis case)
Peggy Nagae served as the lead counsel for Minoru Yasui as part of the coram nobis cases of the 1980s. Yasui's lawsuit, filed in Portland, was turned down by the judge in 1984, but Yasui appealed. However, he passed away before the appeal could be heard and the case ended with his death. Nagae founded a consulting firm in 1988 that specializes in cultural competence and diversity, communication and strategic planning. Appointed by President Clinton to the Civil Liberties Public Education Fund Board, Nagae is co-chair of the Leadership Advisory Council for the National Asian Pacific American Bar Association. She currently resides in Montana.
Alan Nishio
(National Coalition for Redress/Reparations)
Alan Nishio was founder and co-chair of the National Coalition for Redress/Reparations (NCRR), which came into existence in the midst of the redress campaign. NCRR recruited individuals to testify before the CWRIC hearings and organized a major lobbying campaign in 1987. Nishio most recently was Associate Vice President for Student Services at California State University, Long Beach, before retiring. He is currently the President of the Board for the Little Tokyo Service Center and is a member of the California Japanese American Community Leadership Council.
John Tateishi
(Japanese American Citizens League)
John Tateishi was the Chair of the Japanese American Citizens League (JACL) National Committee for Redress (NCR) starting in 1978. He eventually became the staff coordinator and then director of the committee. As the JACL's primary representative for redress, Tateishi spent more time on this campaign than any other individual, crafting legislative and public affairs strategies and focusing on direct lobbying. Tateishi eventually served as National Executive Director of the JACL beginning in 1999 and after 9/11, led JACL chapters to support Muslin and Arab communities. He was the 2007 recipient of the Splendlove Prize on Social Justice.
Pete Wilson
Pete Wilson was a U.S. Senator from California in the 1980s. He was convinced by Japanese American farmers in the Central Valley to support redress. He co-sponsored the bill and voted for the Civil Liberties Act of 1988. Formerly Mayor of San Diego and a California State Assemblyman, Wilson was elected the 36 th Governor of California in 1991, serving for two terms. Since leaving office, Wilson has served on numerous boards for business and non-profit organizations.