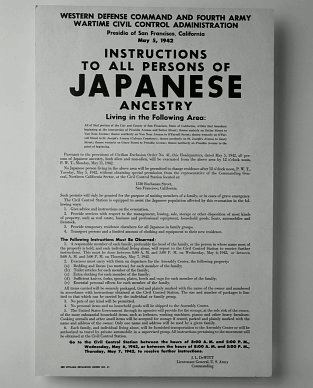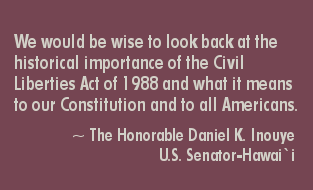 A Moment of National Redemption
Join us as we present this important chapter of our American history that gave a voice to our community and awakened the conscience of our nation.
The Japanese American Redress Campaign
On August 10, 1988, President Ronald Reagan signed the Civil Liberties Act of 1988 which granted an official government apology and reparations to those eligible Americans of Japanese ancestry who were unconstitutionally forced from their homes—and many who also were falsely incarcerated in domestic concentration camps—by the U.S. government during World War II. The signing of this Civil Liberties Act, a direct result of the Japanese American redress campaign, meant more than just a vindication for those whose rights were violated. It represented a triumph of American democracy and a coming together of individuals and groups beyond the Japanese American community including political organizations and elected officials who gave their support simply because it was the right thing to do.
Learning About Redress
In its on-going efforts to fulfill its mission to preserve and share the Japanese American experience, and in commemoration of the 20th Anniversary of the passage of the Civil Liberties Act of 1988, the Japanese American National Museum has focused its energies in 2008 on the lessons and legacies of redress with its Redress Remembered public program series. Through on-going partnershps and collaborations such as with UCLA and Dr. Lane Hirabayashi, George and Sakaye Aratani Professor of the Japanese American Internment, Redress and Community, Asian American Studies, the National Museum will explore new perspectives on redress, in particular how it was able to succeed despite the enormous obstacles.
Special Museum Events
The National Museum is pleased to present two major redress-related special events: its 2008 Annual Gala Dinner, Fulfilling the Promise of the America: Celebrating the 20th Anniversary of the Civil Liberties Act of 1988, set for Saturday, April 19, at the Hyatt Regency Century Plaza Hotel; and its National Conference, Whose America? Who's American? Diversity, Civil Liberties, and Social Justice, set for July 3-6, in Denver Colorado. Both events will focus on the story of redress and its implications to American democracy today and for generations to come.
Redress Resources
Additional informational resources and historical links on redress-related subjects are available in the Resources section and also includes other community and national organizations who are marking the 20th anniversary of redress with their own programs, events, and resources. The National Museum collection through the Hirasaki National Resource Center also contains redress artifacts and can be accessed online at janm.org/nrc.