2010 Gala Dinner & Silent Auction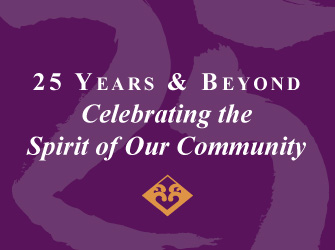 Saturday, April 10, 2010
5:30 PM – Silent Auction and Reception
7:00 PM – Dinner and Program
Hyatt Regency Century Plaza Hotel
2025 Avenue of the Stars
Los Angeles, California
The National Museum's 2010 Gala Dinner theme celebrates the 25th Anniversary of its incorporation and will recognize the collective support and contributions by our dedicated volunteers and community organizations who have laid the foundation for the Museum to become what it is today—the home for our history and our community.
From the beginning it was the shared dream of many to create an institution, the Japanese American National Museum, so that the important lessons and legacies of the Japanese American experience would not be forgotten. Since the Museum's inception, it has dedicated its work to preserving and sharing the Japanese American story through innovative programming and exceptional educational programs to hundreds of thousands each year locally, nationally, and internationally. Now, in 2010, the dream continues as the Museum broadens its outreach to new and diverse audiences while incorporating additional unique aspects of our story.
Through the Gala Dinner program and Journal, the National Museum will present a celebration and recognition of the many individuals, communities, organizations, and business from across nation who selflessly came together for one common goal—to ensure that one of America's most important chapters in history is never forgotten, nor repeated.
We invite you to participate in the National Museum's Gala Dinner celebration. Click on the following links to download information about:
The dress for this evening is black-tie optional. For more information about the Annual Dinner, contact Janis Wong at 213.830.5690 or jwong@janm.org. You can also contact Susan Truong at 213.830.5669 or struong@janm.org.
Parking Information
$12 Self Parking (Pre-pay service available beginning at 5:00 PM through parking attendant)
$16 Valet Parking (Pre-pay at Registration)
SPECIAL JANM HOTEL & AIRFARE
Hyatt Regency Century Plaza
$179/night (Friday, April 9 & Saturday, April 10 only). Reservations must be made directly with the Hyatt at 310.228.1234 by Monday, March 29th.


2010 Gala Dinner Platinum Sponsor
For special JANM fares, visit AA.com, or call 1.800.433.1790, for details. PROMO Code: 6440BB under Japanese Am Ntl Mus. No ticketing fee if purchased on-line.