Honoree Biographies
The 2011 Annual Gala Dinner will recognize Noritoshi Kanai, Jane Aiko Yamano Family, and Stan Sakai.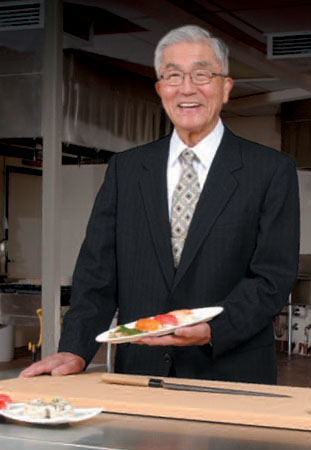 NORITOSHI KANAI
Like a significant number of Japanese in the post-World War II era, Noritoshi and Fusako Kanai moved their family from Japan to America in 1964 so Mr. Kanai could run a Japanese subsidiary business, the Mutual Trading Company. Various restrictive immigration laws were changing in the 1950s and 1960s, opening what had been a closed door to Japanese immigrants since 1924. The Kanai family's relocation represented the beginning of a new migration from Japan to America. It also meant the expansion of the historic Nikkei communities in the United States as well as the sharing of Japanese culture with Americans.
Both Noritoshi and Fusako Kanai were instrumental in the sharing of Japanese culture in the U.S. as well as providing support of the Japanese American community. Mr. Kanai, in a bold move, is credited with introducing sushi bars to America by persuading local Japanese restaurants to offer various forms of raw fish and seafood in a style more suited to Tokyo than Little Tokyo in the 1960s. Mutual Trading became a supplier of sushi for these restaurants. Beginning with Kawafuku and followed rapidly by restaurants named Eigiku, Tokyo Kaikan, and Osho, sushi bars became part of the Japanese eating experience and as common as pizza parlors and taco stands.
Fusako involved herself with the social clubs, especially the Southern California Japanese Women's Society, the Ladies' Auxiliary Guild for the Japanese Philharmonic Orchestra, and the Beikoku Kita Kai, among many other organizations. She has helped to raise funds for the Japanese American National Museum, Japanese American Cultural and Community Center, National Japanese American Memorial Foundation, and the Kyodo System Japanese Language School.
The Kanais raised their two children, Scott Hiroto and Atsuko, in America. Scott is a dentist with the Little Tokyo Dental Group, while Atsuko is part of the Mutual Trading Company business. The Kanais have three grandchildren as well and their family experience parallels the lives of the original immigrants and their descendants. Their family story echoes the family stories of the first Nikkei in America.
Learn more about Noritoshi Kanai on our Discover Nikkei website: Sushi in Los Angeles
(available in English, Japanese, Spanish, and Portuguese)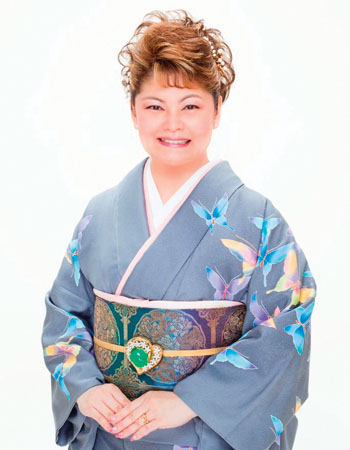 JANE AIKO YAMANO FAMILY
When young Jane Aiko Yamano was growing up in America, she never dreamed her destiny would be in Japan, the home of her grandmother, Aiko Yamano. But that is where the family business was headquartered and despite Jane's inability to speak Japanese and unfamiliarity with Japanese culture, she was called to Tokyo with her family when she was 12. By the age of 18, Jane was being groomed to take over the business from her grandmother.
These were large shoes to fill. In 1925, Aiko, a grade school dropout, opened her first Yamano Hair Salon in Tokyo. Once a lowly assistant not allowed to even watch hair being cut, she had to pay to learn the trade. But once established, she displayed remarkable ambition and introduced perm techniques to Japan in 1934. In 1949, she established the first Yamano Beauty High School (later Yamano Beauty College) and would expand into other related areas such as cosmetology, language, and kimono schools. The expansion of the Yamano Beauty Colleges into America was why Jane was born in Los Angeles, since her father was responsible for this American venture.
Like her grandmother, Jane had to work diligently to understand the family trade. She had to learn how to manage hair contests, beauty pageants, and other activities established by her grandmother. It was only in 1984 that Jane felt confidant to take over a $9 million annual business. Jane has done more than maintain the business, expanding the company beyond even what her grandmother might have dreamt.
"My grandmother's dream was to raise the level of education for beauticians, so that they could earn respect," Jane explained.
The Yamano family story is both Japanese and Japanese American. Since the Yamano businesses operate in both Japan and America, they represent the new paradigm of business and culture.
View clips from a video interview with Jane Aiko Yamano on Discover Nikkei >>
(transcripts available in English, Japanese, Spanish, and Portuguese)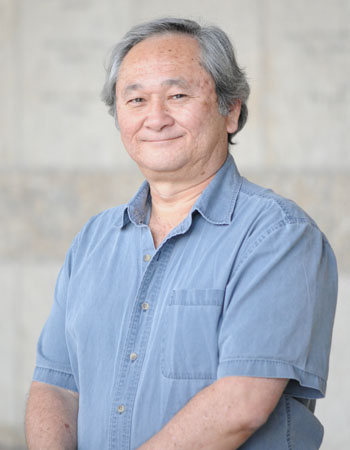 STAN SAKAI
Sansei illustrator and writer Stan Sakai is known for his creation of the popular comic book character, "Usagi Yojimbo" in 1984. Since 1987, a series of comic books have detailed the adventures of Miyamoto Usagi, a samurai rabbit living in the late 16th and early 17th Century. Sakai is known both for his illustrations and his incorporation of actual Japanese history and culture, once winning an award for "skillful weaving of facts and legends into his work."
Born in Kyoto, Japan, Sakai was raised in Hawai'i. Like many Sansei, he was open to cultural influences from Japan and America. He read American comic books and watched Japanese samurai movies, which led to his most famous creation. Sakai studied fine arts at the University of Hawaii and attended the Art Center College of Design in Pasadena. He began his career lettering comic books and eventually developed his own series, "The Adventures of Nilson Groundthumper and Hermy."
Besides his work on the Usagi Yojimbo series, Sakai has written for The Simpsons television series and is collaborating on an urban clothing line, "The Hundreds," with the creation of a variety of t-shirts. He has been nominated for over 20 Eisner Awards and the recipient of several Ursa Major Awards.
Sakai's work is an example of taking two diverse cultural influences and developing something brand new that all can share.
Learn more about Stan Sakai on Discover Nikkei: Ronin Rabbit: Stan Sakai's Amazing Usagi Yojimbo