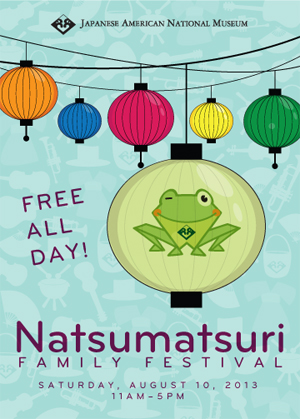 This year JANM is excited to be starting a new tradition. Natsumatsuri means "summer festival" in Japanese and we hope you will join us for a day of sharing and learning, as we celebrate old and new traditions with cultural performances, demonstrations, activities, and crafts!
Members Only
Special admittance to certain crafts and activities—stay tuned for more details!
Check out our Natsumatsuri promo video below! It was created by our Getty summer intern Kelly Gates.
CULTURAL PERFORMANCES & DEMONSTRATIONS
11:30AM

12:30PM

Taiko Demonstrations
Taiko is a Japanese American tradition! Learn how to play taiko drums with JANM docent Hal Keimi
1PM
Obon History & Traditions
What is Obon all about? Rev. Bill Briones of Los Angeles Hompa Hongwanji Buddhist Temple will discuss the history and traditions of Obon in Japan and the United States
2PM – 5PM
Try on a yukata and have your picture taken!
Suehiro Kimono Agency will dress you in a yukata so you can have a special picture to take home! Yukata are traditional light Japanese garments worn during the summer to keep cool. (For children only. Line ends at 4:30PM)
2:30PM
Obon Dance Demonstration
Get ready to dance! Los Angeles Hompa Hongwanji Buddhist Temple will show you how to dance traditional Obon dances
4PM
Japanese Mariachi
Join us for our first mariachi concert at JANM! Roger Del Norte, the Japanese mariachi singer, will perform with the Mariachi band MEXICAPAN. Mariachi singer Lupita Infante will join as a special guest for the concert
4:30PM
Taiko Performance
Enjoy a fun taiko performance by L.A. Matsuri Taiko!
ACTIVITIES
All Day
Bounce House
Bounce around in our fun bounce house
All Day
Toddler Room
A fun place for our youngest guests to hang out
All Day
Make a Tanzaku Wish!
Making wishes during the summer is a Japanese tradition. Write your own with our fun activity!
11AM – 3PM
JANM Natsumatsuri Tote Bag
Grow Your Own Media will screen print a special JANM Natsumatsuri tote bag just for you (For children only. While supplies last)

12PM/12:30PM

1PM/1:30PM

2PM/2:30PM

Common Ground Tours + Origami Lessons
Take a family tour of Common Ground: The Heart of Community with our experienced docents, followed by an origami lesson!
12PM – 5PM
"What Are You?" Photo Activity
We've brought back the popular activity from the kip fulbeck: part asian, 100% hapa exhibition. Take a picture and respond to the question "What Are You?"
1PM – 5PM
Airbrush Tattoos
Let Party Faces give you a cool airbrush tattoo (For children only. Line ends at 4:30PM)
ALL-DAY CRAFTS
Self Portrait
Celebrate Portraiture Now: Asian American Portraits of Encounter (on view through September 22, 2013) with a self portrait
Make a custom fan
Beat the heat by decorating and constructing a cool fan
Molded Paper Hats
It's a JANM summer festival tradition! Make a wacky paper hat to show your style
Origami
Ruthie's Origami Corner: Fold a hopping frog