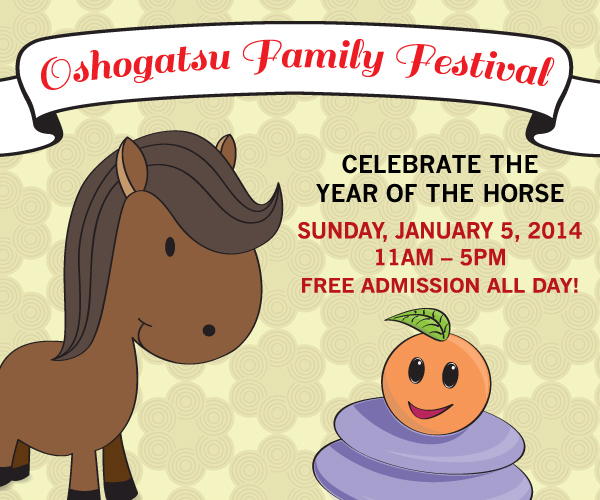 2014 Oshogatsu Family Festival
Sunday, January 5, 2014
11AM – 5PM
FREE ADMISSION ALL DAY
Ring in the New Year and the Year of the Horse with exciting cultural performances, special foods, and fun crafts!
PERFORMANCES & FEATURED ACTIVITIES
12PM – 2PM
Onigiri Design Contest
Learn how to make onigiri rice balls in our Onigiri Contest. Sponsored by Common Grains
12PM – 5PM
Horse Candy Sculptures
Watch world-renowned candy artist Shan Ichiyanagi make his specialty horse candy sculptures! (For children only. Candy horses will be raffled off at the start of every hour)
2:30PM & 4PM
Mochitsuki
Join Kodama Taiko as they perform a demonstration of mochitsuki, a traditional rice cake pounding ceremony. Mochi samples to be passed out at the end of the performance.
3:30PM
Onigiri Contest Winners
Announcement of Onigiri Contest winners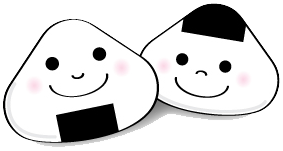 MORE ACTIVITIES
11AM – 5PM
Horse Jumper
Giddy-up in our horse bounce house!
11AM – 5PM
Toddler Room
A fun place for our youngest guests to hang out!
11AM – 5PM
Fukubukuro Sale
Special fukubukuro (lucky bag) sale at the Museum Store
12PM – 1PM
Osechi-Ryori Tasting
Sample some tasty osechi-ryori, or traditional Japanese New Year foods. (While supplies last. First come, first served!)
1PM – 2PM
Members Gourmet Osechi-ryori Tasting
Special gourmet osechi-ryori tasting for JANM members only! (While supplies last. First come, first served!)
1PM – 5PM
Meet & Ride Live Ponies
Come meet and ride some real live ponies in celebration of the Year of the Horse! Member Express Lane available for JANM members. (Rides for children only. Line ends at 4:30PM)
1PM – 5PM
Zaru Soba noodles
Begin the New Year with lucky zaru soba (buckwheat noodles) with Kidding Around the Kitchen.
2PM – 5PM
Zodiac Animals Coloring Pages
Color in your Asian zodiac animal with our fun coloring pages.
ALL-DAY CRAFTS (11AM – 5PM)
Gallop into the new year by making a stick horse!
Construct a horse wall-hanging to enjoy all year round.
Ruthie's Origami Corner: Learn how to fold a prancing horse!