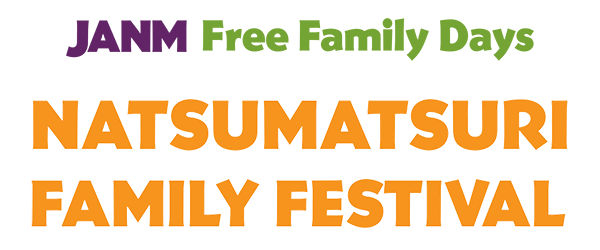 FREE ALL DAY!

Saturday, August 15, 2015
11 a.m.–5 p.m.

Join us for our annual summer celebration featuring Japanese and Japanese American performances, crafts, and activities.

Download the Natsumatsuri flyer (PDF) >>

Sponsor:




Media Sponsor:
---
ALL DAY ACTIVITIES
Face Painting
Put on your best summer festival face with Party Face Magic. A Members' Express Line will be available for JANM members. (For children only. Line ends at 4:30 p.m.)
Family Art Project
In a special activity inspired by our two current exhibitions, create an artwork about your family using light-sensitive paper.
Greetings from JANM's Natsumatsuri
Make a fun postcard greeting to send to a friend.
Natsumatsuri Hats
It wouldn't be Natsumatsuri without JANM's signature paper hats! Make your own unique set to show off your family's style.
Ruthie's Origami Corner
Create an origami version of the traditional kimonos worn during Obon, Japan's summer festival to honor the memory of ancestors.
Scavenger Hunt
Use your phone or camera to take pictures of your finds from our list. Then bring your images to the Information Booth to claim a prize. Don't forget to share your adventures on social media using #JANMScavengerHunt. Prizes available while supplies last.
Toddler Room
Bring your toddlers here to relax and play with other toddlers. Note: all children must be supervised by an accompanying adult at all times.
Wishing Tree
Wishing trees are a popular summer tradition in Japan, appearing as part of the annual Tanabata Festival. Write your wish on a tanzaku (strip of ceremonial paper) and tie it to a bamboo tree at our Tanzaku Wish station.
SCHEDULED ACTIVITIES
10 a.m.

Members Only Tour of Jidai: Timeless Works of Samurai Art
A Members Only tour of the special display of historically significant samurai swords on view during the month of August. Limited to 15 guests. This tour has reached capacity.

11 a.m.

Karaoke Open Mic Signups
Signups begin for our karaoke open mic, which starts at 1 p.m. Limited spaces available on a first come, first serve basis. Don't miss your chance to get a spot!

11 a.m.

3 p.m.

Lilo & Stitch
Take a break and enjoy free screenings of this popular children's film set in Hawaii.

11:30 a.m.

Taiko Demonstration
Take a basic taiko drumming lesson with JANM docent Hal Keimi—a Natsumatsuri tradition.
12 p.m.
Screen Printing Demonstration
Live screen printing demonstration with Grow Your Own Media begins. Take home a Natsumatsuri t-shirt to commemorate the day. Shirts will be children's sizes only. Limited quantity; first come, first served, while supplies last. Child must be present to receive shirt. A Members's Express Line will be available for JANM members.
12:30 p.m.
Bon Odori
Join our community bon odori (traditional Obon dance), with music provided by contemporary Japanese folk group Minyo Station.
1 p.m.
Karaoke Open Mic
Step up to the stage for our karaoke open mic! Signups begin at 11 a.m. Limited spaces available on a first come, first serve basis.
2 p.m.–4 p.m.
Meet Your Museum
Stop by the lobby of the National Center for the Preservation of Democracy to learn more about your member benefits, JANM's mission, and our upcoming exhibitions. Our friendly volunteers will be on hand to answer your questions!
2 p.m.

Japanese Samurai Sword Lecture
Curators Darin S. Furukawa and Michael Yamasaki present an introductory lecture on Jidai: Timeless Works of Samurai Art. Learn about the unique forging process and special properties of the Japanese samurai sword and see how the distinctive armor of the warrior class functioned not only as protection, but as a reflection of the wearer's personality.

Reserved seating will be available for JANM members. We anticipate high attendance for this program. Seating is available first come, first serve. Doors open at 1:30 p.m.

2 p.m.
Random Ninjas
Enjoy an exciting performance by taiko/rock fusion band Random Ninjas. Reserved seating will be available for JANM members.
3 p.m.
Minyo Station
Minyo Station presents a short concert featuring their unique blend of contemporary influences and traditional Japanese folk music. Reserved seating will be available for JANM members.
4:15 p.m.
TAIKOPROJECT and Quetzal
A special joint performance from the high-energy TAIKOPROJECT and the innovative Chicano fusion band Quetzal bring a fun-filled day to a rousing finish. Reserved seating will be available for JANM members.