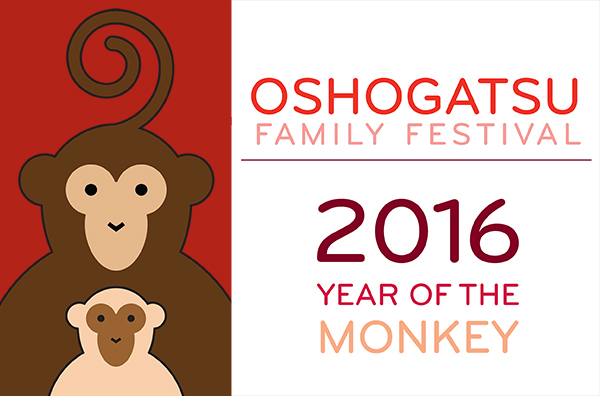 Sunday, January 3, 2016
11 a.m.–5 p.m.
FREE ALL DAY
Celebrate the Year of the Monkey with crafts, food, cultural activities, and performances!
Special perks available for JANM members!
Be sure to check in at the front desk to get a member sticker so you can take advantage of the perks highlighted below.
Take advantage of free museum admission all day to view Giant Robot Biennale 4 (through January 24, 2016) and Common Ground: The Heart of Community (ongoing).
Festival Schedule
ALL DAY ACTIVITIES
Puppetmaking
Celebrate the Year of the Monkey by making your own puppet.
Sketchbook Station
In celebration of Giant Robot Biennale 4, customize a sketchbook that you can spend the next year filling with drawings.
Ruthie's Origami Corner
Learn how to fold a paper monkey.
Nerdbot Photo Booth
Come meet our monkey mascot and pose for a souvenir photo to take home. Express Line for members!
"Petting Zoo"
Surround yourself with monkeys of all stripes at our stuffed animal petting zoo.
Coloring Station
Learn about the qualities of people born in the Year of the Monkey, as well as the 11 other signs of the Asian zodiac.
Fukubukuro Sale
Our eagerly awaited fukubukuro (lucky grab bags) will be back and available for purchase at the JANM Store.
Curious George Bounce House
Kids of all ages can monkey around in our bounce house. Express Line for members!
Scavenger Hunt
Explore our Giant Robot Biennale 4 exhibition to complete the scavenger hunt and receive a custom JANM x Giant Robot sticker.
Toddler Room
Bring your toddlers here to relax, play with other toddlers, listen to a story (see scheduled activity at 12:15 p.m.), or watch Monkey Kingdom, a nature documentary about a monkey family living in the jungles of South Asia. Note: all children must be supervised by an accompanying adult at all times.
SCHEDULED ACTIVITIES
11:30 a.m.

Family Tour of Common Ground: The Heart of Community
Join JANM's knowledgeable docents for a special family-oriented tour of our core exhibition.
12 p.m.–1 p.m.
MEMBERS ONLY Osechi-Ryori Tasting
JANM members will have an exclusive hour at our popular annual osechi-ryori tasting. Sample a selection of traditional Japanese New Year foods—including various sweets and vegetables—and learn about what each dish means. Tasting will open to the general public at 1:30 p.m.
12 p.m.–5 p.m.
Monkey Candy Sculptures
Shan Ichiyanagi will demonstrate the ancient, and now rarely practiced, Asian folk art of candy sculpting, as he makes candy in the shape of monkeys. The finished pieces will be raffled off throughout the day. Members get double raffle tickets!

12:15 p.m.

Storytime
Join JANM volunteer Kathryn Madara in the Toddler Room as she reads from Ed Young's Monkey King, which tells the delightful story of China's favorite supernatural trickster.
1 p.m.
Lucky Soba Noodles
Kidding Around the Kitchen will give out sample bowls of lucky zaru soba (buckwheat noodles) to bring good health in the New Year. While supplies last.

1 p.m.

3:30 p.m.

Hip Hop Dance Performances
Join Coed Choreo, Palos Verdes Peninsula High School's National Championship-winning hip hop dance team, for a rousing performance. Reserved seating for members!
1:30 p.m.
Osechi-Ryori Tasting
Our popular annual osechi-ryori tasting opens to the public. Sample traditional Japanese New Year's foods while supplies last!
1:30 p.m.–4:30 p.m.
Monkey Balloons
Balloon artists will create and give away balloons in the shape of monkeys. For children only, limit one per child, while supplies last. Line will end at 4 p.m. Express Line for members!

2 p.m.

4 p.m.

Mochitsuki Demonstration by Kodama Taiko
Making fresh mochi is a beloved Japanese new year tradition. Join Kodama Taiko for their unique mochitsuki (rice pounding) demonstration, which incorporates taiko drumming, and enjoy delicious mochi samples while supplies last.
3 p.m.
Japanese-Style Lion Dance
Take in a lively shishimai (Japanese-style lion dance) for good luck, accompanied by Kinnara Taiko. Reserved seating for members!