Art, Culture & Identity Past Events
Saturday, May 25, 2019
2:00 PM—5:00 PM
At First Light—Opening Day Discussion

To commemorate the opening day of the exhibition At First Light: The Dawning of Asian Pacific America, JANM will host Visual Communications (VC) co-founders and exhibition curators Duane Kubo, Robert Nakamura, and Eddie Wong in a panel discussion about the history of VC and the creation of this show. They will be joined by scholar, author, producer, and JANM Chief Curator Karen Ishizuka, who will moderate the discussion, helping to place VC's history as the first Asian Pacific American media organization in the country within the context of today's changing world.
Light refreshments will be served following the program. Included with museum admission. Space is limited. RSVPs are recommended using the link below.

In the George & Sakaye Aratani Central Hall
Saturday, February 9, 2019
2:00 PM
Panel Discussion—Gambatte! Legacy of an Enduring Spirit

Paul Kitagaki Jr., photographer of Gambatte! Legacy of an Enduring Spirit, will discuss his creative process, stories about the images, and the effects this project has had on those both behind and in front of the camera. He will be joined by Mason Tachibana and Junzo Jake Ohara, who were photographed as part of the project. The discussion is followed by an audience Q&A.
Included with museum admission. RSVPs are recommended using the link below. Please check back for updates.

Please note that the book will not be available until April.
Read our interview with Paul Kitagaki Jr. about Gambatte! on Discover Nikkei.
In the Tateuchi Democracy Forum
Sunday, January 6, 2019
12:30 PM—2:00 PM
Artist Conversation with Mark Nagata

FREE
12:30 p.m.–1 p.m.: Artist Conversation
1 p.m.–2 p.m.: Toy and Print Signing with Mark Nagata and Gerald Okamura
Presented in conjunction with Oshogatsu Family Festival
To mark the release of Kaiju vs Heroes artist Mark Nagata's latest special edition sofubi toy figure—an homage to the character played by Gerald Okamura in the movie Big Trouble in Little China—Nagata will discuss how this project came to fruition. Reserved seating for JANM members.
Nagata and Okamura will sign figures and a special print of the header art for the toy. The figure is hand-painted by Mark and limited to 45 pieces. Express line for members.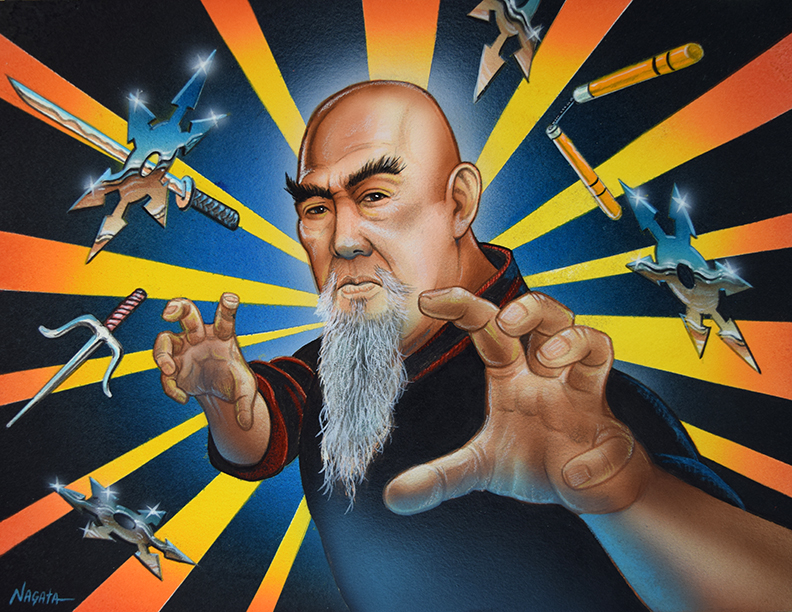 Saturday, December 15, 2018
5:00 PM
Play—Little Women (A Multicultural Transposition) by Velina Hasu Houston

Inspired by the novel Little Women by Louisa May Alcott, Velina Hasu Houston's play Little Women (A Multicultural Transposition) follows the Mayeda sisters as they move from an incarceration camp to an uncertain, changing future for Asian Americans.
Told from the perspective of Josephine Mayeda, the second oldest daughter of Marmee Chang Mayeda and Makoto Mayeda, we follow her journey from adolescent dreamer to professional writer. All the while, the family's story is framed through the greater context of the American Dream. Houston's take on the classic novel and its characters offers a perspective steeped in the rich history of not only America but the Los Angeles of the present and future.
$25 general admission, $20 JANM members.

In the Tateuchi Democracy Forum
Saturday, November 3, 2018
2:00 PM
No-No Boy: A Multimedia Concert

No-No Boy is a multimedia concert performed by Julian Saporiti and Erin Aoyama. Taking inspiration from interviews with World War II Japanese American incarceration camp survivors, his own family's history living through the Vietnam War, and many other stories of Asian American experience, Saporiti has transformed his doctoral research at Brown University into folk songs in an effort to bring these stories to a broader audience. Alongside Aoyama, a fellow PhD student at Brown whose family was incarcerated at one of the 10 Japanese American concentration camps, No-No Boy aims to shine a light on experiences that have remained largely hidden in the American consciousness.
In addition to their multimedia concert, Saporiti and Aoyama are often asked to visit college and high school classrooms to put on workshops that explore topics such as immigration, refugees, war, trauma, and how they use art and scholarship to navigate these issues in today's society. They will be embarking on a national tour in the fall of 2018.
Included with museum admission. RSVPs are recommended using the link below.

In the Tateuchi Democracy Forum
Saturday, September 15, 2018
2:00 PM
Kaiju vs Heroes Opening Day Panel and Signing

In conjunction with the opening of Kaiju vs. Heroes, toy designer and collector Mark Nagata and Marusan toy company President Eiji Kaminaga will participate in a discussion about kaiju toy history, the world of Japanese toy collecting, and their companies' histories (Nagata is the founder of Max Toy Company). The Marusan toy company created some of the first vinyl kaiju and hero toys of the 1960s and these toys make up a significant part of Nagata's collection.
The conversation will be moderated by Brad Warner, who worked for 15 years at Tsuburaya Productions, the makers of the Ultraman television shows. Warner is now an author and teacher of Zen Buddhism.
Following the discussion, Mark Nagata will sign copies of Toy Karma, an accompanying book by and about Nagata, as well as a 13" x 19" print (10" x 17" image size) featuring a kaiju and hero image by toy photographer Brian McCarty, who will also be signing the print. The book is $24.95 and the print is $50. Both can be purchased the day of the event.
Included with museum admission. RSVPs are recommended using the link below.

In the George & Sakaye Aratani Central Hall