Special Events Past Events
Saturday, May 5, 2012
2012 Gala Dinner & Silent Auction -- Transforming a Forgotten Story
SAVE THE DATE!
JW Marriott Hotel at L.A. Live
With a special tribute to The Honorable Norman Y. Mineta, former U.S. Secretary of Transportation, in recognition of his continuing fight for civil rights, including the critical leadership role that he played on and after 9/11.
Visit the 2012 Dinner site for information >>
* * *
2012 Lexus Opportunity Drawing
Win an All-New 2013 Lexus GS 450h hybrid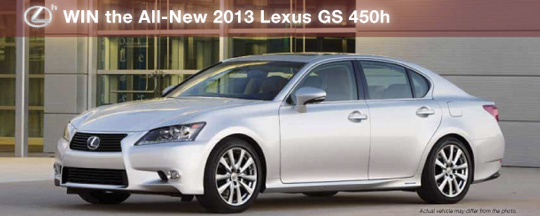 Sunday, October 30, 2011
12:00 PM—1:30 PM
Special Event: Stan Sakai Signing
Stan Sakai will be here for one last book signing on the last day of his exhibition, Year of the Rabbit: Stan Sakai's Usagi Yojimbo!

Join us on Sunday, October 30, 12:00 – 1:30 PM.

Due to time constraints, Stan will only be signing books. Only three books per person at a time.

Avoid the lines and buy your books early!

(10% discount for National Museum Members!)


Sunday, October 2, 2011
10:00 AM—4:00 PM
Kokoro Craft Affair

Sponsored by Friends of the Museum
10 am to 4 pm
Free admission to museum exhibitions with craft show purchase.
(Oct. 2, 2011 only)
Showcase and sale of unique, discriminating, high quality, handcrafted, artist designed merchandise. Craft items for sale include: Origami Art, Unique Jewelry, Kimono Fabric Clothing, Handbags, Silk/Yarn Scarves, Ceramic and Miniature Bronze Sculptures, Cultural T-shirts, Stationery, Glass Art, and much more! Shoppers can take the Metro Gold Line to the Little Tokyo Arts District~1st & Alameda. (Cash or Checks please)
For more information, email: kokorocraft@gmail.com
Saturday, March 12, 2011
4:00 PM—5:00 PM
OMAYUMI: FLAT RED with special guests Lady Noise
Osaka-based movement artist Omayumi, visual artist Steven M. Irvin and sound artist Alan Nakagawa will collaborate in a multi-media performance titled FLAT RED. What if you could hear everything in the City at once? The artists set a framework based on the senses and improvisation to create a series of "tone poems."
Their work can be viewed at:
http://www.transmuted.org/
.
Saturday, February 14, 2009
2:00 PM—3:00 PM
A Conversation with Brian Y. Sato
Come hear photographer Brian Y. Sato talk about his newest exhibition Gokurosama: Contemporary Photos of the Nisei in Hawaii.

Reception to follow.

FREE all day!


Saturday, December 6, 2008
1:00 PM
Dreams to Dreams Custom Vinyl Show - Artist Reception

Join us to celebrate the opening of the special engagement of Dreams to Dreams, the first custom vinyl toy show in a museum presented by the Japanese American National Museum in association with Dacosta of Chocolate Soop.
Just in time for the holidays, over 40 artists will customize Chocolate Soop's DCTO (Dream Come True Object), a futuristic vinyl version of a traditional Japanese New Year's folk toy. Artwork will be on display and on sale at the Museum from December 1, 2008 through January 4, 2009. Pieces from this show will also be available for sale online in December.
Meet Dacosta and other artists participating in the show!