Japanese American National Museum
IMMEDIATE RELEASE
Contact: CHRIS KOMAI
(213) 830-5648
BIG DRUM EXHIBITION REVEALS GROWING POPULARITY OF ENSEMBLE TAIKO GROUPS THROUGHOUT NORTH AMERICA PERFORMING ON JAPANESE DRUMS IN U.S. BEGAN WITH ONLY 3 JAPANESE AMERICAN GROUPS, NOW NUMBERS OVER 200;
JAPANESE AMERICAN NATIONAL MUSEUM TO OPEN EXHIBITION JULY 14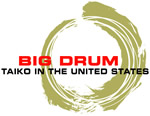 LOS ANGELES.—The Japanese American National Museum will premiere Big Drum: Taiko in the United States on Thursday, July 14, the first major museum exhibition about the phenomenal growth of taiko (Japanese drum) performance in the United States and North America, beginning with three grassroots groups in California and ballooning to an estimated 200 performing ensembles in 24 states and throughout Canada.
Through the use of media arts pieces, artifacts, photographs and artwork, this new exhibition explores the unique history of a transplanted Japanese cultural art that took root in America, thanks to Japanese Americans, and after a methodical incubation period, grew in popularity to the point that taiko groups have been formed from Hawai`i to New Jersey, from Texas to Alaska, throughout New England, the West Coast, and all over Canada. Moreover, unlike Japan, the majority of individuals performing on these Japanese drums in North America today are women.
"After their unlawful and traumatic mass incarceration during World War II, Japanese Americans had to rebuild their lives and communities," observed Sojin Kim, National Museum curator. "As a consequence of their experiences with racism and discrimination, many disassociated themselves from aspects of their ethnic culture that might distinguish them as 'foreign' or 'Japanese'—and so in essence, Japanese Americans also had to rebuild their sense of identity in the post-World War II era. It's not surprising, then, that for a younger generation of Japanese Americans, taiko provided a powerful and satisfying way to express cultural and community pride. What is remarkable is that so many other Americans are participating in taiko now. In this way, taiko also provides a meaningful way in which Japanese Americans can share their cultural heritage and history with everyone."
Big Drum examines the broader issues behind taiko's growing popularity. Besides explaining taiko's post-war history, the exhibition describes how the American groups, through ingenuity and hard work, overcame their biggest obstacle: the high costs of drums. Lacking the means to buy drums from Japan, the American groups decided to build their own taiko, a challenging task requiring a trial-and-error process and persistence. The exhibition also focuses on how early American taiko performers incorporated diverse musical styles into their performances and why the first taiko groups provided a sense of identity to many Japanese Americans. Finally, the exhibition discusses why so many women have become taiko performers and how this new tradition is already being passed to a new generation of performers in America.
HISTORY
In Japanese, the word taiko literally translates as "big drum" or "fat drum". While the playing of taiko has a storied history in Japan as an integral part of folk festivals, religious ceremonies, agricultural rituals, sumo and Kabuki and Noh performances, it was only in the post-World War II era that group or ensemble taiko came into existence. In 1951, Daihachi Oguchi, a drummer influenced by Western jazz, is credited with inventing this new group-drumming genre when he founded Osuwa Daiko. This style of performing, known as kumi daiko, became the basis for most taiko performance in the United States.
Whereas Japanese groups were partially motivated by a desire to link to their folk traditions which seemed lost in the rapid industrialization of their country, many of the early Japanese American groups, with few models to emulate, created their own new traditions. They also had to overcome a lack of resources while developing a vehicle for expressing their own identities as Asian Americans.
While Japanese musicians continued to perform kumi daiko in higher profile settings in the 1960s and 1970s in Japan, Japanese American taiko began officially in 1968 when Japanese immigrant Seiichi Tanaka formed the first group, San Francisco Taiko Dojo. Tanaka had attended a local Japanese American community festival and was disappointed to find that no one played taiko. Borrowing a drum from a local Buddhist temple, Tanaka performed at the Aki Matsuri in San Francisco's Japantown in 1968. That performance drew the attention of many young Sansei (third generation Japanese Americans), which led to the forming of the first group based on a Japanese martial arts teaching style, which was familiar to Tanaka.
Tanaka learned from Japan's two earliest post-war groups, Osuwa Daiko of Nagano Prefecture and Oedo Sukeroku Taiko of Tokyo. He also wrote music in their wadaiko musical style, and as the first true instructor of taiko in the United States, he influenced many of the new groups formed in the 1970s and 1980s.
The first truly Japanese American taiko group came together at the Senshin Buddhist Temple in Los Angeles in 1969. The use of the temple taiko occurred annually at the summer obon festival, but Rev. Masao Kodani and his friend George Abe thought there should be an opportunity play more frequently. Beyond that, Kodani saw taiko performance as a way to express their Buddhist beliefs, at once allowing individuals to eliminate their egos while performing musical numbers that articulated specific Jodo Shinshu (the most common form of Japanese American Buddhism) concepts. The group took the name Kinnara Taiko. Kinnara is a Sanskrit term, representing a supernatural being of music.
Kinnara Taiko's other major contribution to the propagation of taiko groups in America was the development of a method of building their own drums. Drums produced in Japan cost thousands of dollars apiece, making it impossible for fledgling groups to buy even one. While many groups were able to practice by beating old tires, performances required a collection of drums. Kinnara Taiko members figured out drums could be constructed from old wine barrels, and they shared this knowledge with other temples and interested parties who wanted to form their own groups.
The third original group, San Jose Taiko, came together in 1973. Because of historic anti-Asian racism and the unconstitutional mass incarceration of 120,000 Americans of Japanese ancestry during World War II, many Japanese Americans had repressed their ethnic identities. Reacting to the civil rights movement and the creation of ethnic studies departments on college campuses, some Sansei were looking for a way to assert their identities artistically and politically.
For San Jose Taiko artistic directors Roy and PJ Hirabayashi, taiko performance embodied a perfect melding of a Japanese cultural art and American and other world rhythms. It also broke the stereotypes about Asian Americans as quiet, physically timid and uncreative people, since it required strength, endurance and artistry. Drawing from the local San Jose Buddhist Church and the San Jose State Asian American Studies program, San Jose Taiko emerged as a community-based organization. Eventually, the group evolved into a professional touring company.
On a parallel track were two taiko groups formed in Japan: Ondekoza and Kodo. Ondekoza was established in 1969 on Sado Island and was the first group from Japan to tour in the United States, beginning in 1975. Ondekoza was totally dedicated to the playing of taiko as a way of life, and its members lived communally, trained rigorously and set the standard for the level of taiko performances. The group connected to Japan's folk traditions, something that modern life seemed to eradicate. Eventually, some of the original members broke off from Ondekoza and formed Kodo in 1981. More than Ondekoza, Kodo became internationally famous as the world's finest touring group.
Because Ondekoza and later Kodo toured around the United States, they helped to inspire the creation of new groups in America, mostly in areas with Japanese American communities, such as New York, Denver and Seattle. The Japanese groups would often hold workshops as they toured and were aided in their early tours by Japanese Americans, who helped to sell tickets, provided practice facilities and hosted potlucks and socials.
Beginning with only the three California groups as of 1973, the popularity of taiko has multiplied enormously as groups have been formed throughout the continent. An indication of this tremendous growth was the organization of the inaugural North America Taiko Conference by the Japanese American Cultural and Community Center (JACCC) in Little Tokyo in 1997. That first get-together drew over 500 participants, paving the way for biennium conferences, including the 2005 event set for July 15-17 at the JACCC.
EXHIBITION
Big Drum will focus on six main subjects: "Making Community"; "Making Music"; "Making Taiko History"; "Making American Taiko"; "Making Noise"; and "Making It New". Each section will be supported by video presentations. These presentations will highlight the early years of taiko in the United States as well as the relationship of the early groups to the Asian American Movement, civil rights and community organizing activities. One video piece will examine the importance of drum making in the growth of taiko in America and another will take a look at the future of taiko and how it has evolved beyond the Asian American community. New styles of playing and new ways of performing have resulted.
Other video presentations will highlight taiko performances throughout the country, including obon festivals in Maui, Denver and Los Angeles; a cross section of the earliest and most prominent groups, including San Francisco Taiko Dojo, Kinnara Taiko, San Jose Taiko, Soh Daiko (New York) and the Kenny Endo Taiko Ensemble. Interviews with the key figures in taiko's development will also be included.
On display will be historic objects, such as early drums made from old wine barrels and furniture tacks; a drum created by pioneer Mark Miyoshi, the first professional taiko maker in the United States; an original yagura used at Senshin Buddhist Temple's early post-war obons; a six-foot-in diameter, 450-pound okedo constructed by Victor Fukuhara, a taiko player who runs a lawnmower repair shop; a variety of costumes worn by early groups; and historic photographs covering the vast array of groups throughout North America.
This exhibition is made possible, in part, by the support of The Boeing Company; City of Los Angeles Cultural Affairs Department; Hisako Nerio Imamura & Akira Imamura; Sumi Nerio Leonard & Robert J. Leonard; National Endowment for the Arts; Ronald McDonald House Charities of Southern California; The James Irvine Foundation; Mitsubishi International Corporation Foundation; Prudential Financial, Inc.; Asian Cultural Council; and REMO, Inc. Media Sponsors are KSCI-TV and The Rafu Shimpo.
DVD
In support of the exhibition, a new documentary DVD created by the Frank H. Watase Media Arts Center of the National Museum will be unveiled under same name as the exhibition, "Big Drum: Taiko in the United States". This DVD will contain parts of the exhibition media installations as well as performances by the various groups and key interviews. The DVD will be available through the Museum Store.
2005 NORTH AMERICAN TAIKO CONFERENCE
The 2005 North American Taiko Conference will be held July 13-17 at the Japanese American Cultural and Community Center (JACCC) in Little Tokyo, the same week as Big Drum opens at the National Museum. Workshops are scheduled for Friday and Saturday with a closing session on Sunday. The conference will feature two Taiko Jam 05 concerts on Saturday, July 16, at 8 p.m. and Sunday, July 17, at 3 p.m. at the Aratani Japan America Theatre at the JACCC. On Friday, July 15, beginning at 7:30 p.m. in the JACCC Plaza, the Taiko Ten Community Concert will be held. For tickets to Taiko Jam 05, call (213) 680-3700. For more information on the 2005 North American Taiko Conference, visit www.taikoconference.com.
JAPANESE AMERICAN NATIONAL MUSEUM
The Japanese American National Museum is dedicated to fostering greater understanding and appreciation for America's ethnic and cultural diversity by preserving and telling the stories of Americans of Japanese ancestry. Since its incorporation in 1985, the National Museum has grown into an internationally recognized institution, presenting award-winning exhibitions, groundbreaking traveling exhibits, educational public programs, innovative video documentaries and cutting-edge curriculum guides. The National Museum raised close to $60 million to renovate an historic building in 1992 and open a state-of-the-art Pavilion in Los Angeles' Little Tokyo Historic District in 1999. There are now over 50,000 members and donors representing all 50 states and 16 different countries.
GENERAL INFORMATION
The Japanese American National Museum is located at 369 East First Street in the historic Little Tokyo section of Los Angeles. For more information, call (213) 625-0414 or visit www.janm.org. Museum hours are Sunday, Tuesday, Wednesday, Friday and Saturday: 10:00 a.m. to 5:00 p.m. and Thursday 10:00 a.m. to 8:00 p.m. Museum admission is $8.00 for adults, $5.00 for seniors and $4.00 for students and children. Admission is free for Museum members and children under age six. Admission is free to everyone on Thursdays from 5:00 to 8:00 p.m. and every third Thursday of the month from 10:00 a.m. to 8:00 p.m. Reservations are required for public programs. Public programs are free for Museum members or with paid admission. Metered street parking and public parking lots are conveniently located near the Museum for a nominal fee.