Big Drum: Taiko in the United States DVD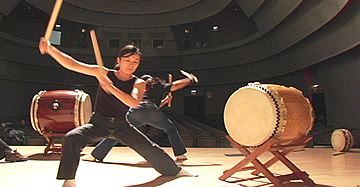 Soh Daiko, New York, 2004.
The Frank H. Watase Media Arts Center of the National Museum has produced a new documentary DVD under the same name as the exhibition, Big Drum: Taiko in the United States. Featuring America's pioneering taiko figures, this DVD documents the development of American taiko and includes interviews and footage of drum-making and performances that reflect the ongoing transformation and diversification of this exciting performing art.
Among the many groups included in the footage are San Francisco Taiko Dojo, Kinnara Taiko, San Jose Taiko, Denver Taiko, Midwest Buddhist Temple Taiko Group, Soh Daiko, L.A. Matsuri Taiko, Shasta Taiko, Satori Taiko, Kogen Taiko, Kokyo Taiko, Hawaii Matsuri Taiko, Kenny Endo Taiko Ensemble, Maui Taiko, Zenshin Taiko, Zenshuji Zendeko, Nen Daiko, Hoh Daiko, Sacramento Taiko Dan and TAIKOPROJECT.
Extra features include the following historical footage: Reverend Sensho Sasaki's 1954 home movie footage of the Sacramento Buddhist Temple Obon; excerpts from David Kimura's 1977 film documentary Taiko: The Music of the Japanese Drums; and Tera Lee's 1973 documentation of the Chinatown Mural Project, which involved future Soh Daiko members.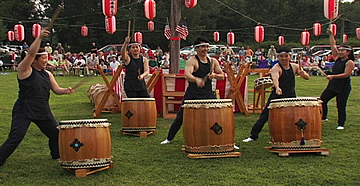 Nen Daiko (of Fairfax Station, Virginia), performing at the Seabrook Buddhist Temple Obon, New Jersey, 2004.
To view a video clip included in the DVD, visit our Multimedia page.
The DVD is now available for sale through the Museum Store Online. The DVD retails for $19.95.