Artists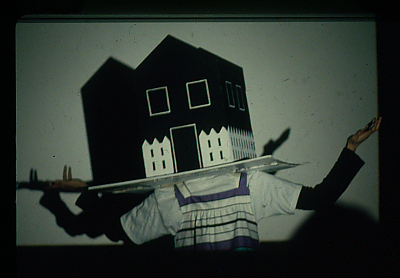 Performance still from "Ghost in the Machine" (1981), Linda Nishio. Photo by Elizabeth Ennis. Courtesy Linda Nishio.
Featured Artists:
• GIDRA
• Matsumi Kanemitsu
• Nobuko Miyamoto
• Robert A. Nakamura
• Linda Nishio
• Ben Sakoguchi
• Larry Shinoda
• Qris Yamashita
• Bruce Yonemoto
• Norman Yonemoto
Gidra was a monthly publication that called itself the "voice of the Asian American movement." Founded by University of California, Los Angeles (UCLA) students in April 1969, the magazine took a radically progressive political position, providing information about the movement not found elsewhere in the mainstream media. The magazine eventually moved off campus, operating out of a series of offices in the Crenshaw area until its last issue went to press in April 1974.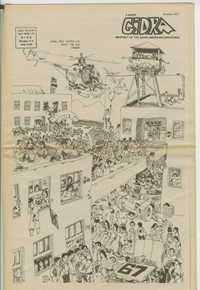 The magazine's sixty issues offered news from the third world struggle perspective—aligning the Asian American movement not only with domestic empowerment movements like the Black Power, Chicano, and Native American movements but also the international struggles of oppressed peoples in Africa, Southeast Asia, and Latin America. Gidra addressed issues like drug abuse in the Asian American community, news about the Vietnam War and the anti-war movement, prison conditions, and the redevelopment of Little Tokyo, among other issues. Art, especially poetry and drawing, were integrated into every issue of the magazine; such creative expressions were crucial to articulating a newly forming Asian American identity and were intertwined with the political goals of the movement.
The magazine was edited by a changing, non-hierarchical collective that included Mike Murase, Doug Aihara, Evelyn Yoshimura, Steve Tatsukawa, and Bruce Iwasaki at its core, along with a roster of talented graphic designers and artists that included Alan Takemoto, Dean Toji, David Monkawa, and Glenn Iwasaki.
View scans from some of the Gidra issues on Discover Nikkei:
April 1969 (first issue) | January 1971 | February 1973 | April 1974 (final issue)
Read an article about Gidra on our Discover Nikkei site >>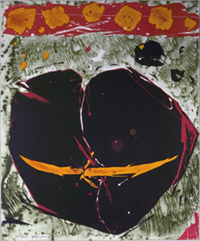 Matsumi "Mike" Kanemitsu (1922-1992) was born in Utah but raised by his grandparents in Japan until he was 16, when he returned to the U.S. He spent five years in the military during World War II, serving in Europe and spending time studying with artists in France after his discharge. He then returned to New York where he joined a circle of painters who included Mark Rothko and Franz Kline. Kanemitsu developed a style that integrated his training in Japanese ink painting with modernist abstraction. After a decade in New York, he came to Los Angeles in 1961 on the invitation of June Wayne at the Tamarind workshop. His loose painting style translated beautifully onto the litho stone and he discovered a great love of printmaking. Captivated by Southern California's atmosphere and the printmaking opportunities he found here, he took a teaching position at Chouinard in 1965, and remained in Los Angeles for the remainder of his life.
View the Mike Kanemitsu video >>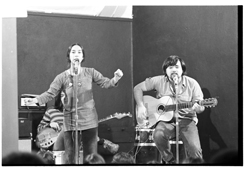 Nobuko Miyamoto (b. 1939) is a dancer and musician who found her political and artistic voice in the Asian American movement. JoAnne Nobuko Miyamoto began her career as a dancer on Broadway in Flower Drum Song and in films like West Side Story and The King and I. After working with director Antonello Branca on Seize the Time, a radical docufiction film about the Black Panthers, and meeting activist Yuri Kochiyama, Miyamoto became deeply involved in Asian American activism. She teamed up with musician Chris Ijima, traveling the country as a part of "Chris and Jo," playing music for Asian American audiences. They recorded the album Grain of Sand with Charlie Chin in 1973. She settled in Los Angeles and continued to perform music with Benny Yee in a group called Warriors of the Rainbow. In the late 1970s, Miyamoto and Yee collaborated on the first Asian American musical called Chop Suey, which followed the story of a Chinese American girl's struggle to find her voice. This was the first project of Miyamoto's multi-ethnic performing arts organization Great Leap, which was founded to promote Asian American performing arts. For more information about Great Leap, visit their website: www.greatleap.org.
View the Nobuko Miyamoto video >>
Robert A. Nakamura (b. 1937) is a filmmaker, teacher, and community activist. In 1970, he co-founded Visual Communications, now the oldest Asian American media center in the U.S. His landmark films include Manzanar (1972), an experimental documentary that revisited childhood memories of the World War II incarceration, and Hito Hata: Raise the Banner (1980), the first Asian American feature film.
After attending Art Center College of Design in Pasadena, he had a successful career as a photojournalist and studio photographer; his work was published in Life, Look, and Cosmopolitan magazines among other publications. In the early 1960s, he worked in the office of Charles and Ray Eames in Venice, documenting their work and assisting on films and installations. After a trip to Japan for inspiration, he returned to Los Angeles in the late 1960s, discovered the Asian American movement—in part through the magazine Gidra—and began using his talents to further its political and cultural goals. Nakamura would later found both the University of California, Los Angeles (UCLA) Center for Ethnocommunications and the Watase Media Arts Center of the Japanese American National Museum.
View the Robert Nakamura video >>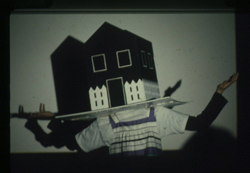 Linda Nishio (b. 1952) grew up in Los Angeles and attended the University of Kansas and Rutgers University, where she developed a multimedia art practice that involved photography, video and film, bookmaking and live performance. Her work centers around the definition and redefinition of self—exploring the ways that we see ourselves, the psychology of that vision, and the way that others see us. The work displayed in this exhibition focuses on several moments of her creative production shortly after her return to Los Angeles in the late 1970s.
View the Linda Nishio video >>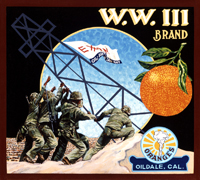 Ben Sakoguchi (b. 1938) is a painter and printmaker who has lived in the Los Angeles area his entire life. After studying painting in the 1960s at the University of California, Los Angeles, he developed a distinctive style that is rooted in pairing a narrative painting tradition with a pop culture vocabulary. He is best known for his long running "Orange Crate Label" series, using the classic crate label format to explore diverse subject matter and to combine them in a way that allows for both sharp critique and wry humor. His work is deeply and politically engaged, and he takes a deep delight in the craft and beauty of painting itself. Sakoguchi was a professor at Pasadena City College for nearly 35 years. Visit his website at www.bensakoguchi.com.
View the Ben Sakoguchi video >>
Larry Shinoda (1930-1997) was born and raised in Northeast Los Angeles. His training in industrial design at Art Center College of Design, Los Angeles and his love of drag racing propelled him into a long career with the design departments of car companies such as Packard, Ford, Chevrolet, and GM. He later founded his own design company that created Roger Penske's race trailers, motor homes, and even the logo for the Goodyear Blimp. He is responsible for a remarkable series of important car designs: the 1963 Corvette Sting Ray; the Mako Shark I and II; the Corvair Super Spyder; the Monza GT and Monza SS; and the Boss 302 and 429 Mustang, among many others.
View the Larry Shinoda video >>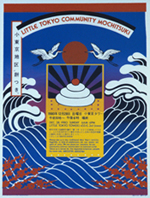 Qris Yamashita (b.1951) is a graphic designer and artist whose work has formed a visual identity for the Japanese American and Asian Pacific American community. Her posters, books, flyers, and T-shirts have been crucial in promoting a sense of community and solidarity. She successfully synthesizes traditional Japanese and contemporary Western images in her work, consciously developing a uniquely Japanese American sensibility and perspective. A lifelong Angeleno, Yamashita has been an active member of the Kinnara Taiko and Senshin Buddhist Temple, supporting the development of a Japanese American Buddhist culture.
View the Qris Yamashita video >>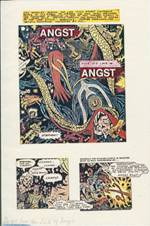 Bruce Yonemoto (b. 1949) has explored the relationship between mass media and the politics of identity in his work for many years. In his first classes in Ethnic Studies as a student at University of California, Berkeley, Yonemoto discovered an interest in his Japanese heritage. Following graduation, he spent three years studying in Japan and became a fan of manga (Japanese comics). The series of prints on display were created after his return to Los Angeles and employs altered manga and American comic books. With a wry sense of humor, Yonemoto replaces the original texts, harnessing the sensibility and attitude of the cartoon images to explore conflicts between identity and creativity and his position in the world as an artist. For more information, visit www.alexandergray.com/artists/bruce-yonemoto.
View the Bruce Yonemoto video >>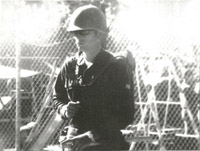 Norman Yonemoto (b. 1946) has always been fascinated with the way that techniques of filmmaking can be used to affect an emotional response. He received an MFA in directing from the American Film Institute, and an undergraduate degree at the University of California, Los Angeles, where he used film to explore the turbulence of the late 1960s. Second Campaign was made in 1969 when Yonemoto and Nicolai Ursin traveled to Berkeley to document the events around the struggle for People's Park. While the sympathies of the film lie with the protestors, the film is notable for being more prosaic and less didactic in its approach to the events, ultimately emphasizing the collective sense of celebration. He would go on to work with his brother Bruce on a series of videos playing with the genre of television soap operas in the late 1970s and early 1980s and a series of landmark video-based installations throughout the 1980s and 1990s.
View the Norman Yonemoto video >>