Extras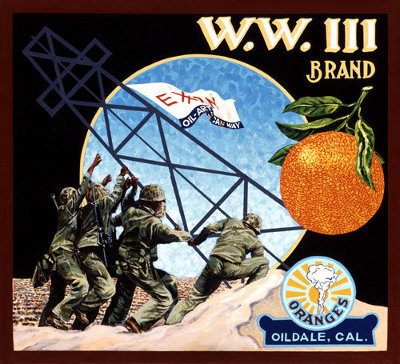 Orange Crate Label Series 1974-81: WWIII Brand (1974-81), Ben Sakoguchi. Acrylic on canvas 10 x 11 in. © Ben Sakoguchi
In addition to the artwork and artifacts, the exhibition includes several media components—a film by Norman Yonemoto, and video footage of performances by Linda Nishio and the musical Chop Suey.
Videos were created for each featured artist and are accessible in the exhibition, online, and on DVD. Selected audio clips are also available through a free cell phone audio tour.
GIDRA
View four issues of Gidra in the exhibition and online:
April 1969 (1st issue)
January 1971
February 1973
April 1974 (final issue)
Video Interviews
Online: Video clips from some of the interviews featured in the exhibition with the artists, their friends, and family are available online. View the videos >>
DVD: All of the video segments from Drawing the Line are available on DVD from the Museum Store. Purchase the DVD >>
Guide by Cell
FREE AUDIO TOUR

Enhance your experience of Drawing the Line: Japanese American Art, Design & Activism in Post-War Los Angeles with the FREE audio cell phone tour (no cost except your cell phone minutes).
Hear information and commentary by the artists and those close to them. Hang up and call back as often as you'd like before, during, and after your visit. The Cell Phone Audio Tour Guide will be accessible through February 19, 2012.
It's easy to use:
Dial 213.455.2924
Follow the prompts
Look for the cell phone logo on labels or use the prompt numbers below
Enter the prompt number followed by the # sign to access information
Second Floor: Watanabe Galleries
Prompt 100: Drawing the Line curator Kris Kuramitsu
Prompt 1: Ron Kusumi speaks about his friend automobile designer Larry Shinoda
Prompt 3: Photographer & filmmaker Robert A. Nakamura
Prompt 4: Performance artist Linda Nishio
Prompt 5: Painter & printmaker Ben Sakoguchi
Prompt 6: Nancy Uyemura speaks about the work of her friend and colleague Mike Kanemitsu
Prompt 7: Evelyn Yoshimura comments on the seminal Asian American magazine Gidra
Prompt 9: Filmmaker & visual artist Norman Yonemoto
Prompt 10: Mike Murase comments on the seminal Asian American magazine Gidra
Prompt 11: Doug Aihara comments on the seminal Asian American magazine Gidra