Crossover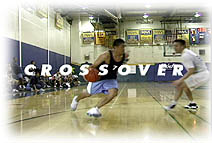 CROSSOVER takes you on a fast-breaking journey into the 70-year old phenomenon of the Japanese American basketball leagues.

Established in the 1930s when opportunities to play competitive sports were limited, today the leagues are stronger than ever with over 20,000 players organized in innumerable leagues each of which have numerous organizations, divisions, teams and tournaments.

Now faced with a vastly different social profile, CROSSOVER looks at the many sides of the so-called ethnicity rules and the geographically dispersed and ethnically diffused Japanese American communities in addition to the "family, friends, and fun" that the leagues have bolstered through the decades.

With guest appearances by legendary coach John Wooden and NBA veteran Rex Walters who began his basketball career in the JA leagues.

Produced in conjunction with the More Than a Game: Sport in the Japanese American Community exhibition.
Release date: 2000
Production Credits:
Director: JUSTIN LIN
Producers: JULIE ASATO, JUSTIN LIN
Executive Producers: KAREN ISHZUKA, ROBERT A. NAKAMURA
Post Production/Digital Effects: DARIC LOO
Camera: PATRICE COCHET, JOHN ESAKI, STEVE HERR, JUSTIN LIN, DARIC LOO, VIVIAN WONG, STANLEY YUNG

26 minutes. Color