Moving Memories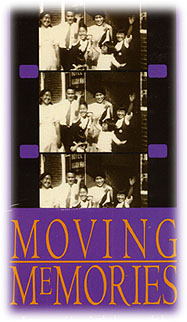 Americans of Japanese ancestry have been in the United States since the 1880s. Yet in the first half of the century, while the majority of the society was routinely reflected in the popular media, Japanese Americans were not. They, as well as other Americans of color, went undocumented in the newsreels and motion pictures of the day.

Nevertheless, Japanese American gardeners, priests, businessmen—large and small—even former picture brides began recording their lives on home movies as soon as the first amateur cameras became available in 1924. Today they survivie as the only motion picture documentation of this American group and provide a never-before-seen look at America in the making.

George Takei hosts MOVING MEMORIES, a journey into the 1920s and 1930s featuring restored and edited home movies taken by Japanese American immigrant pioneers as they made America their new home.

Produced in conjunction with the Museum's inaugural Issei Pioneers: Hawaii and the Mainland, 1885-1924 exhibition.
Release date: 1993
Production Credits:
Produced by KAREN L. ISHIZUKA
Created and Edited by ROBERT A. NAKAMURA

31 minutes. Color
History:
EXHIBITION HISTORY
Legacy Center, Japanese American National Museum, continuous "In This Great Land of Freedom: Issei Pioneers to Oregon"
Oregon Historical Society, Portland, Oregon, 1994
Western Treasure Valley Cultural Center, Ontario, Oregon, 1994
Hood River Historical Museum, Oregon, 1994
Mission Mill Museum, Salem, Oregon, 1994
hern Oregon Historical Society, Medford, 1993

AWARDS
CINE Golden Eagle, (1995)
American Association of State & Local History, Award of Merit, Ohio, 1994
Chicago International Film Festival, Certificate of Merit, 1992
FESTIVAL & SPECIAL SCREENINGS
Seattle Asian American Film Festival, 1996
Yamagata International Documentary Film Festival, Japan, 1995
National Video Festival, American Film Institute, Los Angeles, 1994
Hiroshima Museum of Art, 1995-1996
Tokyo Metropolitan Teien Art Museum, 1995
Ohita Prefectural Art Hall, 1995
Robert Flaherty Seminar for Independent Film & Cinema, 1995
American Association for State and Local History, 1994

BROADCAST
U-TV, Honolulu, Hilo, Hawaii, 1995
Excerpts featured in American Movie Classic (AMC) mini-documentary on film preservation, 1995
Excerpts featured in PBS series, "The Great Depression," 1995
New Years Special on 100+ cable affiliates of the International Channel Network in 21 states, Guam, Guatemala and Panama, 1994
The 90s Channel, 8 cable affiliates, 1994
Special on Japan America Television Broadcast, KSCI-TV, Los Angeles, 1994
Japanese translation, NHK, throughout Japan, 1994
JMBS-TV, Osaka, Japan, 1993
This production is available for purchase at the Museum Store.