FOR IMMEDIATE RELEASE - August 17, 2012
PRESS CONTACTS
Cindy Villasenor - cvillasenor@janm.org - 213-625-0414

JAPANESE AMERICAN NATIONAL MUSEUM ANNOUNCES PUBLIC CELEBRATION OF THE LIFE OF MANABI HIRASAKI
Los Angeles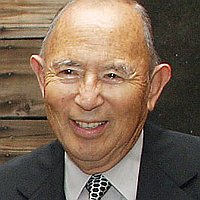 The life and legacy of Trustee Emeritus Manabi Hirasaki will be celebrated at a special public program on Saturday, September 8, 1:30 – 3:30 PM, at the Japanese American National Museum. Hirasaki died peacefully on July 26, 2012, at his home in Camarillo, CA, at the age of 89. He is survived by his wife Sumi, children Mark and Marcia (Steve Messinger), siblings Hisashi (Jean) Hirasaki, Mineko (Lawson) Sakai, Aiko Nakamura, and many extended family members. Siblings who have passed away are Michiko Sakamoto, Fumiko Maruko, Shinobu Hirasaki, and Midori Oki. A private family service was held on Friday, August 3, 2012.
Owner of Manabi Farms, Inc., in Oxnard, Hirasaki was a strawberry farmer who became the first non-family member to serve as a Director of the prestigious Driscoll Strawberry Association. His cultivation of long-stem strawberries, known for their size and taste, was promoted when they were served to President Reagan and became highly sought after.
Born in San Jose in 1923 to Japanese immigrants Kiyoshi and Haruye Hirasaki, Manabi grew up on the family farm in Gilroy, CA. While a student at the University of California at Davis, the United States entered World War II. After Kiyoshi was picked up by the FBI, Manabi worked with his father's business associates to relocate the family to Grand Junction, Colorado and to continue farming.
Upon his father's release in 1943, Manabi volunteered to join the Army. A member of the 522nd Field Artillery Battalion, attached to the 442nd Regimental Combat Team, Hirasaki handled telephone wire for communications. The 522nd supported the 442nd through most of its campaigns, including the famed rescue of "The Lost Battalion" in France. Detached from the 442nd in 1945, members of 522nd were among the first to discover the horror of Dachau and its sub-camps.
Hirasaki, a generous friend of many local and regional organizations, began supporting the formation of JANM in the early 1980s and continued to be a longtime friend and supporter. He was the founding member of the museum's Legacy Society. In 1999 the Manabi and Sumi Hirasaki National Resource Center was established to ensure that the Japanese American story remains accessible to all.
The Celebration of Life will be held at the Japanese American National Museum. In lieu of flowers, the family requests that gifts be made to the Japanese American National Museum, or, the Go For Broke National Education Center. Contact JANM at 213.625.0414 for further information.
Photo by Mario G. Reyes/Rafu Shimpo