FOR IMMEDIATE RELEASE - August 3, 2015
PRESS CONTACTS
Leslie Unger - lunger@janm.org - 213-830-5690

JANM'S ANNUAL NATSUMATSURI FAMILY FESTIVAL IS A FREE DAY OF FUN FOR ALL
Los Angeles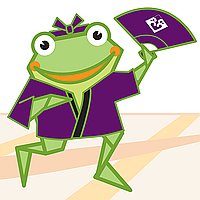 The Japanese American National Museum (JANM) will present its annual Natsumatsuri ("summer festival") on Saturday, August 15, from 11 a.m. to 5 p.m. Admission to the yearly celebration featuring Japanese and Japanese American performances, crafts, and activities is free, and all current exhibitions will be available for viewing.
Highlights of the day will include a joint performance by TAIKOPROJECT and Chicano fusion band Quetzal, an introductory lecture on JANM's just-opened special display titled Jidai: Timeless Works of Samurai Art, a scavenger hunt, and karaoke. General admission seating for the lecture and all performances is on a first-come, first-served basis.
The complete schedule for August 15 is as follows.
All day activities:
Face Painting: Visitors can put on their best summer festival face with Party Face Magic. A Members' Express Line will be available for JANM members.
Family Art Project: In a special activity inspired by two current exhibitions, guests can create an artwork about their family using light-sensitive paper.
Greetings from JANM's Natsumatsuri: Attendees can make a fun postcard greeting to send to a friend.
Natsumatsuri Hats: Supplies will be on hand for paper hats, a signature craft at JANM's Natsumatsuri.
Ruthie's Origami Corner: JANM volunteer Ruthie Kitagawa will show visitors how to make an origami version of the traditional kimonos worn during Obon, Japan's summer festival to honor the memory of ancestors.
Scavenger Hunt: Guests can use smart phones or cameras to take pictures of the items from JANM's list, then take the images to the Information Booth to claim a prize, while supplies last.
Toddler Room: Toddlers have a special place to relax and play with other toddlers. Children must be supervised by an accompanying adult at all times.
Wishing Tree: Wishing trees are a popular summer tradition in Japan, appearing as part of the annual Tanabata Festival. Visitors can write their wish on a tanzaku (strip of ceremonial paper) and tie it to a bamboo tree at JANM's Tanzaku Wish station.
Scheduled activities:
11 a.m.: Signups begin for the karaoke open mic, which starts at 1 p.m.
11 a.m. and 3 p.m.: Free screenings of Lilo & Stitch, the popular animated children's film set in Hawaii.
11:30 a.m.: JANM volunteer Hal Keimi will give a basic taiko drumming lesson—a Natsumatsuri tradition.
12 p.m.: Live screen-printing demonstration with Grow Your Own Media begins. Natsumatsuri t-shirts, in children's sizes only while supplies last, will be available to commemorate the day. A Members' Express Line will be available for JANM members.
12:30 p.m.: Summer will be celebrated with a community bon odori (traditional Obon dance), with music provided by contemporary Japanese folk group Minyo Station.
1 p.m.: Karaoke open mic begins.
2–4 p.m. Meet Your Museum: Visitors can stop by the lobby of the National Center for the Preservation of Democracy to learn more about JANM's mission, upcoming exhibitions, and the benefits of being a member. Museum volunteers will be on hand to answer questions.
2 p.m.: Curators Michael Yamasaki and Darin S. Furukawa will present an introductory lecture on Jidai: Timeless Works of Samurai Art. Learn about the unique forging process and special properties of the Japanese samurai sword and see how the distinctive armor of the warrior class functioned not only as protection, but as a reflection of the wearer's personality. Reserved seating will be available for JANM members.
2 p.m.: An exciting performance by taiko/rock fusion band Random Ninjas. Reserved seating will be available for JANM members.
3 p.m.: Minyo Station will present a short concert featuring their unique blend of contemporary influences and traditional Japanese folk music. Reserved seating will be available for JANM members.
4:15 p.m.: A special joint performance from the high-energy TAIKOPROJECT and the innovative Chicano fusion band Quetzal bring a fun-filled day to a rousing finish. Reserved seating will be available for JANM members.
For more information on JANM's 2015 Natsumatsuri Family Festival, visit janm.org/natsumatsuri2015.
# # #
NOW ON VIEW AT JANM:
Jidai: Timeless Works of Samurai Art
Through August 30, 2015
A look at the weaponry and armor of the samurai that examines ways this facet of Japanese culture has been preserved, embraced, and shared in America.
Before They Were Heroes: Sus Ito's World War II Images
Through September 6, 2015
Susumu "Sus" Ito's WWII photographs were taken while on a tour of duty through Europe as a member of the 442nd RCT's 522nd Field Artillery Battalion. While Ito participated in such dramatic events as the rescue of the Lost Battalion, these rare and breathtaking images capture in humble detail the daily lives of a group of young Japanese American soldiers.
Sugar/Islands: Finding Okinawa in Hawai'i—The Art of Laura Kina and Emily Hanako Momohara
Through September 6, 2015
Paintings by Laura Kina and photographs by Emily Hanako Momohara explore the artists' mixed-heritage roots in Okinawa and Hawai'i, employing unique strategies that blend fiction and reality to question the stability of memory and identity.
Common Ground: The Heart of Community
Ongoing
Incorporating hundreds of objects, documents, and photographs collected by JANM, this exhibition chronicles 130 years of Japanese American history, from the early days of the Issei pioneers through the World War II incarceration to the present.
# # #
# # #
About the Japanese American National Museum (JANM)
Established in 1985, the Japanese American National Museum promotes understanding and appreciation of America's ethnic and cultural diversity by sharing the Japanese American experience. Located in the historic Little Tokyo district of downtown Los Angeles, JANM is a hybrid institution that straddles traditional museum categories and strives to provide a voice for Japanese Americans as well as a forum that enables all people to explore their own heritage and culture. Since opening to the public, JANM has presented over 70 exhibitions onsite and traveled 16 of its exhibitions to locations around the world, including the Smithsonian Institution and the Ellis Island Museum in the United States, and several leading cultural museums in Japan and South America.
JANM is located at 100 N. Central Ave., Los Angeles. Museum hours are Tuesday, Wednesday, Friday, Saturday, and Sunday from 11 a.m. to 5 p.m. and Thursday from noon to 8 p.m. General admission is $9 adults, $5 students and seniors, free for members and children under age five. Admission is free to everyone on Thursdays from 5 p.m. to 8 p.m. and every third Thursday of the month from noon to 8 p.m. General admission prices and free admission times may not apply to specially ticketed exhibitions. Closed Monday, 4th of July, Thanksgiving, Christmas, and New Year's Day. For more information visit janm.org or call 213.625.0414.