FOR IMMEDIATE RELEASE - August 31, 2016
PRESS CONTACTS
Leslie Unger - lunger@janm.org - 213-830-5690

JANM TO PRESENT SPECIAL FREE SCREENING OF STEVE AOKI'S NETFLIX ORIGINAL FILM "I'LL SLEEP WHEN I'M DEAD"
Post-Screening Discussion with Aoki and Linkin Park's Mike Shinoda
Los Angeles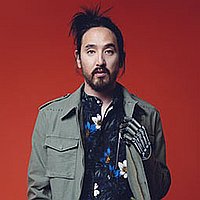 I'll Sleep When I'm Dead, a new documentary on the life of influential DJ, music producer, and record label founder Steve Aoki, will be screened at the Japanese American National Museum on September 27, at 7:30 p.m. Free and open to the public, the screening will be followed by a discussion with Aoki led by Mike Shinoda of Grammy Award-winning rock band Linkin Park.
I'll Sleep When I'm Dead was shot over the course of three years, during the making of Aoki's 2014 Neon Future double album. As it follows Aoki's journey to play the biggest show of his career, the film tackles his complex yet loving relationship with his father, legendary Benihana restaurant tycoon Rocky Aoki, and his struggle growing up Japanese American in Southern California during the 1980s and '90s. This bittersweet film reveals how the weight of parental expectations paired with the search for personal identity created one of the most prominent Asian Americans in pop culture today.
From the main stage of the Tomorrowland electronic music festival in Belgium to intimate gatherings at his family home in Japan, the movie offers an inside look at one of music's most outstanding characters. The story is complemented by interviews with Aoki's mother, Chizuru Kobayashi—another major influence in his life; supermodel sister Devon Aoki; and musicians and contemporaries including Diplo, Tiesto, Afrojack, Laidback Luke, Travis Barker, Pete Tong, and will.i.am.
The film premiered to a sold-out audience at the Tribeca Film Festival this past spring and is now available on Netflix.
I'll Sleep When I'm Dead at JANM is free but RSVPs are required. To reserve a seat, visit janm.org/steve-aoki. A limited number of seats are reserved for JANM members, who can contact memberevents@janm.org or 213.830.5646 to RSVP.
# # #
NOW ON VIEW AT JANM:
Tatau: Marks of Polynesia
Through January 8, 2017
Tatau: Marks of Polynesia explores Samoan tattoo practice through photographs that showcase the work of traditional tatau masters alongside more contemporary manifestations of the art form. Curated by author and master tattoo artist Takahiro "Ryudaibori" Kitamura with photography by John Agcaoili, Tatau highlights the beauty of the Samoan tattoo tradition as well as its key role in the preservation and propagation of Samoan culture.
Common Ground: The Heart of Community
Ongoing
Incorporating hundreds of objects, documents, and photographs collected by JANM, this exhibition chronicles 130 years of Japanese American history, from the early days of the Issei pioneers through the World War II incarceration to the present.
# # #
About the Japanese American National Museum (JANM)
Established in 1985, the Japanese American National Museum promotes understanding and appreciation of America's ethnic and cultural diversity by sharing the Japanese American experience. Located in the historic Little Tokyo district of downtown Los Angeles, JANM is a hybrid institution that straddles traditional museum categories and strives to provide a voice for Japanese Americans as well as a forum that enables all people to explore their own heritage and culture. Since opening to the public, JANM has presented over 70 exhibitions onsite and traveled 17 of its exhibitions to locations around the world, including the Smithsonian Institution and the Ellis Island Museum in the United States, and several leading cultural museums in Japan and South America.
JANM is located at 100 N. Central Ave., Los Angeles. Museum hours are Tuesday, Wednesday, Friday, Saturday, and Sunday from 11 a.m. to 5 p.m. and Thursday from noon to 8 p.m. General admission is $10 adults, $6 students and seniors, free for members and children under age five. Admission is free to everyone on Thursdays from 5 p.m. to 8 p.m. and every third Thursday of the month from noon to 8 p.m. General admission prices and free admission times may not apply to specially ticketed exhibitions. Closed Monday, 4th of July, Thanksgiving, Christmas, and New Year's Day. For more information visit janm.org or call 213.625.0414.