FOR IMMEDIATE RELEASE - August 24, 2017
PRESS CONTACTS
Leslie Unger - lunger@janm.org - 213-830-5690

NEW EXHIBITION EXPLORING JAPANESE LATINO AND LATIN AMERICAN ARTISTS TO OPEN AT JAPANESE AMERICAN NATIONAL MUSEUM
"Transpacific Borderlands" is part of Getty-led Pacific Standard Time: LA/LA Initiative
Los Angeles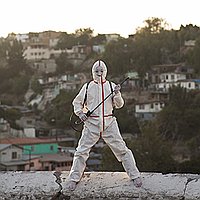 Transpacific Borderlands: The Art of Japanese Diaspora in Lima, Los Angeles, Mexico City, and São Paulo, a new exhibition opening at the Japanese American National Museum on September 17, will examine the experiences of artists of Japanese ancestry born, raised, or living in either Latin America or predominantly Latin American neighborhoods of Southern California. The exhibition will show how ethnic communities, racial mixing, and the concepts of homeland and cosmopolitanism inform the creativity and aesthetics of this hybrid culture. Transpacific Borderlands is part of Pacific Standard Time: LA/LA, a Getty-led initiative exploring Latin American and Latino art in dialogue with Los Angeles, and is made possible through grants from the Getty Foundation. The presenting sponsor of PST: LA/LA is Bank of America.
Admission to JANM on opening day of the exhibition (Sept. 17) will be free, thanks to Bank of America.
Historical events have shaped the Japanese diaspora worldwide. The countries of Peru, the United States, Mexico, and Brazil experienced the most significant numbers of Japanese immigrants, mostly as a result of the need for labor. Asian American Studies and Latin American Studies scholars have researched the historic immigrant experiences of the Japanese diaspora in the Americas, but few, if any, have examined the work of artists of Japanese ancestry in these regions and their contributions to this vast cultural landscape. Transpacific Borderlands will focus on the art and artists of these four critical regions. Each region will be represented by the work of three to four living contemporary artists, along with one historical artist.
Following is a list of the contemporary artists by the region they are most closely associated with:
Lima Artists
Patssy Higuchi
Sandra Nakamura
Eduardo Tokeshi
Los Angeles Artists
Ichiro Irie
Shizu Saldamando
Kenzi Shiokava
Shinpei Takeda
Mexico City Artists
Kiyoto Ota
Yuriko Rojas Moriyama
Taro Zorrilla
São Paulo Artists
Madalena Hashimoto
Erica Kaminishi
Oscar Oiwa
The artists were selected by curators in each region of focus. They are Jaime Higa (Lima), Kris Kuramitsu (Los Angeles), Miho Hagino (Mexico City), and Michiko Okano (São Paulo). Overall curation of the exhibition is by Clement Hanami, JANM's vice president of operations and art director.
The methods of artmaking favored by the artists in Transpacific Borderlands are diverse, ranging from traditional to experimental, and the work itself illustrates perspectives of the Japanese Latin American experience directly, metaphorically, and/or abstractly. The exhibition offers a visual record of contemporary Japanese Latin American art and contributes to the understanding of identity in a world where the meaning of race and ethnicity is constantly evolving.
Transpacific Borderlands: The Art of Japanese Diaspora in Lima, Los Angeles, Mexico City, and São Paulo will be on view through February 25, 2018. It is accompanied by a catalog featuring full-color images and essays by the exhibition's four curators along with writings by scholars of immigration and diversity from across the Americas. The catalog will be available at the museum in the JANM Store as well as online at janmstore.com.
Major support for this exhibition and the accompanying publication is provided through grants from the Getty Foundation. Generous support for Transpacific Borderlands has also been provided by the National Endowment for the Arts. Additional support is from the Kosasa Foundation and the Pasadena Art Alliance.
Additional information about Transpacific Borderlands is available at janm.org.
# # #
NOW ON VIEW AT JANM:
Common Ground: The Heart of Community
Ongoing
Incorporating hundreds of objects, documents, and photographs collected by JANM, this exhibition chronicles 130 years of Japanese American history, from the early days of the Issei pioneers through the World War II incarceration to the present.
# # #
About the Japanese American National Museum (JANM)
Established in 1985, the Japanese American National Museum promotes understanding and appreciation of America's ethnic and cultural diversity by sharing the Japanese American experience. Located in the historic Little Tokyo district of downtown Los Angeles, JANM is a hybrid institution that straddles traditional museum categories and strives to provide a voice for Japanese Americans as well as a forum that enables all people to explore their own heritage and culture. Since opening to the public, JANM has presented over 70 exhibitions onsite and traveled 17 of its exhibitions to locations around the world, including the Smithsonian Institution and the Ellis Island Museum in the United States, and several leading cultural museums in Japan and South America.
JANM is located at 100 N. Central Ave., Los Angeles. Museum hours are Tuesday, Wednesday, Friday, Saturday, and Sunday from 11 a.m. to 5 p.m. and Thursday from noon to 8 p.m. General admission beginning September 19 is $12 adults, $6 students and seniors, free for members and children under age five. Admission is free to everyone on Thursdays from 5 p.m. to 8 p.m. and every third Thursday of the month from noon to 8 p.m. General admission prices and free admission times may not apply to specially ticketed exhibitions. Closed Monday, 4th of July, Thanksgiving, Christmas, and New Year's Day. For more information visit janm.org or call 213.625.0414.
About Pacific Standard Time: LA/LA
Pacific Standard Time: LA/LA is a far-reaching and ambitious exploration of Latin American and Latino art in dialogue with Los Angeles. Supported by grants from the Getty Foundation, Pacific Standard Time: LA/LA takes place from September 2017 through January 2018 at more than 70 cultural institutions across Southern California, from Los Angeles to Palm Springs, and from San Diego to Santa Barbara. Pacific Standard Time is an initiative of the Getty. The presenting sponsor is Bank of America.