FOR IMMEDIATE RELEASE - December 20, 2017
PRESS CONTACTS
Leslie Unger - lunger@janm.org - 213-830-5690

JAPANESE AMERICAN NATIONAL MUSEUM TO DISPLAY EATON COLLECTION AS "CONTESTED HISTORIES"
Los Angeles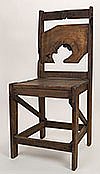 Beginning January 7, 2018, the Japanese American National Museum will display the Allen Hendershott Eaton Collection, which was saved from the auction block in 2015 through the efforts of various community groups that felt Japanese American history from World War II should not be for sale. Opening day coincides with the museum's annual Oshogatsu Family Festival, which is free all day from 11 a.m. to 5 p.m. After January 7, the display will be included with regular museum admission and accessible during the museum's Hirasaki National Resource Center hours of Tuesday, Saturday, and Sunday from 11 a.m. to 5 p.m. and Thursday from 2:30 p.m. to 5 p.m. It will remain on view until April 8, 2018.
While conducting research for a book about art and craft objects created by Japanese Americans during World War II, author Allen Hendershott Eaton amassed a significant collection of such camp artifacts. After many years of being in storage and forgotten, the collection was inherited by a family friend of Eaton's, who in April 2015 decided to put the artifacts up for auction. Japanese American activists and community leaders rallied successfully to stop the sale and ultimately the collection was transferred to JANM.
Titled Contested Histories: Art and Artifacts from the Allen Hendershott Eaton Collection, the display will include physical or digital representation of every item in the collection—more than 450 individual photographs, sculptures, paintings and watercolors, jewelry items, vases, beads, nameplates, and other handmade items from the WWII incarceration camps that Japanese Americans were forced to endure.
In addition to providing the opportunity to see a collection that inspired strong emotions and decisive actions within the Japanese American community, Contested Histories is intended to help gather information about each individual object so that the museum's efforts to preserve and catalog the collection can be as complete as possible. Camp survivors and their family members and friends will be encouraged to share with JANM information they know or remember about the objects, including who is depicted in the many photographs, most of which were shot by photographers working for the War Relocation Authority.
After the display at JANM concludes in April, the artifacts and/or facsimiles will travel to a number of other locations in the United States for additional viewing and information gathering. Venues and dates for the traveling display are still being determined.
Support for the conservation and display of the Eaton Collection was provided by the National Park Service's Japanese American Confinement Sites grant program.
Additional information about Contested Histories is available at janm.org/contested-histories.
# # #
NOW ON VIEW AT JANM:
Transpacific Borderlands: The Art of Japanese Diaspora in Lima, Los Angeles, Mexico City, and São Paulo
Through February 25, 2018
Transpacific Borderlands: The Art of Japanese Diaspora in Lima, Los Angeles, Mexico City, and São Paulo examines the experiences of artists of Japanese ancestry born, raised, or living in either Latin America or predominantly Latin American neighborhoods of Southern California. By looking at the work of Japanese Latin American artists, the exhibition shows how ethnic communities, racial mixing, and the concepts of homeland and cosmopolitanism inform the creativity and aesthetics of this hybrid culture. Transpacific Borderlands is part of Pacific Standard Time: LA/LA, a Getty-led initiative exploring Latin American and Latino art in dialogue with Los Angeles, and is made possible through grants from the Getty Foundation. The presenting sponsor of PST: LA/LA is Bank of America.
Common Ground: The Heart of Community
Ongoing
Incorporating hundreds of objects, documents, and photographs collected by JANM, this exhibition chronicles 130 years of Japanese American history, from the early days of the Issei pioneers through the World War II incarceration to the present.
# # #
About the Japanese American National Museum (JANM)
Established in 1985, the Japanese American National Museum promotes understanding and appreciation of America's ethnic and cultural diversity by sharing the Japanese American experience. Located in the historic Little Tokyo district of downtown Los Angeles, JANM is a hybrid institution that straddles traditional museum categories and strives to provide a voice for Japanese Americans as well as a forum that enables all people to explore their own heritage and culture. Since opening to the public, JANM has presented over 70 exhibitions onsite and traveled 17 of its exhibitions to locations around the world, including the Smithsonian Institution and the Ellis Island Museum in the United States, and several leading cultural museums in Japan and South America.
JANM is located at 100 N. Central Ave., Los Angeles. Museum hours are Tuesday, Wednesday, Friday, Saturday, and Sunday from 11 a.m. to 5 p.m. and Thursday from noon to 8 p.m. General admission is $12 adults, $6 students and seniors, free for members and children under age five. Admission is free to everyone on Thursdays from 5 p.m. to 8 p.m. and every third Thursday of the month from noon to 8 p.m. General admission prices and free admission times may not apply to specially ticketed exhibitions. Closed Monday, 4th of July, Thanksgiving, Christmas, and New Year's Day. For more information visit janm.org or call 213.625.0414.