WHOSE AMERICA? WHO'S AMERICAN? CIVIL LIBERTIES, DIVERSITY AND SOCIAL JUSTICE
By Kathryn Jens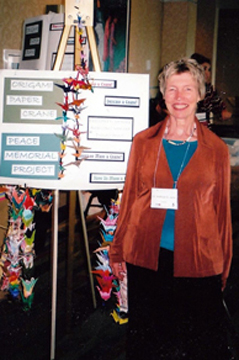 Let me begin by sharing some of my memories of a powerful three long and intense days with much learning and many new friends. I arrived early on Thursday to catch the bus for Amache and right away ran into a couple from California that helped me get my bearings. We later connected again on Saturday as they needed directions to go to the Simpson United Methodist Church in Arvada where my cousin goes. Allyson Nakamoto came up to me while I waited in the bus line and introduced herself and made me feel important and included, which I know she did with all of the educators, a wonderful knack of hers. I waited in line for the bus and ended up sitting next to people who will be lasting friends, Nancy Bartlit, an author from New Mexico, and Soonja Rossner, an elementary school TA in the Cherry Creek Schools where I also work. A few rows back was Eric Alwin, a high school teacher from Cherry Creek Schools. I was pleased to find others from my school district so that we can support each other in applying the concepts we learned at this conference.
And I sat behind Lorna Uno and her two daughters. Lorna had been interned with her family at Amache as a girl. Her father died there and they had him cremated and brought his remains back to California. Lorna's friend who she met in Amache was also on our bus with her children and grandchildren. The trip was a pilgrimage of sorts. Lorna shared that Amache was much more difficult for the adults than the children, who didn't feel the responsibility for survival and just played together like kids do.
As we rode for the four hours across the eastern Colorado plains, I realized what a remote and poor place we were heading to. I empathized with the Japanese Americans in 1942 on the train about the overwhelming feeling of where are they taking us and what will it be like there. At the rest stop, I realized how included I felt by the Japanese Americans at the conference since I was in the minority as a Caucasian.
At the Granada High School we were feed a simple, home-cooked meal of burritos. In fact one of the cooks was John Hopper's wife and one of the servers was his young son. It was such a family and community operation. After lunch, the students presented about their work with the Amache Preservation Society. Several of them had traveled to Japan. For small town kids they were poised and mature from the opportunities the Society had offered them. The people of Granada kindly organized individual rides for families who had been interned at Amache in the 1940s to the area of their barracks. Before leaving we toured the museum in the high school gym which had artifacts found at the site and notes from the students regarding "does anyone know what this would have been used for" and notes from internees about "does anyone know what happened to this person" or "who is that person" in a photo. It reminded of the Vietnam War Memorial and the personal quality of notes left.
At the Amache site, I asked John Hopper and Jerene DeBono, the Granada Mayor, what the main industry of Granada is. I was so touched when they said the main employers are two truck farms and that it was the Japanese Americans interned at Amache that taught the people of Granada how to grow vegetables in such an arid place. So the people of Granada survive because of the Japanese Americans at Amache and they in turn preserve the history of Amache so that Japanese Americans have a site to return to for their remembrance and healing.
The Amache site just has the foundations of barracks. Two University of Denver archaeology students were working of projects, one on trying to understand women's experience and the other children's experiences in Amache. Jerene also showed us the rodeo arena built at the site to attract locals to the site to respect it and be involved with its preservation. The high schoolers in the Amache Preservation Society have restored a koi pond and maintain a lawn at the cemetery where we had a lovely Buddhist prayer ceremony at the end of the day.
Nancy Bartlit had introduced me to a teacher from New Mexico who worked with her students using poetry to understand the Japanese American internment experience. She asked her students to pick a picture of one of the people in a camp and to write a poem from their point of view. So on the bus ride home, I wrote:
Train to Amache
How my heart aches to see this dusty place,
So different than the rich farmland of California.
How will we ever get crops to grow here.
How will we survive on this barren land?
I look over at my beautiful wife.
She came from Japan only five years ago,
Proud to be in this new place called America.
Our young child sleeps on her lap.
I see the horror in her eyes.
How can this be happening?
She barely understands the language
That the guards shout at us in.
No need for us to talk about what is happening,
It is written all over the surrounding faces.
One day this war must end.
Will the hate and fear end too?
Until then, we must survive.
We will work hard,
Form a community,
And long for the return of our freedom.
I began Friday with a powerful session. Lily Havey, a watercolor painter shared her paintings about Amache where she lived with her family from age ten to thirteen. Her paintings were of coyotes with menacing eyes, searchlights from towers, sunflowers, and rabbits running for Kansas line. She shared stories with each painting. One story that stayed with me was how cold it was at night and how she'd move her feet rapidly in circles to get warm enough to fall asleep. Her parents attitude was that it can't be helped, you have to take it.
The next session I attended was Patrica Limerick, a History Professor from University of Colorado, who talked about correcting historical injury. In comparing Executive Order 9066 and the injury to Japanese Americans with injury to aborigines in Australia and blacks in South Africa, she said not only is apology necessary but also some compensation for the injury is due. Miss Manners says if you break a plate while visiting, you must say you are sorry AND buy a new plate. And we should never forgive and forget, but forgive and remember. P.W. Botha in South Africa was clearly evil and lacking in empathy, while President Franklin Roosevelt was a kind and much loved leader. Both committed evil acts. Because we are all capable of evil, we must remain vigilant. Patty Limerick ended by reading the Declaration of Rights section of the Declaration of Independence: "We hold these truths to be self-evident, that all men are created equal, that they are endowed by their Creator with certain unalienable Rights, that among these are Life, Liberty and the pursuit of Happiness. That to secure these rights, Governments are instituted among Men, deriving their just power from the consent of the governed. That whenever any Form of Government becomes destructive of these ends, it is the Right of the People to alter or abolish it, and to institute new Government laying its foundation on such principles and organizing its powers in such form, as to them shall seem most likely to effect their Safety and Happiness." I laughed when she shared how the average man on the U.S. street who is read the above passage says "sounds like communism or anarchists". Patty suggested that each 4 th of July, Americans should reread it and recommit to it.
My final session on Friday was with the International Coalition of Historic Site Museums of Conscience and Erika Gee. I did not know such a coalition existed nor about many of these museums. These museums are a wonderful resource for educators both for online learning and through the process of "civic dialogue". In museums of old, one went and looked. In museums now, one experiences and dialogues, a more powerful way to change attitudes.
I had my sons join me Friday afternoon to see the Youth Expo and Community Marketplace. I showed them the students who are folding 120,000 paper cranes to commemorate the Japanese Americans in the internment camps. This happily reminded me of the Paper Clips project by a middle school in Tennessee to remember the Jews lost in the Holocaust by gathering 6 million paper clips. We then went to the Rockies game which was a cliffhanger with our home team finally winning, followed by glorious fireworks. We sat next to June Aoki, a JANM docent at the conference, and I made another friend. I am eager to visit JANM next time I'm in L.A. and will contact June for a docent tour.
Saturday, my final day at the conference, was filled with more connections between the Japanese American experience and other violations of civil liberties historically and currently. I began with hearing Federico Pena and Dale Minami speak. Pena reminded me of the long succession of out-groups in U.S. history: the Irish, the Chinese, blacks, Hispanics. He noted how curious it is that the U.S. is building a wall across our southern border, but if we have many undocumented Canadians living here, would we really build a wall across our northern border. He noted that by 2050, whites will be a minority of the U.S. population. Minami talked about the legal process of getting oppressive events corrected, including his own representation of three Japanese Americans wrongly accused of crimes to the current legal cases at Guantanamo Bay.
Next I went to hear Noel Saleh speak on security, wartime anxiety and the erosion of civil liberties, referring particularly to Arab Americans that he is attorney for in Michigan. He reported that since 9/11, there has been a 2,000% increase in hate crimes against Arab Americans (EEOC report). He shared how several thousand Arab non-citizens were rounded up after 9/11 and held in lockdown with no contact with their families and the right to an attorney equalled being handed the yellow pages and allowed one phone call. Deportation hearings were closed to even Congressman John Conyers and Arab American citizens were held as "enemy combatants" indefinitely.
The luncheon speaker was Adam Schrager, a local journalist, who spoke about Ralph Carr, the Governor of Colorado at the time of Executive Order 9066, who spoke out against the internment of Japanese Americans and welcomed them to Colorado. Schrager shared personal stories about how Carr offered to personally drive Japanese American state employees to work, and how he sacrificed his political career to do what was right. It made me proud to be a Coloradan and helped me understand how appropriate it was to have this JANM conference here.
Then I went to my new friend, Nancy Bartlit's presentation on the battle to get a marker for the Santa Fe Internment Camp site. Again it was noteworthy how one city council woman's courage to change her vote because it was the right thing to do allowed community healing. My next panel was on stories of resistence where three men talked about either saying no-no to the questions of renounce Japan/support America or refusing to serve in U.S. military. One emotional aspect of this panel was the men's feeling of being shunned within the Japanese American community for their resistence. It is something I have seen before in victimized groups.
The afternoon plenary session was Anan Ameri from the Arab American National Museum who shared how right after 9/11, she received calls of support and assistance from JANM. She shared the parallels between both experiences. She is 5 th generation and all generations in her family have served in the U.S. military, yet she feels challenged on loyalty to our country. Sybil Jordan Hampton also spoke. She is one of the Little Rock Nine who integrated Central High School during the Civil Rights Movement. It was wonderful to see the support between these communities, a visible demonstration of how we are all Americans. And the day ended with a lovely banquet which I attended with my friends Nancy and Soonja. Again the Taiko drumming reminded me of how rhythm and music are so universal. And I enjoyed the remarks by Norman Mineta and Daniel Inouye.
By the end of the conference, names and dates that I never knew were ringing through my head … Executive Order 9066, February 19, 1942, Manzanar, Tule Lake, Gila River, Minidoka, Heart Mountain, Topaz, Rohwer, Jerome, Poston and of course Amache, importance of Colorado and Governor Ralph Carr, the 100 th and the 442 nd Battalions, redress movement, Civil Liberties Act, August 10, 1988. I learned much about this part of American history which until now I had been ignorant. And I realized that this piece of history has so much relevance and importance.
The Japanese American redress movement took the U.S. Constitution seriously and based on the 1 st Amendment, "the right of the people … to petition the government for a redress of grievances", and the violations of the 4 th Amendment ("the right of the people to be secure in their persons, houses, papers, and effects against unreasonable searches and seizures"); 5 th Amendment ("nor be deprived of life, liberty, or property, without due process of law"); and 6 th Amendment ("the right to a speedy and public trial, by an impartial jury … and to be informed of the nature and cause of the accusation, to be confronted with the witnesses against him, to have a compulsory process for obtaining witnesses in his favor, and to have the assistance of counsel for his defense.")by Executive Order 9066 in 1943, they patiently insisted on redress. Right there, the U.S. Constitution comes alive. And this history provides an understanding of how societies can oppress and civil liberties can be violated, and how to right these wrongs.
The highlights of the conference for me were the cognitive, emotional and experiential learning intertwined on the Amache trip; and realizing that teaching all American students about the Japanese American experience during the 1940s through redress may be the most powerful way to teach them about democracy, U.S. history and government.
So finally I want to share my answers to the conference's questions, Whose America? and Who's American? America belongs to all its citizens, no matter their race, religion, national origin, sexual orientation or gender expression. To define "citizen" I turn to the language of Amendment 14 to the U.S. Constitution, "all persons born or naturalized in the United States and subject to the jurisdiction thereof, are citizens of the United States … nor shall any state deprive any person of life, liberty, or property, without due process of law, nor deny to any person within its jurisdiction the equal protection of the laws." So by citizens I mean all those who can vote and carry U.S. passports. I also extend it to all those immigrants who are working to become citizens and who believe in the ideals and democratic principals of our Constitution. They are living here and under U.S. jurisdiction. America belongs to us and we are all Americans.
I want to thank the Japanese American National Museum for this wonderful learning opportunity. I plan to visit the museum next time I am in Los Angeles. I will take my learning and more sophisticated answers to the conference questions into my work as a psychologist. I will work to make this part of my district's Social Studies curriculum. I will use what I have learned in my ongoing collaborative writing about BullyingRoots and Offshoots: Making Cultural Competence Part of Your Caring Community and in another book I have just started, Walking Around Evil: Looking at It From Many Sides. I will give JANM credit for stimulating my thinking in both of these books.
Kathryn Jens, Ph.D. is a School Psychologist in the Cherry Creek School District in Colorado and co-author of Bully-proofing Your School. She works to promote social justice and celebration of diversity in her middle school.