"WHOSE AMERICA? WHO'S AMERICAN?"
REVIEW OF THE JANM 2008 CONFERENCE IN DENVER, COLORADO
By Jacqueline Ricks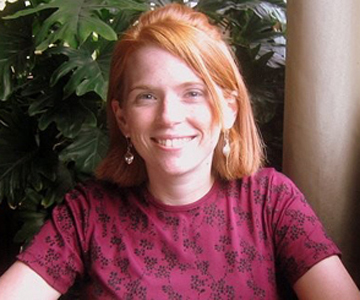 I was definitely in the minority at this years conference. I am quite Caucasian, with red hair and freckles, young in my teaching career, and yet I never went into the conference thinking I would be any different than anyone else attending. But, I was asked repeatedly what in the world I was doing at such a conference. Why would I be interested in the Japanese-American experience? I really could only respond with what I truly feel deep down, "Why would I not be interested in the Japanese-American experience?" Yes, I have studied Japanese for 10 years, I have been to Japan twice and studied the culture by immersing myself in it. Yes, I am a Social Studies teacher. Those are compelling reasons for me to be interested, but I feel connected to the story of the Japanese-Americans in some way that is difficult to explain. The conference helped to explain some of my own feelings in the exact way that I wanted, even craved to hear. The story of the Japanese-Americans cannot be forgotten, for it is a story of America and Americans.
The 2008 Japanese American National Museum Conference in Denver, Colorado was a huge success. The sessions and workshops were both essential and influential. The Amache campsite visit caused me to ponder a great deal about the way the American government responds to fear. Adam Schragers presentation at the Saturday luncheon was phenomenal. His oratorical skills and research proved to be quite excellent. Mr. Mineta and Senator Inouyes speeches at the dinner banquet were thought-provoking as well. Overall, I appreciated the various approaches during the conference that helped to provide an answer to the question, "Who's America, Whose American?"
Amache Camp
I'm not sure what exactly I was expecting to see upon arriving in Granada, Colorado and seeing Amache for the first time. I suppose I can convey my naivety and say that I thought it would be rebuilt barracks standing as a tribute to those who survived the experience. I guess I expected to see lots of artifacts in a fancy museum. Maybe it should have been something similar to the museums and monuments in Pearl Harbor, Hawaii and Hiroshima, Japan. The real-life experiences of the Japanese-Americans could not be so deep within the American history that they have been forgotten, could they?
Much to my dismay, Amache was almost completely gone. If it had not been for a special teacher at the local high school and his students and the group of Japanese-Americans that visited the site on an annual basis, the camp site might be wholly unappreciated and erased from the history books. It was incredible to see how far removed the community was from the rest of society. In August of 1942, American citizens had their homes taken from them, they were moved to a desert location with excessive heat and dust in the summer, straw for beds, and utter cold in the winter and told to stay by guards who watched day and night just because of their appearances. They were called "enemy aliens," even though most went to camps to prove their loyalty to their home country, America. To even further prove loyalty, 30,000 Nissei served in World War II and fought for America, many of them serving from Amache. These men comprised the 442 regiment and 100 th battalion, which came to be one of the most decorated regiments in history with the motto, "Go for broke! We've got nothing to lose." And so I wondered, "Why only this little monument to honor these men? Why was there a dear, little one who passed away whose gravestone reads 'Matsuda Baby?' Why are there just these concrete foundations and a reconstructed Koi pond to teach us what could happen if fear ever overcomes our liberties again? How did they survive in this desert? Isn't it great that those 3 trees in a line tell a story of 'homes' facing each other and the Japanese-Americans trying to accept the reality of the situation?" I tried to imagine dirt floors, eating dinner in the mess hall, walls that don't go all the way to the roof, barb wire fences. I developed a great esteem for those who set up a self-functioning government, lived in a new area for 3 ½ years with no reports of violent crime or theft, created a police department, high school, and tried to function as normally as possible. I enjoyed speaking to those who first-hand lived through life in Amache or other internment camps. Their stories were that of youth and making the best of it, filled with an inner sense of worry for what their parents went through. I came to understand the urgency behind getting these accounts documented. The more I heard, the more I yearned for an explanation of everything, "How did this happen? How can we make sure it doesn't happen again? How did this affect the rest of their lives as American citizens?"
Sessions and Workshops
The sessions were wonderfully executed to answer the questions that plagued my mind. I attended the Oral History presentation by the Go For Broke foundation. I found the information presented to be pertinent and valuable. The organization truly understands that history requires many different viewpoints and the time is nigh at hand to obtain the viewpoints of veterans of World War II. I hope to be able to implement the strategies shared in my classroom for many different projects, for the information is useful for many aspects of history. One lesson that was reiterated several times for me throughout the conference was that every individual had a very different story. There really is not an effective way to categorize the whole experience. I also participated in the educator sessions on Oral history projects. Dr. Stout was well-informed and prepared attendees to go and practice what we learned for it is so essential. Once started, it seems to me that oral history becomes a passion and innate desire. But, why is it so important? It is important to capture the real-life accounts so that history does not become diluted, so that in this day of reality television, we can better understand the reality of what being "American" truly is. Being American comes with its benefits and pitfalls.
In other sessions, I absorbed information regarding government actions throughout some of America's legal history. Eric Muller's presentation "Betrayal on Trial: Japanese American 'Treason' in WWII and the 1944 trial of the Shitara Sisters was a fascinating portrayal of the scapegoat society that was created by fear within the country. Were the Shitara Sisters' actions actually treason? No, they were guilty of adultery that turned into the government's blatant disregard for due process of law; it showed the xenophobic assumption of the government and provided no legal standard. Furthermore, the panel discussion on "Security, War Time, and the Erosion of Civil Liberties" provided keen insights into the way the government responds to popular fear of war. I benefited from hearing the comparisons between the Japanese-American experience post-Pearl Harbor to the experiences of the Arab-Americans post 9/11. I discovered that as an American citizen, it is essential to monitor the actions of the government and not just hear the words of government officials. For example, post-9/11, President Bush said, "No one should be singled out due to race or religious affiliation." But, within weeks 1,500 non-citizen Arabs were rounded up, arrested, and detained based on the notion that non-citizens do not have the same protections of the Constitution as citizens. Thankfully, during this time, the Courts responded appropriately and struck down several illegal laws. Japanese-Americans also came forward to protect Arabs because they had seen it all happen before. Who better to remind the government that President Reagan had issued an apology and the Civil Liberties Act had been passed based on some of the same premises the government was creating again? What is the job of all American citizens, then? First and foremost, it should be to maintain vigilance in political discussion about civil liberties. Americans should never allow the fundamental rights outlined in the Bill of Rights to be diminished or taken away, for so doing quickly leads to outright failure of the democratic system. America is certainly not exempt from the consequences of tyrannical rule. We have seen people give up democratic rule to Adolf Hitler and know that history, no matter how cruel, could repeat itself without careful attention to political details.
Banquet Speakers
Obviously, the system of the American government is far from flawless, but it has some factors in force that protect permanent corruption. The separations of powers, the power of the people to elect officials and check the government, and the principles that define our nation can help us if we are diligent in remembering our jobs. Adam Schrager did a superb presentation that demonstrated the importance of following principled politicians like Colorado Governor Ralph Carr. Governor Carr recognized the mistake of Americans by purposefully dropping the "American" title of a citizen and focusing solely on the prefix, especially in regards to Japanese-Americans. Governor Carr stated, "They have been accused of nothing; they have done nothing wrong, and they are welcome in the state of Colorado." For this noble position, he lost his job, but held on to his principles. It would be safe to assume then that the job of an American is to stand for principles, treat all as though there is no prefix attached to our status as American citizens, and create a peaceful place for all to appreciate the American Dream.
Whose America? Who's American?
A great aspect of this year's conference was that it not only portrayed the truthfulness of the United States' past, but it also emphasized the strengths of this country that so many Japanese-Americans remained loyal to in spite of their grave challenges. The goal of the United States has always been to provide the "American Dream" for as many citizens as it possibly can. It is possibly the world's greatest melting pot and culturally diverse nation. How can we expect that not to come with its severe challenges when it is also a country founded upon majority rule? Americans tend to take advantage of the peaceful passing of power between our government officials. Why does this happen so smoothly? These transitions occur because the minority conforms. Perhaps this is not the best way to govern, but it certainly works better than other alternatives. I would conclude that America then tends to define itself as the majority. This, of course, changes over time, which gives us a unique place in history. A country with founders who had incredible foresight, so young in comparison to other nations of the world, makes mistakes, but somehow figures it out over time. Throughout the history of the United States, people have struggled perpetually with defining who is an "American." It seems that unless you just happened to be a rich, white man who came over to America from a religiously persecuted England, you probably have been discriminated against in order to claim your status as American. Natives, Africans, Irish, Chinese, Jewish, Mexicans, Japanese, Arabs, and women have all had to fight for the right to be called American. Perhaps that is what makes Americans unique; people can stand up for themselves and win. The fight for the right to be treated as American gives us common ground. We can change and we can learn as Senator Inouye stated, "the lessons learned must serve as a grave reminder." Let us all learn from the lessons of the past. Let us not try to cover our mistakes; rather let us all be more like the students near Amache. Let us teach one another tolerance, loyalty to our country, and vigilance in political discussion. Let there be more conferences to educate us all in these issues.
Jackie Ricks is a Social Studies teacher at a juvenile detention center in Colorado Springs, Colorado. She is also a wife and mother of 2. Studying all things Japanese is one of her passions.