George Sakato
Voluntarily relocated to Glendale, Arizona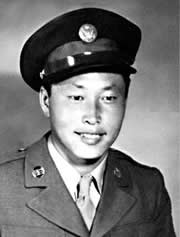 Gift of George T. Sakato (2001.122.1)
George Sakato had a unique view of the Japanese American experience during World War II. When President Roosevelt signed Executive Order 9066 in 1942, Sakato and his family voluntarily moved from Redlands, California to Glendale, Arizona. The Sakatos were among those living in the inland states (the eventual sites for the government-run concentration camps) who were relocated and not imprisoned. Upon relocating, they were told that if they lived south of the Southern and Union Pacific railroad tracks, they would be forced to live in one of the nearby camps, so they moved north of the tracks instead, and found work on a farm. Sakato began delivering for a Japanese grocery to the two Arizona camps located at Gila River and Poston, where he saw people he knew from California who were incarcerated there.
Born in Colton, California in 1921, Sakato tried to volunteer for the Air Force in 1943, but was refused. He volunteered again in March 1944, but instead of joining the Air Force, he became part of the 442nd Regimental Combat Team, the renowned Japanese American unit. On October 29, 1944, in the vicinity of Biffontaine, France, he distinguished himself by inspiring an assault on an enemy stronghold and leading the fight against a counterattack. During the battle, Sakato killed twelve enemy soldiers, wounded two, personally captured four, and assisted his platoon in taking thirty-four prisoners. Sakato was wounded and he rehabilitated at the Mitchell Convalescent Hospital.
Originally awarded the Distinguished Service Cross (DSC), Sakato's award was upgraded to the Medal of Honor in 2000. "I didn't even know I received the DSC," he explained. "I didn't think I did the heroics credited to me. I was just mad out of my mind when I charged up the hill. I thought I might die, but I was going to die trying."
He led a fairly quiet life until 2000, when he was presented the Medal of Honor by President Clinton; afterwards he received belated but well-deserved recognition for his contributions to his country.
Sakato worked for the post office for 32 years, retiring in 1980.