Wat Misaka
Lived in pre-WWII Utah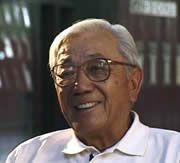 Photo courtesy of the Frank H. Watase Media Arts Center
Wataru "Wat" Misaka had the great distinction of helping guide the University of Utah basketball team to the National Invitation Tournament and the NCAA championships in the 1940s. The five-foot, seven-inch Misaka, who was born in Ogden, went on to make history as the first person of color to be drafted by the New York Knickerbockers in 1947, the same year Jackie Robinson broke the color barrier in professional baseball with the Brooklyn Dodgers. Although he only played three games for the Knicks before Coach Joe Lapchick cut him from the team, Misaka looks back at his brief NBA stint without regret. "Back in those days, college basketball was the pinnacle of one's basketball experience. Pro ball was in its infancy," said Misaka, who later turned down an offer to play for the Harlem Globetrotters so that he could return to school to earn his engineering degree.
While so many Japanese Americans were subjected to overt racism before, during, and after World War II, Misaka felt little intolerance while playing in Utah or even in New York. "It's kind of strange," Misaka said. "My parents were Japanese, but in my entire career I played with whites, so I just feel like I'm just like the rest. The way it was and the way they treated me -- I was just another basketball player." One might expect tougher treatment in New York, but he remembered, "Whether real or not, I felt less prejudice against me in New York than I did anywhere else. Playing for [University of] Utah, New Yorkers are great fans of underdogs and they really backed us up..."
At heart, Misaka is a Ute -- except for his time with the Knicks and a stint in the military, Misaka has lived in Ogden his whole life. His career with the University of Utah led to his induction into the Utah Sports Hall of Fame in 1999, two years after his induction into the Japanese American National Bowling Hall of Fame.
Misaka is still a die-hard fan of the Utah Jazz, and he took up bowling as his hobby.