Yae Aihara
Former camp inmate in Crystal City, Texas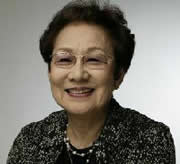 Photo by Norman Sugimoto
Yae Kanogawa's plans to attend college evaporated when the U.S. government unconstitutionally forced Japanese Americans to leave their homes and businesses and live in concentration camps during World War II. Her issei father, Sho, a leader in the Seattle Nikkei community, was picked up by the FBI in December 1941 and unlawfully incarcerated in government-run camps in Lordsburg and Santa Fe, New Mexico. In May 1942, the rest of the Kanogawas were held at the Puyallup fairgrounds. In what should have been her senior year in high school, Aihara had to endure the humiliating experience of using toilets with no privacy, and living six to a room with no curtains or partitions. That September, she and her mother, older sister, and two younger brothers were incarcerated in Minidoka (Idaho).
With no hope of release in sight, Sho Kanogawa agreed to be repatriated to Japan, and in the fall of 1943 the Kanogawas (except Yae's older sister, who chose to stay in Minidoka) were transported to Ellis Island in New York to reunite with Sho and board the repatriation ship to Japan. However, the ship was full so they couldn't leave. Though their stay at Ellis Island was brief (about four days), Aihara recalled, "It was the most miserable place. It had been abandoned years ago. The food was inedible. The best food I had there was a shriveled up orange."
To keep the family together, their only option was the Crystal City (Texas) camp, which was run by the Justice Department and held many of the 3,000 Issei community leaders. Aihara finished high school and attended Japanese-language school daily for the remainder of her incarceration. Her family settled in Boyle Heights near downtown Los Angeles after their release in 1946. Aihara found work in a clothing factory and later married Luis Aihara; they started a family and settled in nearby Montebello.
Today, Aihara volunteers weekly at the Japanese American National Museum.