Volunteer Docent Program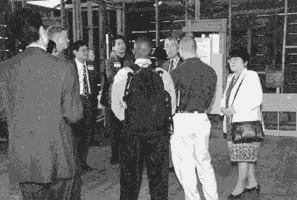 What exactly is a "docent?"
Many are intimidated by the word "docent." But the word comes from the Latin "docere" and means "teacher." This is a reminder that the Japanese American National Museum is an educational institution with the goal of preserving, interpreting and sharing the experiences of Japanese Americans.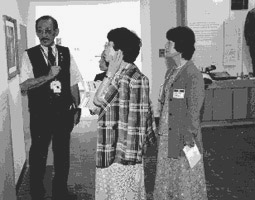 Do I have to be Japanese American in order to be a docent?
The Docent Program of the Japanese American National Museum includes people of all ages and ethnic backgrounds. Our youngest docents serve as aides at our origami demonstration table. Our most senior docents are able to share their experiences as inmates of America's concentration camps. While the camp experience is helpful in sharing from a firsthand perspective, it is not a requirement for the Docent Program.
How many hours do I need to commit to the Museum?
The Museum's Volunteer Program has established a six-hour minimum per month for volunteers. Due to the scheduling requirements for the Docent Program, volunteer docents are asked to commit themselves to 8 hours minimum per month.
What time do I have to come in?
There are two shifts available daily: the first is from 9:45 AM to 2 PM. The second is from 12:45 PM to 5 PM. There is a third shift available on Thursday evenings from 5 PM to 8 PM. You can select the shift that best suits your weekly/daily schedule.
Does it matter what day I come in?
We require a commitment to a particular day of the week. If we know that you will be in on a specific day, we are better able to anticipate our needs for a particular tour or group.
What happens when there are no tours?
Keep yourself available. On any day, at any time, a "walk-in" group may present themselves at our front door. Docents are needed to lead any group larger than ten. In addition, we are always in need of docents to staff the galleries interacting with non-tour visitors. Many docents will use these times as study times to catch up on their continuing education needs.
I work during the week. Do you need Docents on weekends?
Yes. We especially need tour docents on the weekends. While we do not have school tours on the weekends, we have families and small groups of out-of-town visitors or church and community groups coming to see the Museum on Saturdays and Sundays. We would like to offer a tour to any group of 8–10 or more who come into the Museum on the weekends.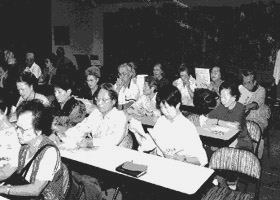 Will I receive any training to be a docent or tour guide? Museum Training is designed to enable the applicant to feel at ease with the educational component of the Docent program. The training period is approximately four months in length.
Classroom training includes:
Museum History and Policies
Japanese American History (1885-present)
Visitor Service
Public Presentation
Mentoring Program (hands-on training)
All new applicants to the Docent Program will be assigned to an experienced Museum docent to help facilitate the training and orientation process. The mentoring process is a minimum 20-hour training commitment to be completed within a three-month period.
For further information, please contact the Volunteer Office at 213.625.0414 ext.5645 or send email to volunteer@janm.org. You may also download a Volunteer Application Form here. (Please indicate if you are under 18 years of age for a Student Volunteer application)