Educator Resources
General Resources
Looking for some basic information about the Japanese American experience? You might try these links:
Web Resources
Especially for teachers and students who aren't able to visit us, we have created highly-visual web resources to engage students in learning the basic history of the Japanese American World War II camp experience.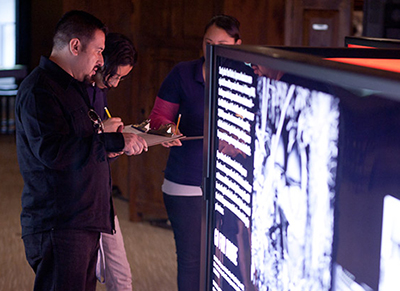 Photo by Tracy Kumono
Pre-Visit Educator Workshops for Fighting for Democracy
Before bringing student groups to JANM's Fighting for Democracy exhibition, educators are strongly encouraged to sign up for a free professional development workshop. JANM organizes customized workshops to provide an orientation to the exhibition and preparation on facilitating an interactive experience. Please visit this link for information on how to arrange a Fighting for Democracy educator workshop.
Free admission and field trip transportation is provided on a first-come, first-served basis for educators who attend the pre-visit workshop.
Educator-Developed Materials
Since its inception, JANM has collaborated with educators, communities, and organizations across the nation to develop materials that use the Japanese American experience to teach students about broader issues of community, social justice, civil rights, and democracy. These materials are for use with students of all ages and in a variety of subjects and, unless noted, they are available for free download!

Photo by Tracy Kumono

Enduring Communities: The Japanese American Experience in Arizona, Colorado, New Mexico, Texas, and Utah (2009)

Enduring Communities was a project which culminated in 17 educator-created units that shed new light on the experiences of the pre-war, World War II, and post-war Japanese American communities in Arizona (grades 4-12), Colorado (grades 4-12), New Mexico (grades 4-11), Texas (grades 5-12), and Utah (grades 4-12).



Fighting for Democracy: An Educator Resource Guide (2007)

The Fighting for Democracy guide can be used with middle and high school students before, during, and after visiting and/or viewing the online exhibition. Fighting for Democracy is based on three fundamental premises: (1) We, the people, shape democracy; (2) I, too, can shape democracy; and (3) Those who have struggled for freedom and equality have extended democracy's reach for all.
Teaching the Japanese American Experience: An Educator's Tool Kit (2004)

The Educator's Toolkit contains a sampling of lesson plans for elementary, middle, and high school students in Visual Arts, English/Language Arts, U.S. History, and U.S. Government. These materials are available in four parts for download: Instruction Book, Elementary, Middle, and High School Units.
finding family stories (2003)

finding family stories was a multi-year arts partnership, initiated by JANM, based on the premise that Los Angeles cultural institutions representing different ethnic communities can learn from each other by working together. The project generated artwork and exhibitions, public programs, and Visual Arts activities (grades 3 to adult) to explore family histories.
---
Stay in Touch
Sign up for our Educator eNewsletters to get quarterly updates on educational programs and resources about the Japanese American experience!