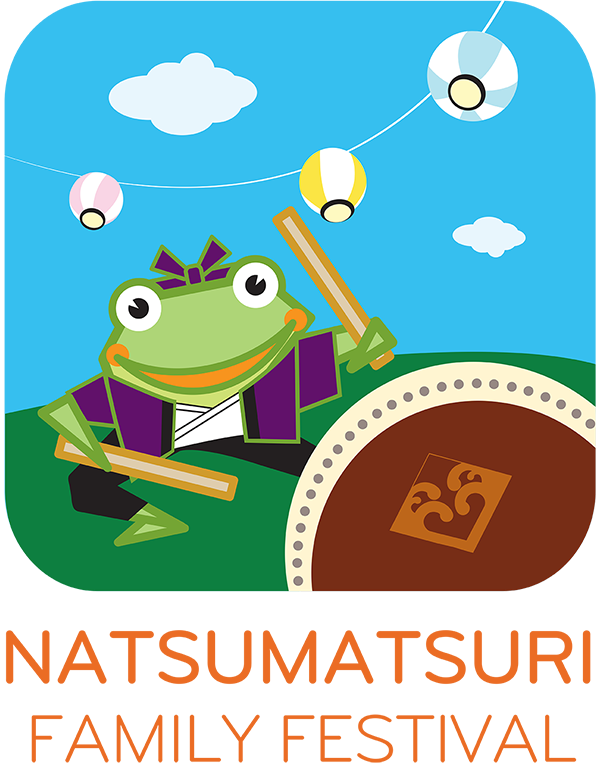 Join us for Natsumatsuri, our annual summer celebration featuring traditional Japanese and Japanese American performances, crafts, and activities.
ALL DAY ACTIVITIES
Omikuji
What does your future hold? Find out through omikuji, a Japanese fortune-telling method.
Natsumatsuri Photo Booth
Don a traditional happi coat and get your picture taken against a fireworks-filled sky, a common sight during Japanese summer festivals. (One print per family. A Members' Express Line will be available for JANM members.)
Paper Lanterns
Create your own string of paper lanterns, a popular festival decoration.
Baseball Buttons
Design your own baseball button to show off your team spirit and celebrate our exhibition Dodgers: Brotherhood of the Game.
Paper Hats
Make a colorful paper hat to wear while you enjoy Natsumatsuri!
Ruthie's Origami Corner
Make a festive origami kimono with Ruthie.
Face Painting
Get in the spirit of our exhibition Perseverance: Japanese Tattoo Tradition in a Modern World and have your face painted by Party Face Magic. (For children only. Line ends at 4:30 p.m. A Members' Express Line will be available for JANM members.)
Toddler Room
A fun place for our youngest guests to hang out (with an adult who brought them).
Scavenger Hunt
Follow the clues and look for special items throughout the museum to win a prize! (While supplies last.)
SCHEDULED ACTIVITIES
11 a.m.

1 p.m.

3 p.m.

Screenings of 42
Enjoy screenings of the film 42 (2013, rated PG-13), which documents Jackie Robinson's life story and his inspirational legacy with the Brooklyn Dodgers.

11:30 a.m.

12:30 p.m.

Taiko Demonstrations
Learn taiko drumming! JANM docent Hal Keimi will give a basic lesson in the exciting Japanese art of taiko.
1 p.m.
Obon History & Traditions
What is obon? Rinban Bill Briones of Los Angeles Hompa Hongwanji Buddhist Temple will discuss the obon festival, which honors and celebrates the spirits of ancestors, and what his temple does to prepare for obon season.
1 p.m.–2 p.m.
Perseverance Artists Collaborative Art Piece
The UGLARworks arts collective—composed of Perseverance: Japanese Tattoo Tradition in a Modern World artists Chris "Horishiki" Brand, Espi, and Evan Skrederstu—have been making acclaimed murals throughout Los Angeles since the early 2000s. The group will be on site to collaboratively create a new art piece at JANM.
1:30 p.m.
Common Ground Tour
Discover Japanese American history and culture with a tour of JANM's core exhibition Common Ground: The Heart of Community led by experienced docents.
1:30 p.m.
Bon Odori
Celebrate summer with a bon odori (traditional dance) led by Los Angeles Hompa Hongwanji Buddhist Temple.
2 p.m.–3 p.m.
Autograph Signing
Get an autograph from former Los Angeles Dodgers outfielder Al "The Bull" Ferrara. Ferrara was a member of the 1963 and 1965 World Series championship teams and the 1966 National League championship squad. He was named Dodger of the Year in 1967.
2:30 p.m.

Karaoke Competition
Sing your heart out in our karaoke competition! Prizes will be awarded to winners. Up to 15 contestants; registration opens at the beginning of the festival and is first come, first served.

Karaoke Competition Rules


2 categories:

The first 15 contestants to sign up for either age category will complete. They must select a song by 2:15 p.m., competition will begin at 2:30 p.m.

Performers will be judged on three criteria, earning up to 90 points total. The performers from each age group with the highest total points win.

Criteria for judging:

A. Song execution: How well was the song executed? Were the correct notes hit? Was timing good? Were words sung clearly? (30 points)

B. Stage Presence: How confident did the singer appear? Did he/she engage the audience and judges? Did he/she command attention? (30 points)

C. Audience/Judge Response: Was the performance well received in terms of applause and other types of approval? Did the performer make a lasting impression? (30 points)

Judges: Gina Hiraizumi, Denise Iketani, and Randy Guiaya, all friends of the Little Tokyo community with experience in the entertainment industry.

3 p.m.–4 p.m.
Hello Kitty
Hello Kitty, the subject of a major exhibition opening at JANM in October, will be onsite for photos.
4 p.m.
East LA Taiko Performance with Lysa Flores
Enjoy a unique blend of Latin rhythms and taiko drumming with an energetic performance by East LA Taiko with Lysa Flores. Before the performance, JANM will screen an excerpt from Maceo: Demon Drummer of East LA, the award-winning film about East LA Taiko's leader Maceo Hernandez. The film was produced and directed by John Esaki, Director of JANM's Frank H. Watase Media Arts Center.