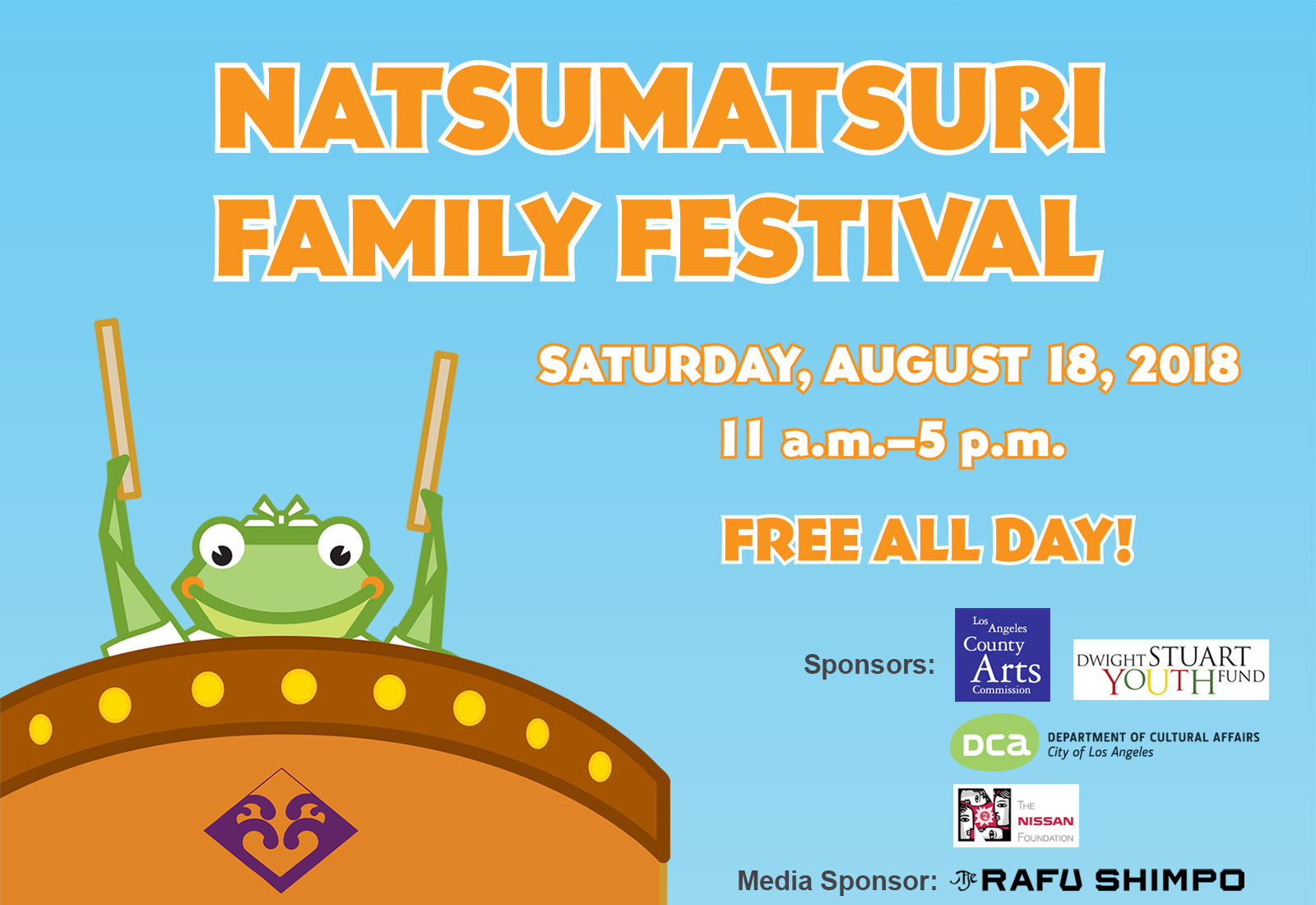 Join us for our annual summer celebration featuring Japanese and Japanese American performances, crafts, and activities.
Special perks available for JANM members! Be sure to check in at the front desk to get a member sticker so you can take advantage of the perks highlighted below.
Plus, free admission all day to see hapa.me – 15 years of the hapa project and Common Ground: The Heart of Community.
ALL DAY ACTIVITIES
Summer Photo Booth
Grab some fun props from Nerdbot and take a souvenir photo with friends and family. Express Line for members!
Summer Shades
Decorate some snazzy sunglasses to show off your style this summer.
Paper Hats
A JANM summer tradition! Design your own unique paper hat.
Ruthie's Origami Corner
Learn to fold a paper lantern, a colorful summer festival decoration!
Bubble Fun
Make bubbles with Bubblemania and Co. using wands shaped like flowers, butterflies, dinosaurs, dolphins, and more! We'll also have bubble hoops that make giant bubbles and bubble racquets and baskets that let bunches of bubbles swirl and float around. Express Line for members!
Face Painting
Put on your best summer festival face with Party Magic Face. For children only. Line ends at 4:30 p.m. Express Line for members!
Okinawan Treats
Sample fresh saataa andaagii—deep-fried pastries. Limit one per person, while supplies last. Express Line for members!
Multicultural Coloring Projects with MASC
Take part in a multicultural art project hosted by Multiracial Americans of Southern California (MASC). MASC creates activities and designs programs to educate, advocate for, and promote social justice for the multicultural, multiracial, and transracially-adopted community to increase awareness and understanding around this community.
Scavenger Hunt
Take some time to explore JANM's exhibitions, find all the items on our scavenger hunt list, and win a prize. One per participant, while supplies last.
Toddler Room
Check out this cheerful place for parents and toddlers to relax and play. Disney's Big Hero 6—in which a young tech whiz named Hiro saves his city with the help of his inflatable robot Baymax, as well as his friends Go Go Tomago, Wasabi, Honey Lemon, and Fre—will be playing all day. Note: all children must be supervised by an accompanying adult at all times.
SCHEDULED ACTIVITIES
11:15 a.m.–12 p.m.

San Fernando Valley Taiko Performance and Demonstration
Kick off the day with an entertaining performance by San Fernando Valley Taiko. Join them on stage after their performance for an interactive taiko lesson. Reserved seating for members!

12 p.m.–12:30 p.m.

1:30 p.m.–2 p.m.

2:30 p.m.–3 p.m.

Traditional Japanese Tea Ceremony
Join expert Masayo Young as she performs a traditional Japanese tea ceremony. Young will prepare and serve green tea (matcha) with traditional sweets. Space is limited; please sign up at the information table. Reserved seating for members!

12:30 p.m.–1:30 p.m.

Obon Lecture and Community Dance
Learn about Japan's obon festival, which honors and celebrates the spirits of ancestors, with Rimban William Briones of Los Angeles Hompa Hongwanji Buddhist Temple. A group bon odori (traditional dance) will then be led by Elaine Fukumoto. Reserved seating for members!

2 p.m.–2:20 p.m.

The Grateful 4 Performance
Grateful Crane Ensemble is a non-profit theater company that pays tribute to the unique hardships and inspiring contributions of Japanese Americans. The Grateful 4 debuted in October 2016 as Grateful Crane's Yonsei a capella group. Reserved seating for members!

2:45 p.m.–3:15 p.m.

Hula Performance
Kaulana Ka Hale Kula O Na Pua O Ka Aina will perform and invite families to dance along with them. Reserved seating for members!

3:40 p.m.–4 p.m.

Asia America Youth Symphony Jazz Quartet Performance
Snap your fingers to music of the Asia America Youth Symphony Jazz Quartet. The AAYS is dedicated to developing and mentoring young musicians by providing educational and performing opportunities in a professional environment and integrating Eastern and Western influences. Reserved seating for members!

4:15 p.m.–5 p.m.

TAIKOPROJECT Performance
The award-winning TAIKOPROJECT will bring the family festival to a close with a high-energy performance.
Please check back for updates.