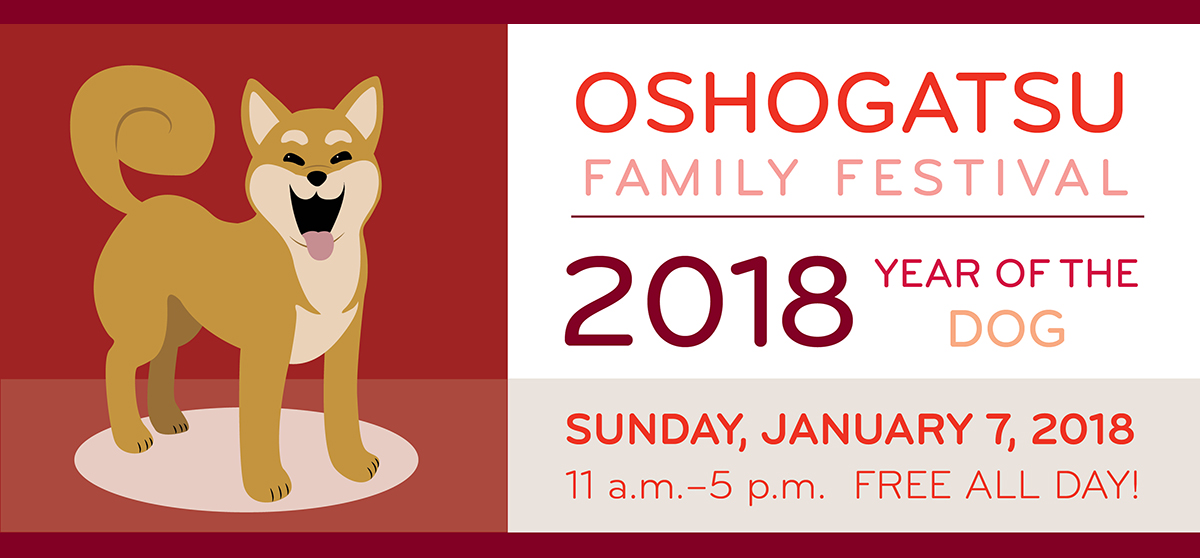 Ring in the Year of the Dog with New Year-themed activities, performances, and crafts!
Special perks available for JANM members!
Be sure to check in at the front desk to get a member sticker so you can take advantage of the perks highlighted below.
Not a current member? Join/renew now!
Festival Schedule
ALL DAY ACTIVITIES
Daruma Magic
The Japanese daruma doll helps you set and meet goals. Draw in one eye to set your goal, then draw in the other eye after the goal has been met. Make a decorative daruma to hang on your wall and get started on those New Year's resolutions!
Ruthie's Origami Corner
Learn how to fold a barking paper dog.
Celebratory Hats
Get into the spirit of the year by making your own hat that looks like a dog.
Coloring Station
Get to know the qualities of people born in the Year of the Dog, as well as the 11 other signs of the Asian zodiac.
Nerdbot Photo Booth
Pose for a souvenir photo to take home with Nerdbot Photo Booth. Express Line for members!
Kids' Raffle
Win your choice of a candy sculpture by Shan Ichiyanagi or a children's plate set. While supplies last. Limit one (1) raffle ticket per child. Members receive two chances to win a prize!
Toddler Room
Bring your toddlers here to relax, play with other toddlers, or watch the animated Disney film The Secret Life of Pets, which will be playing continuously all day. NOTE: All children must be supervised by an accompanying adult at all times.
Fukubukuro Sale
Our eagerly awaited fukubukuro (lucky grab bags) will be back and available for purchase at the JANM Store.
SCHEDULED ACTIVITIES
11 a.m.–2 p.m.

Foster/Adopt a Dog
Come meet dogs that need a permanent home and learn about a fostering program. Presented in partnership with Dogs Without Borders.
11 a.m.–3 p.m.
Lucky Soba Noodles
Kidding Around the Kitchen will give out sample bowls of lucky zaru soba (cold buckwheat noodles) to bring good health in the New Year. Kids can top the soba with their choice of tofu, vegetables, and nori. While supplies last.

11:30 a.m.

Story Time and Book Signing with Joel Nakamura
Artist and author Joel Nakamura will be here in person to read his new children's book, I Dreamed I Was a Dog. In a young boy's dream, a variety of animals frolic in fantastical scenes, evoking the interconnectedness of all creatures. The book will be available in the JANM Store, and Nakamura will sign copies after the reading.
11:30 a.m.–5 p.m.
Candy Sculptures
Shan Ichiyanagi will demonstrate the ancient, and now rarely practiced, Asian folk art of candy sculpting, as he makes candy in the shape of dogs and other animals of the Asian zodiac. Finished pieces will be offered as prizes in the Kids' Raffle; see All Day Activities above.
12 p.m.–4:30 p.m.
Osechi-Ryori Tasting
Our popular osechi-ryori tasting is back! Sample a selection of traditional Japanese New Year foods, including various sweets and vegetables, and learn about what each dish means. While supplies last. Express Line for members!
12:30 p.m.
Storytime: My Dog Teny
A JANM volunteer will read Yoshito Wayne Osaki's critically acclaimed children's book My Dog Teny, an autobiographical tale about the author's own dog, whom he had to leave behind when he was incarcerated at Tule Lake concentration camp as a child.

1 p.m.–2 p.m.

Stan Sakai Drawing Demonstration and Book Signing
Stan Sakai, the talented artist behind the graphic novel hero Usagi Yojimbo, will hold a drawing demonstration followed by a book signing. Copies of his latest two books, Usagi Yojimbo Vol. 31: The Hell Screen and Teenage Mutant Ninja Turtles/Usagi Yojimbo, will be available for purchase in the JANM Store. Please note that seating is limited. ALL ATTENDEES: Please sign up at the information table. Reserved seating for members!
1:30 p.m.–2 p.m.
Koto Performance
Los Angeles-based musician Yuki Yasuda will play the traditional Japanese stringed instrument.

2:30 p.m. and 4:15 p.m.

Mochitsuki Demonstration by Kodama Taiko
Making fresh mochi is a beloved Japanese new year tradition. Join Kodama Taiko for their unique mochitsuki (rice pounding) demonstration, which incorporates taiko drumming, and enjoy delicious mochi samples while supplies last.
3:30 p.m.–4 p.m.
Japanese-Style Lion Dance
Take in a lively shishimai (Japanese-style lion dance) for good luck, accompanied by Kinnara Taiko. Reserved seating for members!
NOTE: Though we will be celebrating the Year of the Dog, we ask that you leave your pets at home. Only service animals are permitted inside the museum.
Press Releases
December 12, 2017
JANM'S FREE OSHOGATSU FAMILY FESTIVAL RINGS IN THE YEAR OF THE DOG
The Japanese American National Museum (JANM) will present its annual Oshogatsu Family Festival on Sunday, January 7, 2018, from 11 a.m. to 5 p.m. Admission to the new year celebration featuring Japanese and Japanese American performances, crafts, and activities is free and all ages are welcome to help ring in the Year of the Dog.
Highlights of ...
more…
Our friends at the Japanese American Cultural & Community Center will be presenting their signature New Year celebration, Kotohajime, also on January 7. Click here for details.
For more New Year events, check the Go Little Tokyo calendar.