San Jose Taiko – Embodying the Spirit of Taiko in America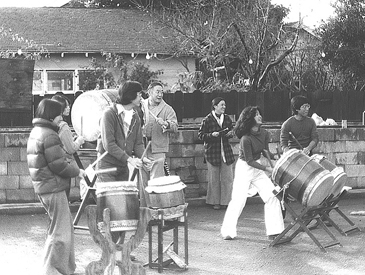 San Jose Taiko, 1977. Photograph by and courtesy of Jim Nagareda.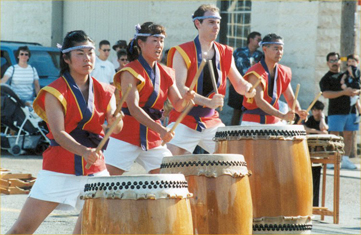 San Jose Taiko, ca. late 1990s. Courtesy of San Jose Taiko.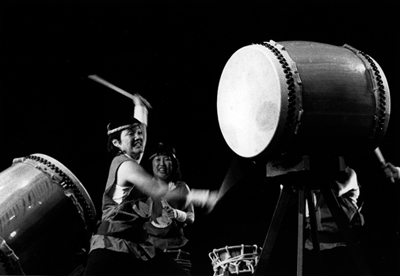 PJ Hirabayashi, ca. 1985. Courtesy of San Jose Taiko.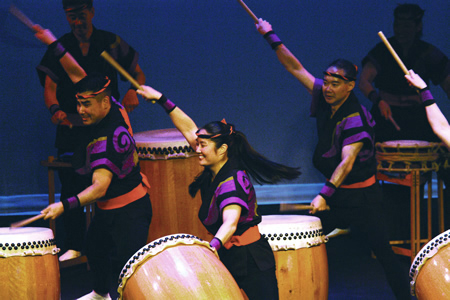 San Jose Taiko, ca. 2000. Courtesy of San Jose Taiko.
For San Jose Taiko, it all started over 30 years ago. After seeing a performance by Los Angeles's Kinnara Taiko at a YBA (Young Buddhist Association) conference, Reverend Hiroshi Abiko was inspired to start something for the youth at San Jose Buddhist Church that was both musically and culturally interesting. He recruited Roy Hirabayashi and Dean Miyakusu, both youth advisors for the YBA, to do this "taiko thing." Roy and Dean raised the initial seed money for the group by throwing a dance party at San Jose State University. The event was a success—a packed house brought them $1,500 which was enough to buy some initial equipment.
The group had to make its first drums. While their early efforts yielded lopsided taiko, they eventually refined and improved their techniques so that by October 1973 they were able to give their first performance. Many creative and accomplished musicians were involved in San Jose Taiko during its early years. Their good musical sense and abilities to write music—which incorporated taiko as a key instrument—helped the group to shape and develop their unique style and sound.
What is it about the taiko drum that is so special? Why do taiko players feel such a connection to the drum? Longtime member Yumi Ishihara explains, "For the members of SJT, when you join, you learn right away that the drum has a spirit and tradition, and the way to draw out that spirit is to play it with proper technique and proper attitude. Each drum has its own personality and unique sound; they all are individual."
As PJ Hirabayashi, creative director of SJT says, "it's always the two of us together that play taiko. You can't do one without the other." Respect for the instrument and your fellow members are key principles in the philosophy of San Jose Taiko. These four principles – musical technique, ki, the kata, and attitude -- have been the guiding force for the group since 1979.
Under the direction of Roy and PJ Hirabayashi, community involvement and spirit has long been the common goal of the group. With its connection to community and cultural history, SJT always had its own unique identity, separate from Japanese taiko. For SJT, American taiko (or Japanese American taiko) is a cultural expression that embodies all experiences of having grown up in America. SJT realized early on that they were an Asian American group, drawing on Asian American music … Latin, R&B, jazz, soul music … what they listened to growing up every day.
As one of the pioneering American taiko groups, SJT has been an influential force in the development of taiko in the United States and Canada. Musically and artistically, taiko is going in many different directions, not only in the United States, but also in Japan. For SJT, taiko is more than an instrument, more than just music, more than just playing a big drum or creating a big sound. SJT members share a sense of commitment to one another as well as to the broader community that supports them. For Roy Hirabayashi and SJT, "the spirit of taiko is an ensemble thing. Playing in that ensemble format and playing together in that collective unit is all part of it. That's where the spirit really kind of comes from."
-----------------------------------------------------------------------
Visit the Museum Store Online to purchase San Jose Taiko's latest CD, Rhythm Journey.