Related Resources on Discover Nikkei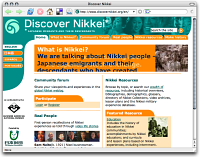 What does hapa mean to others?
Watch interview clips of artist Kip Fulbeck, musician Mike Shinoda, and the Morton brothers (Johnnie, Eric, and Chad).
Read "kip fulbeck: part asian, 100% hapa—an artist's thoughts" by Kip Fulbeck to find out about his views on the exhibition and its impact.
More articles about being Hapa: articles by Leah Nanako Winkler, "Growing Up Japanese in the South" by Danielle Arikawa, "Dreaming in Japanese" by Julia Hibarger, "Little Momo in the Big Apple" column series by Simone Fujita, "On Being Japanese American" by Curtiss Rooks, and "half enough" series by Victoria Kraus.
The Hapa Collection
Visitors to the exhibition were invited to have a Polaroid photograph taken of themselves in the gallery to add their images and personal responses to the question of "What are you?" A selection of these responses have been added to the Nikkei Album. Additional responses were submitted and became part of the kip fulbeck: part asian, 100% hapa exhibition on-line.
DiscoverNikkei.org is an award-winning Web project of the Japanese American National Museum that provides an interactive global space for personal and community stories.