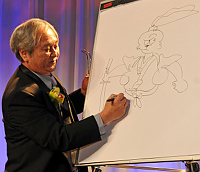 Stan Sakai at JANM for exhibition closing!
Sunday, October 30
12 PM to 1:30 PM
Stan Sakai will be at JANM for one last booksigning!
Usagi Yojimbo books and related items are available for sale at the Museum Store. Avoid the lines and buy your books early—signed books make great holiday gifts!
Due to time constraints, Stan will only be signing books. Limit 3 books per person at a time.
About the Exhibition
For over 25 years, fans around the world have been enjoying Stan Sakai's Usagi Yojimbo. This retrospective exhibition celebrates the work of Sakai and includes original drawings and paintings that bring to life the adventures of his samurai rabbit from 17th century feudal Japan.
Usagi Yojimbo is based on the historical figure Miyamoto Musashi and takes inspiration from Japanese folklore, literature, and film. Heavily researched and rich in detail, Sakai's storylines mix both humor and drama to tell adventures that include authentic Japanese history and culture in the form of a distinctly American comic book.
With translations in multiple languages, Usagi Yojimbo's popularity spans many countries and has earned Sakai several awards including the National Cartoonists Society Award, Parents Choice Award, and numerous Eisner Awards.
In addition to the original artwork, the exhibition will include comic book covers, translated comics, toys, and other artists' renditions of Usagi Yojimbo. Other features will include a new short documentary about Stan Sakai developed for the exhibition by the Museum's award-winning Watase Media Arts Center, a special Usagi Yojimbo cut-out photo opportunity designed by Sakai, and other activities to enhance your visit.
Premier Sponsor:

Additional support provided by The James Irvine Foundation and the Consulate General of Japan in Los Angeles.
Media Sponsors: