Shortcuts
Gallery Activities
In addition to the original drawings & paintings, comic books, toys, and other Usagi Yojimbo items, the exhibition will include some special features created especially for the exhibition! Plus, check out the Year of the Labbit Custom Show presented in conjunction with the exhibition.
Special Usagi Yojimbo Photo Opportunity!
Commemorate your visit to the museum by taking a fun photo with our Usagi Yojimbo cut-out designed especially for the Year of the Rabbit exhibition by Stan Sakai!
View a short video produced for the exhibition!
The museum's award-winning Frank H. Watase Media Arts Center has produced a new mini-documentary about artist Stan Sakai. Includes interviews with artists Stan Lee (Spider-Man, X-Men), Sergio Aragones (Groo the Wanderer, Mad Magazine), Geof Darrow (The Matrix, Hard Boiled), and others. Watch the promo video above, then check out the full version (approximately 10 minutes) in the exhibition!
Draw your own Usagi Yojimbo!
The exhibition includes drawings of Usagi Yojimbo by other artists such as Stan Lee, Geof Darrow, and Ken Steacy. Try your hand at drawing your own Usagi to take home or post on our wall to share with others.
Year of the Labbit Custom Show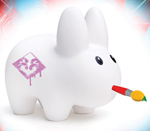 July 14 through September 11, 2011
In conjunction with the Year of the Rabbit exhibition, a gathering of artists (including Stan Sakai!) will work their creative magic on Frank Kozik's Happy Labbit toy. All pieces will be available for sale through the Museum Store.
Participating artists:
Alexandra Gjurasic • Aline Yamada • Ambre Aki Gonzales • Amy Inouye • Betty Wan Hamada • Bevl • Camilla d'Errico • Catherine Brooks • Christina Conway • Dacosta! • David Kawano • Donna Ikkanda • Edwin Ushiro • egg scissors • Emi Motokawa • Frank Kozik • Harmony Gong • James Watts • Jimmy Mirikitani • Joel Nakamura • Julie Bagish • Kathy Yoshihara • Kip Fulbeck • Koji Harmon • Konatsu • Liane Shih • Lou Pimentel • Margaret Kasahara • Marilyn Frandsen • Mark Nagata • Mark Pilon • Martin Ontiveros • Mike Shinoda • Namiko Sonabe • Nicole DeLeon • Qris Yamashita • Stan Sakai • Stuart Rapeport • Tulip • Warner K. Varno • Yoskay Yamamoto • Zakka • ZOLO
Sponsored in part by: