FOR IMMEDIATE RELEASE - October 12, 2007
PRESS CONTACTS
Chris Komai - ckomai@janm.org - 213-830-5648

GIANT ROBOT BIENNALE ART EXHIBITION KICKS OFF NEW JAPANESE AMERICAN NATIONAL MUSEUM SERIES NOV. 3
Los Angeles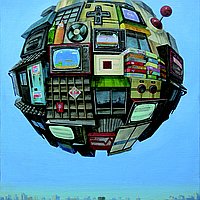 The Japanese American National Museum will begin a new series of collaborative exhibitions entitled Salon Pop by presenting Giant Robot Biennale: 50 Issues, developed in collaboration with Eric Nakamura of Giant Robot and running from November 3, 2007 through January 13, 2008. The exhibition is being sponsored by the Imprint Culture Labtm, with additional support by the James Irvine Foundation and Scion. An opening reception is being planned for November 3, from 6 p.m. to 10 p.m. at the National Museum in Little Tokyo.
Celebrating its 50th issue, the pop-culture magazine Giant Robot is proud to curate the Giant Robot Biennale: 50 issues, featuring artists with whom they have worked in the past, whether in the pages of the magazine or in the associated gallery spaces in Los Angeles, San Francisco, or New York City.
Giant Robot has helped to transform the landscape of the boundaries of art, often working with brand-new artists (some still in art school). Many have gone on to great success and present their art around the world, while others are in a more modest state, paying the rent with art-related projects such as commercial work and consumer products. The latter is nearly a constant theme among the artists; each has delved into making products of some sort, and has built a following in a side-discipline although art is his or her primary focus.
The Biennale's works will range from Pryor Praczukowski's cinematic photography to David Choe's graffiti-like murals. The pieces in between include panels by leading indie-comics artist Adrian Tomine and the pop culture inspired works of Seonna Hong, Gary Baseman, APAK, Souther Salazar, and Saelee Oh. Sashie Masakatsu's oil paintings reflect the nostalgia of pop culture-influenced youth while Eishi Takaoka's sculptures can dominate a room with their meditative presence.
"The Japanese American National Museum is pleased to work again with Eric Nakamura on Giant Robot Biennale: 50 Issues," stated Irene Hirano, National Museum President and CEO. "We honored Eric and Giant Robot at our 2006 Annual Dinner and Eric worked as part of our advisory committee for Landscaping America: Beyond the Japanese Garden."
"This show also represents another step for our institution in reaching out to younger audiences. A grant from the James Irvine Foundation has allowed us to gather information that indicates that community and arts organizations like the National Museum need to develop new approaches and innovative content if they hope to be relevant to each new generation. We believe working with Eric Nakamura and Giant Robot will help us accomplish this."
This exhibition is the first in the Salon Pop series that includes collaborative displays that focus on Asian American pop culture. As the art world changes and begins to make room for the works of artistic innovators-many of whom were formerly labeled as street artists, graphic designers, or illustrators-under a newly evolved definition of fine art, popular culture has enthusiastically embraced this genre. It has been through this art, with its influences from Asia, that Americans are being introduced to a new concept of what it means to be Asian or Asian American. Giant Robot, the Japanese American National Museum, and the Imprint Culture Lab are working together to reveal the evolution of this sub-culture with this exhibition.
About the Curator
Giant Robot magazine began in 1994, as a staple-and-fold zine and has now grown into a full-fledged bi-monthly magazine, which is available at most stores and newsstands. Giant Robot opened its first store in 2001, and formulated a combination of pop culture goods, ranging from Japanese import toys, graphic design and art books, and monthly art exhibitions. Giant Robot has since opened stores and galleries in San Francisco and New York City and even has a restaurant called gr/eats in West Los Angeles. Curating this exhibition is the publisher/co-editor and owner, Eric Nakamura who curates most of the 36 exhibitions Giant Robot puts on annually in each of the three cities.
About Imprint Culture Labtm
The Imprint Culture Labtm was founded by interTrend Communications to investigate, promote and curate Asian-sourced and inspired consumer culture. Imprint's mission is to foster creativity and innovation in the business segment by connecting the cultural dots between various elements, which can include inspiration from art, media, food, fashion, product design, architecture and pop-culture phenomena. Imprint engages consumers and clients through various methods including: an annual culture conference, small interactive workshops, as well as a host of customized consultancy and research products. For more information go to www.imprintlab.com or contact Ryan Ku at ryan@intertrend.com
About the Japanese American National Museum
The Japanese American National Museum is dedicated to fostering greater understanding and appreciation for America's ethnic and cultural diversity by preserving and telling the stories of Americans of Japanese ancestry. Since its incorporation in 1985, the National Museum has grown into an internationally recognized institution, presenting award-winning exhibitions, groundbreaking traveling exhibits, educational public programs, innovative video documentaries and cutting-edge curriculum guides. The National Museum raised close to $60 million to renovate an historic building in 1992 and open a state-of-the-art Pavilion in Los Angeles' Little Tokyo Historic District in 1999. There are now members and donors representing all 50 states and 16 countries.
General Information
The Japanese American National Museum is located at 369 East First Street in the historic Little Tokyo section of Los Angeles. For more information, call (213) 625-0414 or visit www.janm.org. National Museum hours are Sunday, Tuesday, Wednesday, Friday and Saturday: 11:00 a.m. to 5:00 p.m. and Thursday 11:00 a.m. to 8:00 p.m. Admission is $8.00 for adults, $5.00 for seniors; $4.00 for students and children; free for Museum members and children under age six. Admission is free to everyone on Thursdays from 5:00 to 8:00 p.m. and every third Thursday of the month from 11:00 a.m. to 8:00 p.m. Closed Mondays, Fourth of July, Thanksgiving Day, Christmas Day, and New Year's Day. Final visitor admissions take place thirty minutes before closing.
High and low resolution images are available upon request.