FOR IMMEDIATE RELEASE - July 1, 2013
PRESS CONTACTS
Helen Ota - mediarelations@janm.org - 213-830-5648

JAPANESE AMERICAN NATIONAL MUSEUM PRESENTS ITS 4TH NATIONAL CONFERENCE IN SEATTLE TO COMMEMORATE THE 25TH ANNIVERSARY OF THE SIGNING OF THE CIVIL LIBERTIES ACT OF 1988
Over 600 attendees expected for July4-7 national community gathering
Los Angeles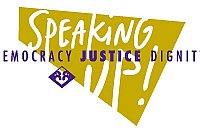 From July 4 through 7, the Japanese American National Museum will present its fourth national conference, Speaking Up! Democracy, Justice, Dignity, at the Seattle Sheraton Hotel. The conference will explore the historic and contemporary connections of the Japanese American experience to local, state, and national histories. This year marks the 25th anniversary of the Civil Liberties Act of 1988, which granted redress to Japanese Americans incarcerated during World War II. Attendees will hear first-hand about the crafting of that legislation, including the factors that led to its creation and the pioneering involvement of the Pacific Northwest's Japanese American community.
There will also be opportunities to hear from those incarcerated in the War Relocation Authority camps of Heart Mountain, Minidoka, Tule Lake, and Manzanar. Additionally, special conference bus and walking tours to Bainbridge Island and Seattle's historic International District and other activities such as a screening of Farewell to Manzanar, a community marketplace, and EXPO are being offered to ensure an impactful conference experience for all participants, young and old.
"Those familiar with the success of our three previous conference—in Los Angeles (2002), Little Rock (2004), and Denver (2008)—know that we will again present a powerful, content-rich, and transformative slate of multiethnic, multigenerational speakers, presentations, and activities," said Nancy Araki, Director of Community Relations. Participants of all ages and backgrounds from across the country will once again convene to learn and reflect upon the journey endured by the Issei and Nisei, in particular the significance of that journey within the context of the larger American story.
The Luncheon Banquet features a keynote address on the broader impact of the Civil Liberties Act of 1988 by Eric K. Yamamoto, Fred T. Korematsu Professor of Law and Social Justice, University of Hawai`i, William S. Richardson School of Law. Yamamoto is an award-winning, internationally-recognized law professor known for his legal work and scholarship on social justice, with an emphasis on redress for historic injustice. He also specializes in civil procedure and complex litigation. In 1984 Professor Yamamoto served as coram nobis co-counsel to Fred Korematsu in the successful reopening the infamous World War II Japanese American internment case. A video welcome by U.S. Senator Mazie Hirono is also slated as part of the Luncheon Banquet program.
The Honorable Norman Y. Mineta, former Secretary of Transportation, and JANM Chair, Board of Governors, is the keynote speaker for the Dinner Banquet on July 6. Secretary Mineta will address the historical and current implications of the issues of civil rights and social justice. A video tribute to the late Senator Daniel K. Inouye will be shown in recognition of his commitment to the principles and values of democracy that have so profoundly influenced the formation of the National Museum's vision and educational programs.
Throughout the conference, participants will encounter many ways to learn and connect to the unique aspects of the Japanese American story. Whether it is from hearing the last remaining first-person voices from the World War II experience to discovering your own family and community history, the conference will transform and inspire all to remember and reflect on the meaning and implications of the issues surrounding civil rights, democracy, and dignity. It is a once-in-a-lifetime opportunity to gather with family, friends, and others to better understand how the past can shape a better future.
The 2013 Speaking Up! Democracy, Dignity, Justice National Conference was sponsored, in part, by: Signature Sponsor, Toyota Motor Sales, U.S.A., Inc.; Heritage Sponsor, Guy & Audrey Watanabe; and Legacy Sponsors: Ken and JoAnn Hamamura and Family and Manabi & Sumi Hirasaki Family. Additional support was provided by: American Airlines; The George and Sakaye Aratani Endowed Chair, UCLA Asian American Studies; The Japan Foundation Center for Global Partnership; and UCLA Paul I. and Hisako Terasaki Center for Japanese Studies.
The Conference Partner organizations are the Japanese Cultural and Community Center of Washington and the University of Washington, Department of American Ethnic Studies.
For more information, including an up-to-date, conference schedule, session descriptions, and speaker updates, visit janm.org/conference2013, or call (213) 625-0414, ext 2218, or e-mail seattle@janm.org.