FOR IMMEDIATE RELEASE - July 29, 2013
PRESS CONTACTS
Helen H. Ota - mediarelations@janm.org - 213-830-5648

JANM CELEBRATES 2013 LITTLE TOKYO NISEI WEEK WITH AUG. 10 'NATSUMATSURI FAMILY FESTIVAL'
Popular annual family event with cultural activities and performances, free to the public.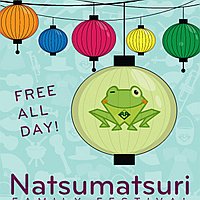 Los Angeles—The Japanese American National Museum is pleased to present its 15th Annual Natsumatsuri Family Festival on Saturday, August 10, from 11 a.m. to 5 p.m. One of the Museum's most popular and well-attended family events, the Festival features a slate of unique cultural crafts, activities, and performances in conjunction with Little Tokyo's 2013 Nisei Week festivities. The event is free and open to the public.
This year the Festival premieres under its official new name, Natsumatsuri Family Festival, as it blends the old and new by setting customary Japanese obon festival activities alongside contemporary ones. Historically, obon is an important Japanese tradition in which many believe that their ancestors' spirits come back to their homes to be reunited with their family. Originally celebrated around the 15th day of the seventh month in the lunar calendar, it is typically celebrated around August 15 for a three-day period. The customs and dates followed vary from region to region. In the United States, Japanese American communities have continued the obon tradition with family festivities held throughout the summer months such as Little Tokyo's Nisei Week celebration.
Throughout the day at JANM, visitors can enjoy special activities including two crafts set up to spotlight its current temporary exhibitions—take a photograph and respond to the question "What are You?" in conjunction with Visible & Invisible: A Hapa Japanese American History (through August 25), and create a self-portrait in conjunction with Portraiture Now: Asian American Portraits of Encounter (through September 22). Other activities include making a cool fan, a wacky paper hat, and an origami hopping frog, taking a picture wearing a yukata, making a tanzaku wish (a Japanese Tanabata Festival summer tradition), and for children, playing in the bounce house and toddler play room, designing a special JANM Natsumatsuri tote bag (while supplies last), and getting an airbrush tattoo.
Visitors can also hone their skills with taiko drumming lessons at 11:30 a.m. and at 12:30 p.m. and at an interactive bon odori dance session at 2:30 p.m. At 1 p.m. Reverend Bill Briones of Nishi Hongwanji Buddhist Temple will discuss the history and traditions of obon in Japan and the U.S. At 4 p.m. the first-ever mariachi concert at JANM will be performed by Japanese mariachi singer Roger Del Norte with the Mariachi band MEXICAPAN and special guest singer, Lupita Infante. The Festival will close with a taiko performance by L.A. Matsuri Taiko. For an updated schedule of events, visit janm.org/natsumatsuri2013, or call 213.625.0414.
The Natsumatsuri Family Festival will also be held adjacent to the Fifth Annual Tanabata Festival, located in front of the Geffen Contemporary on August 10 and 11. For more information about the Tanabata Festival, visit www.niseiweek.org/tanabata-festival-splash.
Sponsors of the Natsumatsuri Family Festival are the Los Angeles County Arts Commission and the Department of Cultural Affairs, City of Los Angeles. Media sponsors are the Rafu Shimpo and LA 18 KSCI-TV.
About the Japanese American National Museum
The mission of the Japanese American National Museum is to promote understanding and appreciation of America's ethnic and cultural diversity by sharing the Japanese American experience. Incorporated in 1985, the National Museum is a private, 501(c)3 nonprofit organization which relies on support from its members, donors, and partners. The Museum is an internationally recognized for its highly-regarded onsite and traveling exhibitions, public programs, educational programming, media productions, and online resources. The Museum is a Smithsonian affiliate museum and accredited by the Association of American Museums. In 2010, the Japanese American National Museum was awarded the National Medal from the Institute of Museum and Library Services (IMLS), only the second California museum to be so recognized.
The Museum is located at 100 North Central Avenue in the historic Little Tokyo section of downtown Los Angeles and is adjacent to the Little Tokyo Metro Gold Line station. For more information, call 213.625.0414, or visit janm.org. Museum hours are Sunday, Tuesday, Wednesday, Friday, and Saturday: 11 a.m. to 5 p.m. and Thursday 12 p.m. to 8 p.m. Free admission after 5 p.m. on Thursdays and free all day every third Thursday of the month. The Museum is closed on Mondays, Fourth of July, Thanksgiving Day, Christmas Day, and New Year's Day. Metered street parking and public parking lots are conveniently located near JANM for a nominal fee.