FOR IMMEDIATE RELEASE - April 15, 2015
PRESS CONTACTS
Leslie Unger - lunger@janm.org - 213-830-5690

JANM ANNOUNCES SPEAKERS AND PERFORMERS FOR 2015 ANNUAL GALA DINNER
George Takei to Receive Museum's Medal of Honor
Los Angeles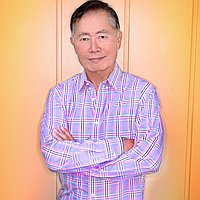 The Japanese American National Museum has assembled a distinguished and diverse slate of participants for its 2015 Gala Dinner, Silent Auction, and After Party, to be held on May 2, 2015, at the Hyatt Regency Century Plaza Hotel and X Bar in Los Angeles. The evening's theme will be To Boldly Go: Sharing Our Story Across the Generations; actor and activist George Takei will be honored with JANM's Distinguished Medal of Honor for Lifetime Achievement and Public Service.
Among those appearing on stage will be:
Tim Dang, Producing Artistic Director of East West Players, the nation's premiere Asian American theater and the longest running professional theater of color in operation. Dang directed Takei in East West Players' production of the Tony award-winning play Equus in 2005.

Sybil Jordan Hampton, PhD, president of the Winthrop Rockefeller Foundation from 1996 to 2006. WRF funded Life Interrupted: The Japanese American Experience in World War II Arkansas, a 2004 collaboration between the University of Arkansas at Little Rock and JANM that included a national conference, school curriculum materials and teacher training, and multiple traveling exhibitions.

Actor Ryan Potter, who can currently be heard as the voice of "Hiro Hamada" in Big Hero 6. Potter previously starred as "Mike Fukanaga" opposite Takei in the Nickelodeon series Supah Ninjas from 2011 to 2013.

U.S. Representative Mark Takano of the 41st Congressional District (representing Riverside, Moreno Valley, Jurupa Valley, and Perris). Like Takei and 120,000 other Japanese Americans, Takano was incarcerated with his family during WWII. Prior to his election to the House of Representatives, Takano taught at Rialto High School and served on the Riverside Community College District's Board of Trustees.

Brad Takei, husband and manager of George Takei. The two men met in an LGBT running and walking club in the early 1980s. They were married at JANM in 2008.

Lorenzo Thione, co-creator and lead producer of Allegiance, the upcoming Broadway musical based on the life of and starring Takei. Thione is also co-founder and board chair emeritus of StartOut, a leading nonprofit dedicated to fostering entrepreneurship within the LGBT community.
In addition, an ensemble from the Gay Men's Chorus of Los Angeles will perform. Founded in 1979 during the emergence of the gay civil rights movement, GMCLA has garnered international acclaim for artistic excellence while remaining deeply rooted in service to the Los Angeles community and beyond.
Frank Buckley, anchor of KTLA's Emmy Award-winning Morning News, will act as the Gala Dinner's master of ceremonies. The evening will include JANM's popular Lexus Opportunity Drawing, for which a new 2015 Lexus NX 200t F SPORT vehicle, provided by Toyota Motor Sales, U.S.A., Inc., will be the prize. Opportunity Drawing tickets are $25 each, $100 for five tickets, and $500 for thirty tickets. They may be requested by calling 213.830.5669 or sending an email to galadinner@janm.org. It is not necessary for the winner to be present at the Gala Dinner.
Additionally, the event will feature the museum's annual "Bid for Education," a live fundraising session first launched at the 2000 Gala Dinner by the late U.S. Senator Daniel K. Inouye in response to state budget cuts that threatened bus transportation for school field trips. Money raised in the Bid now allows for some 10,000 primary and secondary school students and teachers to visit JANM each year.
Takei was among the over 120,000 Japanese Americans forcibly incarcerated after the bombing of Pearl Harbor during World War II. But after a childhood spent in American concentration camps, Takei went on to a groundbreaking acting role as Sulu on the Star Trek television series. He has since continued to serve as a beloved pop culture icon and evolved into a respected civil rights activist. He is only the fifth individual to receive JANM's Medal of Honor. Prior recipients are the late Senator Spark Matsunaga (posthumously, 1991); Inouye (1994); the late Akio Morita, co-founder of Sony Corporation (1996); and the Honorable Norman Mineta (2012).
Sponsors for the 2015 JANM Gala Dinner include:
Signature Sponsors
Aratani Foundation
Bank of Tokyo-Mitsubishi UFJ, Ltd. / MUFG Union Bank, N.A.
Terasaki Family Foundation
Presenting Sponsors
Nitto Tire U.S.A. Inc.
Toyota Motor Sales, U.S.A., Inc.
Diamond Sponsors
American Airlines
Northrop Grumman Corporation
Emerald Sponsor
Nikki Kodama and Family
Bid for Education Leaders
JANM Leadership
Nikki Kodama and Family
Saatchi & Saatchi LA / Team One
Additional sponsorship and underwriting opportunities are still available and individual dinner tickets are on sale now. Visit janm.org/dinner2015 for details.
# # #
NOW ON VIEW AT JANM:
Common Ground: The Heart of Community
Ongoing
Incorporating hundreds of objects, documents, and photographs collected by JANM, this exhibition chronicles 130 years of Japanese American history, from the early days of the Issei pioneers through the World War II incarceration to the present.
Hello! Exploring the Supercute World of Hello Kitty
Through May 31, 2015
Organized as part of the global icon's 40th-anniversary celebrations, Hello! examines the colorful history of Hello Kitty and her influence on popular culture. The exhibition includes an extensive product survey, with rare and unique items from the Sanrio archives, alongside a selection of innovative contemporary artworks inspired by Hello Kitty and her world. Hello! is a specially ticketed exhibition.
# # #
About the Japanese American National Museum (JANM)
Established in 1985, the Japanese American National Museum promotes understanding and appreciation of America's ethnic and cultural diversity by sharing the Japanese American experience. Located in the historic Little Tokyo district of downtown Los Angeles, JANM is a hybrid institution that straddles traditional museum categories and strives to provide a voice for Japanese Americans as well as a forum that enables all people to explore their own heritage and culture. Since opening to the public, JANM has presented over 70 exhibitions onsite and traveled 16 of its exhibitions to locations around the world, including the Smithsonian Institution and the Ellis Island Museum in the United States, and several leading cultural museums in Japan and South America.
JANM is located at 100 N. Central Ave., Los Angeles. Museum hours are Tuesday, Wednesday, Friday, Saturday, and Sunday from 11 a.m. to 5 p.m. and Thursday from noon to 8 p.m. General admission is $9 adults, $5 students and seniors, free for members and children under age five. Admission is free to everyone on Thursdays from 5 p.m. to 8 p.m. and every third Thursday of the month from noon to 8 p.m. General admission prices and free admission times may not apply to specially ticketed exhibitions. Closed Monday, 4th of July, Thanksgiving, Christmas, and New Year's Day. For more information visit janm.org or call 213.625.0414.