FOR IMMEDIATE RELEASE - June 2, 2015
PRESS CONTACTS
Leslie Unger - lunger@janm.org - 213-830-5690

JANM ANNOUNCES TWO NEW EXHIBITIONS TO OPEN IN JULY
Los Angeles
The Japanese American National Museum (JANM) will open two new exhibitions in July—one showcasing the photographs of a Japanese American World War II veteran and the other an exploration of Okinawan and Hawaiian identity through paintings and photographs. Both will be included with general admission to the museum and will be on view through September 6, 2015.
Opening to the public on July 14, Before They Were Heroes: Sus Ito's World War II Images is the inaugural exhibition in Sharing Our Stories, a new series of exhibitions drawn from JANM's extensive permanent collection. A celebration of the donation by Susumu "Sus" Ito of his vast archive of photographs and negatives taken while on duty during World War II, Before They Were Heroes gives the public a rare and breathtaking look at the daily lives of the 522nd Field Artillery Battalion of the celebrated all-Japanese American 442nd Regimental Combat Team.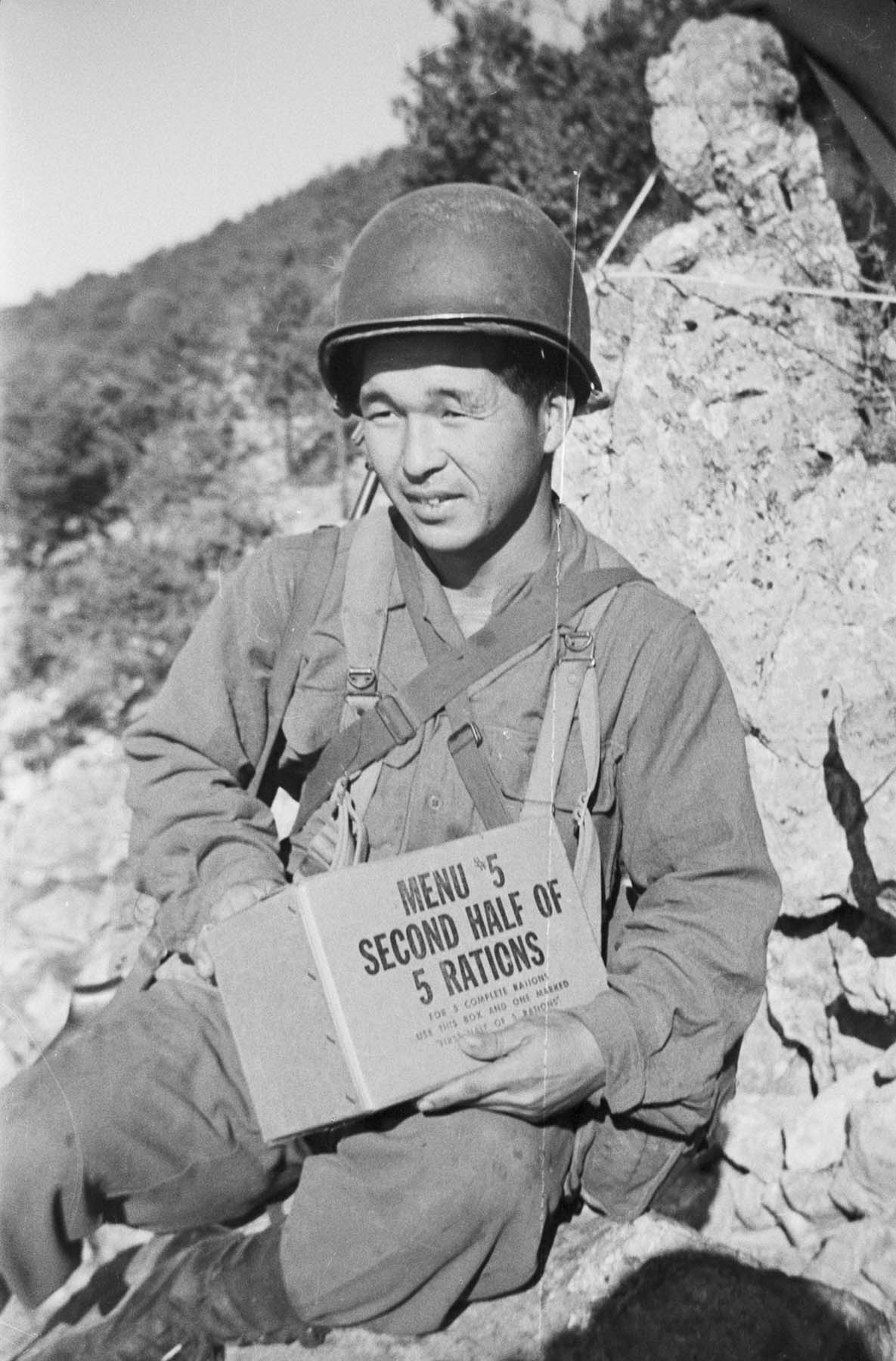 Born in California in 1919 to a family of immigrant tenant farmers, Sus Ito was drafted into the U.S. Army in 1940. Following the bombing of Pearl Harbor, he was switched to civilian duty while his family was sent to live at Rohwer concentration camp in Arkansas. In the spring of 1943, Ito was selected to join the 442nd's 522nd Field Artillery Battalion. He went on to serve in all of the 442nd's campaigns in Italy, France, and Germany, eventually rising to the rank of lieutenant. Ito's tour of duty included such high-profile historic events as the rescue of the Lost Battalion and the liberation of a subcamp of Dachau.
During his time in Europe, Ito kept three things with him: a small bible, a senninbari (Japanese thousand- stitch cloth belt traditionally given to soldiers who are going to war, made for Ito by his mother and the other women at Rohwer), and a 35mm Agfa camera. With the camera, he took thousands of photographs documenting his life on the road; the young soldiers are seen posing next to their jeeps, walking in the snow, swimming in a river, playing chess, and even visiting tourist destinations while on leave. Unseen for decades, these images are remarkable for their detail and their humble, day-to-day quality, providing a fascinating contrast to the heroic images typically found in history books. Ito went to great lengths to preserve the negatives, even having some of them developed at villages along the way.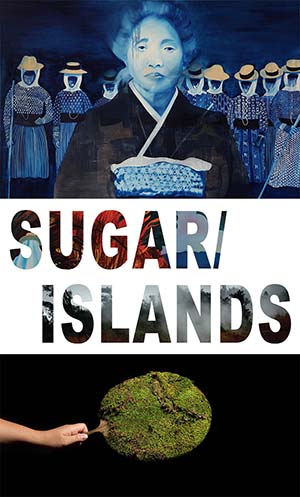 Sugar/Islands: Finding Okinawa in Hawai'i—The Art of Laura Kina and Emily Hanako Momohara, opens to the public July 11. This exhibition is a unique examination of worker migration and settlement from the islands of Okinawa to the islands of Hawai'i, prompted by opportunities afforded by the latter's sugar plantations and pineapple farms during the late 19th and early 20th centuries. Laura Kina's Sugar and Emily Hanako Momohara's Islands series are individual bodies of work grounded in each artist's own journey to uncover her family history; both examine the complex ways that the past is present in our collective and individual identities.
Kina and Momohara are both fourth-generation, mixed-heritage women with familial roots in Okinawa and Hawai'i; as artists, they employ strategies that blend fiction and reality, drawing heavily from obake (ghost stories), material culture, and oral history to question the stability of memory and identity. Although the artists grew up independent of one another, their parallel histories create uncanny moments in which their fragmentary narratives collide. The exhibition, curated by Krystal Hauseur, PhD, offers alternatives to standard narratives of Asian American history, paying particular attention to the contributions of women laborers.
Kina's Sugar paintings utilize a striking indigo palette inspired by the color of the kasuri (fabric woven with dyed fibers) kimonos worn by female Okinawan immigrant workers to protect their bodies from the harsh sun. Fueled by stories told to her by family elders during visits to Hawai'i, Kina's paintings present abstracted images of Okinawan tattoos and Japanese and Hawaiian textiles as well as scenes of field labor and American cultural assimilation.
Inspired by inconsistencies uncovered during her own exploration of her family history, Momohara's Islands photographs employ traditional and manipulated techniques to investigate the iconography and psychology of islands. Island 2 is an untouched photograph looking out a window of the ruins of the Royal Hotel in Okinawa, a building located near Nakagusuku Castle and a U.S. Army base that was never completed due to the mysterious deaths of construction workers. The image captures the decay of a site loaded with Okinawa's complex colonial and war-torn history and evokes an interplay among fact, myth, and memory. By contrast, the studio manipulated Island 3 presents an island and coral reef surrounded by impossibly black water, conjuring a subjective emotional state that is both idyllic and harrowing.
The opening of Sugar/Islands on July 11 coincides with a Free Family Day at JANM. Admission to the exhibition, as well as the museum's ongoing Common Ground: The Heart of Community and special Family Day crafts and activities, is free from 11 a.m. to 4 p.m. Additional public programs and special JANM Members Only events will be presented in conjunction with both Before They Were Heroes and Sugar/Islands over the course of their runs.
General admission to JANM is $9 for adults, $5 for youth ages 6 to 17 and seniors age 62 and over. Admission is free for children age 5 and under and JANM members. For more information about Before They Were Heroes, Sugar/Islands, and related public programs, visit janm.org.
# # #
About the Japanese American National Museum (JANM)
Established in 1985, the Japanese American National Museum promotes understanding and appreciation of America's ethnic and cultural diversity by sharing the Japanese American experience. Located in the historic Little Tokyo district of downtown Los Angeles, JANM is a hybrid institution that straddles traditional museum categories and strives to provide a voice for Japanese Americans as well as a forum that enables all people to explore their own heritage and culture. Since opening to the public, JANM has presented over 70 exhibitions onsite and traveled 16 of its exhibitions to locations around the world, including the Smithsonian Institution and the Ellis Island Museum in the United States, and several leading cultural museums in Japan and South America.
JANM is located at 100 N. Central Ave., Los Angeles. Museum hours are Tuesday, Wednesday, Friday, Saturday, and Sunday from 11 a.m. to 5 p.m. and Thursday from noon to 8 p.m. General admission is $9 adults, $5 students and seniors, free for members and children under age five. Admission is free to everyone on Thursdays from 5 p.m. to 8 p.m. and every third Thursday of the month from noon to 8 p.m. General admission prices and free admission times may not apply to specially ticketed exhibitions. Closed Monday, 4th of July, Thanksgiving, Christmas, and New Year's Day. For more information visit janm.org or call 213.625.0414.