FOR IMMEDIATE RELEASE - August 31, 2015
PRESS CONTACTS
Leslie Unger - lunger@janm.org - 213-830-5690

GIANT ROBOT BIENNALE RETURNS TO JANM FOR FOURTH INSTALLMENT
Los Angeles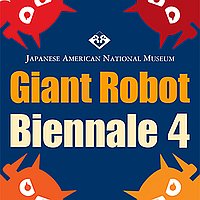 The Japanese American National Museum will open Giant Robot Biennale 4, its fourth exhibition in collaboration with Giant Robot founder, Eric Nakamura, on October 11, 2015. This edition of the popular series, first presented in 2007, will examine the evolution of the Giant Robot aesthetic from its humble origins in drawing to its many celebrated manifestations in painting, installation, muralism, and photography. The show will run through January 24, 2016.
An opening celebration will take place on Saturday, October 10, from 7 p.m. to 10 p.m. This event is free and open to the public, and will feature live and deejay music, food, and a no-host bar.
Giant Robot, a staple of Asian American alternative pop culture, was launched in 1994 as a hand-assembled zine and quickly grew into a worldwide empire. More than two decades after its founding, Giant Robot continues to be regarded as a highly influential brand encompassing many aspects of pop art, skateboarder, comic book, graphic arts, and vinyl toy culture.
"The Giant Robot Biennale exhibitions showcase the very best Japanese American and Asian-inspired art in the country today," said Dr. Greg Kimura, President and CEO of the Japanese American National Museum. "This is a growing area of the art world where some of the most interesting work is currently being done. GRB4 will provoke, inspire, and challenge people's ideas of pop art and fine art. The museum is thrilled to partner with Eric again for this fourth installment."
"Bringing Giant Robot to the Japanese American National Museum is something I always look forward to," said Nakamura. "For Biennale 4, the exploration of drawing is going to both take people back to the roots of the Giant Robot aesthetic and offer them new, exciting works. The unique installation elements we are incorporating are also going to be really special."
The museum's lower-level gallery will be devoted to a variety of drawing styles, ranging from comic books to street art to illustration. Featured artworks will include sketchbooks by James Jean, old and new drawings by Jim Lee, and works by the acclaimed Korean artist Kim Jung Gi.
Among GRB4's especially innovative elements will be a "Giant Robot Room" filled with 50 iconic objects from the history of the brand and a replica of artist Edwin Ushiro's studio, where visitors will be invited to try their own hand at drawing. In addition, artist Katsuya Terada will spend a week creating new works live in the gallery and a video projection of Yumi Sakagawa reading from her acclaimed zines will be featured. Finally, the husband-and-wife team of kozyndan will contribute a special mural at the entrance to the gallery.
The upper-level gallery will focus on the diverse achievements of a range of accomplished artists. Featured will be exemplary paintings and installations by Luke Chueh, Andrew Hem, Mari Inukai, Audrey Kawasaki, Nathan Ota, Mu Pan, and Yoskay Yamamoto. In addition, the alternative photography publisher Hamburger Eyes will contribute an installation of photographs. While showcasing a variety of practices, this collection of work also unites a close cohort of artists, many of whom are colleagues and friends.
Giant Robot Biennale 4 will be presented as part of JANM's Salon Pop series, which spotlights the innovative creative work of Asians and Asian Americans who are influencing American culture.
The Premier Sponsor of Giant Robot Biennale 4 is the Department of Cultural Affairs, City of Los Angeles. Pasadena Art Alliance is a Patron Sponsor and The Rafu Shimpo is Media Sponsor.
General admission to JANM is $9 for adults, $5 for youth ages 6 to 17 and seniors age 62 and over. Admission is free for children age 5 and under and JANM members. For more information about Giant Robot Biennale 4, and related public programs, visit janm.org/grb4.
# # #
Participating Artists
Esao Andrews
Luke Chueh
Hamburger Eyes
Haroshi
Andrew Hem
Mari Inukai
James Jean
Audrey Kawasaki
Kim Jung Gi
kozyndan
Jim Lee
Mike Lee
Nathan Ota
Mu Pan
Yumi Sakugawa
Shizu Saldamando
Masakatsu Sashie
Rob Sato
Amy Sol
Katsuya Terada
Edwin Ushiro
Ai Yamaguchi
Yoskay Yamamoto
# # #
NOW ON VIEW AT JANM:
Before They Were Heroes: Sus Ito's World War II Images
Through September 6, 2015
Susumu "Sus" Ito's WWII photographs were taken while on a tour of duty through Europe as a member of the 442nd RCT's 522nd Field Artillery Battalion. While Ito participated in such dramatic events as the rescue of the Lost Battalion, these rare and breathtaking images capture in humble detail the daily lives of a group of young Japanese American soldiers.
Sugar/Islands: Finding Okinawa in Hawai'i—The Art of Laura Kina and Emily Hanako Momohara
Through September 6, 2015
Paintings by Laura Kina and photographs by Emily Hanako Momohara explore the artists' mixed-heritage roots in Okinawa and Hawai'i, employing unique strategies that blend fiction and reality to question the stability of memory and identity.
Common Ground: The Heart of Community
Ongoing
Incorporating hundreds of objects, documents, and photographs collected by JANM, this exhibition chronicles 130 years of Japanese American history, from the early days of the Issei pioneers through the World War II incarceration to the present.
# # #
About the Japanese American National Museum (JANM)
Established in 1985, the Japanese American National Museum promotes understanding and appreciation of America's ethnic and cultural diversity by sharing the Japanese American experience. Located in the historic Little Tokyo district of downtown Los Angeles, JANM is a hybrid institution that straddles traditional museum categories and strives to provide a voice for Japanese Americans as well as a forum that enables all people to explore their own heritage and culture. Since opening to the public, JANM has presented over 70 exhibitions onsite and traveled 17 of its exhibitions to locations around the world, including the Smithsonian Institution and the Ellis Island Museum in the United States, and several leading cultural museums in Japan and South America.
JANM is located at 100 N. Central Ave., Los Angeles. Museum hours are Tuesday, Wednesday, Friday, Saturday, and Sunday from 11 a.m. to 5 p.m. and Thursday from noon to 8 p.m. General admission is $9 adults, $5 students and seniors, free for members and children under age five. Admission is free to everyone on Thursdays from 5 p.m. to 8 p.m. and every third Thursday of the month from noon to 8 p.m. General admission prices and free admission times may not apply to specially ticketed exhibitions. Closed Monday, 4th of July, Thanksgiving, Christmas, and New Year's Day. For more information visit janm.org or call 213.625.0414.