FOR IMMEDIATE RELEASE - November 30, 2015
PRESS CONTACTS
Leslie Unger - lunger@janm.org - 213-830-5690

JANM ANNOUNCES NEW VP OF EXTERNAL RELATIONS
Los Angeles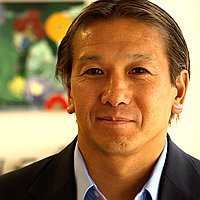 Rick Noguchi has been hired as Vice President of External Relations for the Japanese American National Museum. He began his role on November 16. Noguchi reports to JANM President and CEO Greg Kimura.
The hiring marks a return to the museum for Noguchi, who previously held positions there in public programs and development. He has more than 20 years of experience in the nonprofit sector, serving in various management, fundraising, and philanthropic positions at UCLA, the California Community Foundation, and The James Irvine Foundation. He holds a masters of business administration and a masters of fine arts, and is the author of two collections of poetry and a children's book set during post-World War II.
"Rick will be a tremendous asset to the Japanese American National Museum, bringing expertise from both sides of the funding equation," said Kimura. "He has a deep understanding of JANM and its goals, and is a strategic thinker always looking toward the future. In addition, the staff and volunteers of our museum are truly like a family so I'm proud to be able to welcome Rick back home."
"I have always believed in and been committed to the mission of the Japanese American National Museum," said Noguchi. "I am delighted to return at a time when the museum's work is especially critical in reminding us all about the importance of safeguarding our civil liberties while also promoting the relevance of our overall story to future generations."
As Vice President of External Relations at JANM, Noguchi will manage the Fundraising and Development Unit tasked with securing foundation and government grants, corporate sponsorships, and individual gifts, as well as maintaining existing donor relations. He will oversee the staff, consultants, and volunteers who produce museum special events, including the annual Gala Dinner and Silent Auction. In addition, Noguchi will oversee the Marketing and Communications Unit, providing direction on JANM's positioning and messaging.
# # #
NOW ON VIEW AT JANM:
Giant Robot Biennale 4
Through January 24, 2016
Giant Robot Biennale 4, produced in collaboration with Giant Robot founder Eric Nakamura, examines the evolution of the Giant Robot aesthetic from its humble origins in drawing to its many celebrated manifestations in painting, installation, muralism, and photography.
Common Ground: The Heart of Community
Ongoing
Incorporating hundreds of objects, documents, and photographs collected by JANM, this exhibition chronicles 130 years of Japanese American history, from the early days of the Issei pioneers through the World War II incarceration to the present.
# # #
About the Japanese American National Museum (JANM)
Established in 1985, the Japanese American National Museum promotes understanding and appreciation of America's ethnic and cultural diversity by sharing the Japanese American experience. Located in the historic Little Tokyo district of downtown Los Angeles, JANM is a hybrid institution that straddles traditional museum categories and strives to provide a voice for Japanese Americans as well as a forum that enables all people to explore their own heritage and culture. Since opening to the public, JANM has presented over 70 exhibitions onsite and traveled 17 of its exhibitions to locations around the world, including the Smithsonian Institution and the Ellis Island Museum in the United States, and several leading cultural museums in Japan and South America.
JANM is located at 100 N. Central Ave., Los Angeles. Museum hours are Tuesday, Wednesday, Friday, Saturday, and Sunday from 11 a.m. to 5 p.m. and Thursday from noon to 8 p.m. General admission is $9 adults, $5 students and seniors, free for members and children under age five. Admission is free to everyone on Thursdays from 5 p.m. to 8 p.m. and every third Thursday of the month from noon to 8 p.m. General admission prices and free admission times may not apply to specially ticketed exhibitions. Closed Monday, 4th of July, Thanksgiving, Christmas, and New Year's Day. For more information visit janm.org or call 213.625.0414.