FOR IMMEDIATE RELEASE - January 29, 2016
PRESS CONTACTS
Leslie Unger - lunger@janm.org - 213-830-5690

JAPANESE AMERICAN NATIONAL MUSEUM MOURNS THE LOSS OF DR. PAUL TERASAKI
Los Angeles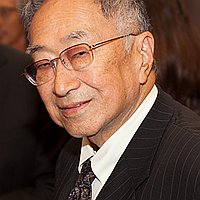 The Japanese American National Museum is deeply saddened by the death of long-time supporter Dr. Paul Terasaki, who passed away January 25. He was 86 years old.
Terasaki first became involved with the Japanese American National Museum in 1991, when he and his wife Hisako made a Pacesetters Gift to the museum's campaign to restore the former Nishi Hongwanji Buddhist Temple building, where the museum first opened to the public. Over the decades, his generosity helped support a wide range of the National Museum's initiatives. In particular, Terasaki was a sponsor of the JANM Gala Dinner starting in 2002, and since 2008, The Terasaki Family Foundation has been a Signature Sponsor of the event. Gifts from the Terasakis also helped build the orientation theater and garden café in the Pavilion building that now houses the museum; both spaces bear the Terasaki name.
In 2004, JANM presented Terasaki with a lifetime achievement award for his contributions in furthering the National Museum's mission in sharing the Nisei legacy—the personal stories of the remarkable generation that came of age during World War II and went on to rebuild their lives and fulfill the promise of America.
Terasaki was born in 1929 in the Boyle Heights neighborhood of Los Angeles. For three years, starting at the age of 12, he was incarcerated with his family at the Gila River concentration camp in Arizona during World War II. Following the conclusion of the war, Terasaki's family moved to Chicago. After high school, he entered the University of Illinois at Navy Pier as a pre-med student and in 1948, he was admitted to UCLA as a transfer student. There, he earned his bachelor's degree, master's degree, and PhD in zoology. He then received a postdoctoral fellowship in London, working under Peter Medawar, who is often considered the founder of the field of transplantation. Terasaki served as a UCLA professor of surgery from 1969 to 1999, when he retired. He then created the Terasaki Foundation Laboratory, dedicated to the study of antibodies to transplants.
"Paul Terasaki was an extraordinary man who not only achieved greatness in his own life and work, but truly understood what it meant to give back to his community," stated Norman Y. Mineta, Chairman of the Board of Trustees of the Japanese American National Museum. "He shared his generosity with many places and institutions, including the Japanese American National Museum, and for those gifts in particular we will be eternally grateful."
"Dr. Terasaki's work extended the range of human knowledge in the biological sciences. It also literally extended the lives of thousands of folks who benefited from the discoveries and advancements he made as a research scientist, especially in the area of tissue transplants," said Greg Kimura, President and CEO of JANM.
"But his support extended beyond science at his beloved UCLA, where the Life Sciences Building bears his name. His generous gift led to the renamed Terasaki Center for Japanese Studies there, and he was a true supporter of the arts, economics, culture, and humanities, including the US-Japan Council, the Japanese American Cultural and Community Center, and, of course, the Japanese American National Museum.
"I frequently visited Dr. and Mrs. Terasaki and was humbled to be welcomed not only at the Terasaki Foundation but also their home. He was a genuinely wise and warm individual, whose advice I often sought and now will sorely miss. His was an intellect that only comes around every few generations and our community and world were fortunate to have him," said Kimura.
Funeral services will be held February 6, at 2 p.m., at First United Methodist Church of Santa Monica (1008 11th Street, Santa Monica). A memorial service will be held on March 6, at 11 a.m., at UCLA's Royce Hall.