FOR IMMEDIATE RELEASE - April 8, 2016
PRESS CONTACTS
Leslie Unger - lunger@janm.org - 213-830-5690

ORIGAMI EXHIBITION TO UNFOLD AT JANM
Los Angeles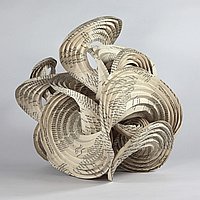 The Japanese American National Museum will present Above the Fold: New Expressions in Origami, a traveling exhibition featuring the work of nine contemporary artists working in six different countries, from May 29 to August 21, 2016.
Origami—the Japanese tradition of folding paper into recognizable objects—dates back at least 1,000 years, with possible roots in Shinto purification rituals and gift exchanges among the nobility. By the 18th century, the practice had come into popular use, and in the mid-20th century, it was further modernized and popularized by Akira Yoshizawa, who is considered the first true "origami artist." Yoshizawa created enchanting new designs and introduced a system of notation for origami folds that become the international standard. Today, origami is so popular that it is practiced all around the world.
In the hands of a number of extraordinary contemporary artists, the art form has recently been evolving in remarkable new directions, including sculpture, large-scale installations, and conceptual works. Above the Fold: New Expressions in Origami presents the work of nine renowned artists working in six different countries and ranging in age from 29 to 71. These artists—Erik Demaine and Martin Demaine (Canada/US), Vincent Floderer (France), Miri Golan (Israel), Paul Jackson (UK/Israel), Robert J. Lang (US), Yuko Nishimura (Japan), Richard Sweeney (UK), and Jiangmei Wu (China/US)—have been pushing the boundaries of origami to elevate what was once considered a children's craft into a sophisticated global art form. Each work, created specifically for this touring exhibition, presents a unique perspective on contemporary social, political, and aesthetic ideas.
Above the Fold demonstrates how origami has become a multifaceted method of artistic expression. It is increasing in size, with larger single sheets or multiple modules being formed into large-scale sculptures that blend geometry and grace. It is creased and crumpled to create fantastic new worlds inhabited by life-like organisms, and it is folded along curved lines to twist and swirl in unexpected directions, sometimes inside of other materials. Some artists have even employed mathematical theorems to solve folding problems and advance the capabilities of the medium. Now, origami not only expresses the beauty and spirit of natural forms such as birds and animals, but it also touches on religious, social, and political ideas—moving the viewer with both the intricacy of its craft and the power of the artist's message.
Above the Fold: New Expressions in Origami is curated by Asian art specialist Meher McArthur and toured by International Arts & Artists, Washington, DC. For more information about the exhibition and related public programs, visit janm.org.
# # #
NOW ON VIEW AT JANM:
Two Views: Photographs by Ansel Adams and Leonard Frank
Through April 24, 2016
Two Views: Photographs by Ansel Adams and Leonard Frank examines the forced incarceration of citizens of Japanese descent who were living in the western coastal regions. Ansel Adams's photographs reveal the harsh daily life and resilience of the 10,000 Japanese Americans incarcerated at the Manzanar War Relocation Center, while Leonard Frank's images capture the movement of Japanese Canadians through British Columbia's bureaucratic systems. Two Views is a traveling exhibition organized by the Nikkei National Museum.
Making Waves: Japanese American Photography, 1920–1940
Through June 26, 2016
Making Waves: Japanese American Photography, 1920–1940 is an in-depth examination of the contributions of Japanese Americans to photography, particularly modernist photography, much of which was lost as a result of the mass incarceration of Japanese Americans during World War II. The exhibition, curated by photography historian and educator Dennis Reed, presents 103 surviving works from that period alongside artifacts and ephemera that help bring the era to life.
Common Ground: The Heart of Community
Ongoing
Incorporating hundreds of objects, documents, and photographs collected by JANM, this exhibition chronicles 130 years of Japanese American history, from the early days of the Issei pioneers through the World War II incarceration to the present.
# # #
About the Japanese American National Museum (JANM)
Established in 1985, the Japanese American National Museum promotes understanding and appreciation of America's ethnic and cultural diversity by sharing the Japanese American experience. Located in the historic Little Tokyo district of downtown Los Angeles, JANM is a hybrid institution that straddles traditional museum categories and strives to provide a voice for Japanese Americans as well as a forum that enables all people to explore their own heritage and culture. Since opening to the public, JANM has presented over 70 exhibitions onsite and traveled 17 of its exhibitions to locations around the world, including the Smithsonian Institution and the Ellis Island Museum in the United States, and several leading cultural museums in Japan and South America.
JANM is located at 100 N. Central Ave., Los Angeles. Museum hours are Tuesday, Wednesday, Friday, Saturday, and Sunday from 11 a.m. to 5 p.m. and Thursday from noon to 8 p.m. General admission is $9 adults, $5 students and seniors, free for members and children under age five. Admission is free to everyone on Thursdays from 5 p.m. to 8 p.m. and every third Thursday of the month from noon to 8 p.m. General admission prices and free admission times may not apply to specially ticketed exhibitions. Closed Monday, 4th of July, Thanksgiving, Christmas, and New Year's Day. For more information visit janm.org or call 213.625.0414.