FOR IMMEDIATE RELEASE - June 6, 2016
PRESS CONTACTS
Leslie Unger - lunger@janm.org - 213-830-5690

DODGERS MANAGER DAVE ROBERTS TO SPEAK AT JAPANESE AMERICAN NATIONAL MUSEUM
Los Angeles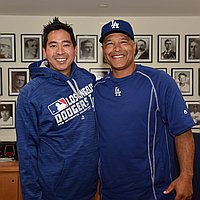 Dave Roberts, the first ethnic minority manager of the Los Angeles Dodgers will give a talk about his life and career at the Japanese American National Museum on Saturday, June 18, at 10:30 a.m. The discussion will be moderated by Scott Akasaki, the Dodgers' Director of Team Travel. Roberts will discuss his history and future with the Dodgers; how his half-Japanese, half-African American background has informed his perspective; his current role as manager of a storied franchise; and opinions on his players including Japanese pitcher Kenta Maeda.
Roberts will be available to sign items for attendees after the program, limit one item per person. The event is presented as part of the museum's Tateuchi Public Program series. The series, organized in partnership between the Atsuhiko and Ina Goodwin Tateuchi Foundation and the Japanese American National Museum, develops presentations that explore the connections between Japan and the United States in the context of politics, art, music, and culture.
Admission is $9 for the public and free for JANM members. Seating is limited; RSVPs are required for members and pre-payment is required for non-members. Museum admission is included. For more information, visit janm.org.
# # #
NOW ON VIEW AT JANM:
Making Waves: Japanese American Photography, 1920–1940
Through June 26, 2016
Making Waves: Japanese American Photography, 1920–1940 is an in-depth examination of the contributions of Japanese Americans to photography, particularly modernist photography, much of which was lost as a result of the mass incarceration of Japanese Americans during World War II. The exhibition, curated by photography historian and educator Dennis Reed, presents 103 surviving works from that period alongside artifacts and ephemera that help bring the era to life.
Above the Fold: New Expressions in Origami
Through August 21, 2016
With this inventive exhibition, the traditional Japanese art of origami—folding paper into three-dimensional figures—is transformed from a childhood pastime into a sophisticated international art form. Nine contemporary artists, working in six different countries and ranging in age from 29 to 71, present a bold and innovative group of folded-paper works that include sculpture, large-scale installation, and conceptual pieces. Above the Fold is curated by Meher McArthur and toured by International Arts & Artists, Washington, DC.
Common Ground: The Heart of Community
Ongoing
Incorporating hundreds of objects, documents, and photographs collected by JANM, this exhibition chronicles 130 years of Japanese American history, from the early days of the Issei pioneers through the World War II incarceration to the present.
# # #
About the Japanese American National Museum (JANM)
Established in 1985, the Japanese American National Museum promotes understanding and appreciation of America's ethnic and cultural diversity by sharing the Japanese American experience. Located in the historic Little Tokyo district of downtown Los Angeles, JANM is a hybrid institution that straddles traditional museum categories and strives to provide a voice for Japanese Americans as well as a forum that enables all people to explore their own heritage and culture. Since opening to the public, JANM has presented over 70 exhibitions onsite and traveled 17 of its exhibitions to locations around the world, including the Smithsonian Institution and the Ellis Island Museum in the United States, and several leading cultural museums in Japan and South America.
JANM is located at 100 N. Central Ave., Los Angeles. Museum hours are Tuesday, Wednesday, Friday, Saturday, and Sunday from 11 a.m. to 5 p.m. and Thursday from noon to 8 p.m. General admission is $9 adults, $5 students and seniors, free for members and children under age five. Admission is free to everyone on Thursdays from 5 p.m. to 8 p.m. and every third Thursday of the month from noon to 8 p.m. General admission prices and free admission times may not apply to specially ticketed exhibitions. Closed Monday, 4th of July, Thanksgiving, Christmas, and New Year's Day. For more information visit janm.org or call 213.625.0414.