FOR IMMEDIATE RELEASE - September 12, 2016
PRESS CONTACTS
Leslie Unger - lunger@janm.org - 213-830-5690

JANM BEGINS WORK ON NATIONAL PARK SERVICE-FUNDED PROJECTS
Los Angeles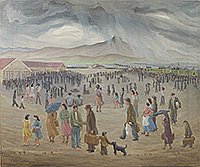 Utilizing a total of more than $115,000 from two National Park Service Japanese American Confinement Sites grants for 2016, the Japanese American National Museum (JANM) has begun conservation work on the Allen Hendershott Eaton Collection of art and artifacts, and will soon begin digitization of the Gihachi and Tsugio Yamashita Collection for an interactive website that chronicles one family's journeys during World War II.
JANM acquired the Eaton Collection in 2015, following the cancellation of a public auction that would have disrespected the memory and hardships of the Japanese Americans who created the artifacts while incarcerated during World War II. The Japanese American community joined together to speak out against the auction; JANM's acquisition assured the preservation of the collection in perpetuity.
Conservation work has already been completed on two oil paintings and one painted wood sign in the Eaton Collection. Work has begun on 25 paper artifacts—mostly watercolors—prioritized based on their current condition. The $41,485 from the JACS grant will help fund conservation of an additional 12 paper artifacts when the first 25 are completed. Money was also put toward evaluation of more than 100 three-dimensional objects to determine their conservation needs.
"Meet the Yamashitas: An Interactive Website" will make available to the public letters, telegrams, photographs, diaries, scrapbooks, and camp crafts from the museum's Yamashita Collection. Gihachi Yamashita was arrested by the FBI on December 8, 1941—the day after Pearl Harbor was bombed by Japanese Naval Forces. He was held in a series of jails and internment camps, separated from his wife Tsugio and their two young daughters, Lillian and Angela, who, soon after Gihachi's arrest, were sent to the Japanese American concentration camp in Rohwer, Arkansas. It wasn't until 1944 that the family was reunited at Rohwer. After World War II ended, the family went first to Salt Lake City then returned to Los Angeles to restart their lives.
The JACS grant of over $74,000 will support digitization of the Yamashita Collection, including seven 16mm home movies; help pay for translation of the Japanese language portions of the collection, including Gihachi's diaries and scrapbook; and partially fund the development of a microsite allowing the public to explore and study the Yamashita Collection and the family's war-time experiences.
National Park Service Director Jonathan B. Jarvis first announced the 2016 grant recipients at a reception for the All Camps Consortium hosted by the Embassy of Japan in Washington, DC, on May 12.
The JANM grant proposals were selected through a competitive process. For 2016, grants totaling $2.8 million were awarded to fifteen projects in five state. Since its establishment in 2006, the grant program has awarded more than $21 million. A total of $38 million was authorized for the life of the program whose mission is to teach future generation about the injustices of the World War II confinement of Japanese Americans and inspire commitment to equal justice under the law.
# # #
NOW ON VIEW AT JANM:
Tatau: Marks of Polynesia
Through January 8, 2017
Tatau: Marks of Polynesia explores Samoan tattoo practice through photographs that showcase the work of traditional tatau masters alongside more contemporary manifestations of the art form. Curated by author and master tattoo artist Takahiro "Ryudaibori" Kitamura with photography by John Agcaoili, Tatau highlights the beauty of the Samoan tattoo tradition as well as its key role in the preservation and propagation of Samoan culture.
Common Ground: The Heart of Community
Ongoing
Incorporating hundreds of objects, documents, and photographs collected by JANM, this exhibition chronicles 130 years of Japanese American history, from the early days of the Issei pioneers through the World War II incarceration to the present.
# # #
About the Japanese American National Museum (JANM)
Established in 1985, the Japanese American National Museum promotes understanding and appreciation of America's ethnic and cultural diversity by sharing the Japanese American experience. Located in the historic Little Tokyo district of downtown Los Angeles, JANM is a hybrid institution that straddles traditional museum categories and strives to provide a voice for Japanese Americans as well as a forum that enables all people to explore their own heritage and culture. Since opening to the public, JANM has presented over 70 exhibitions onsite and traveled 17 of its exhibitions to locations around the world, including the Smithsonian Institution and the Ellis Island Museum in the United States, and several leading cultural museums in Japan and South America.
JANM is located at 100 N. Central Ave., Los Angeles. Museum hours are Tuesday, Wednesday, Friday, Saturday, and Sunday from 11 a.m. to 5 p.m. and Thursday from noon to 8 p.m. General admission is $10 adults, $6 students and seniors, free for members and children under age five. Admission is free to everyone on Thursdays from 5 p.m. to 8 p.m. and every third Thursday of the month from noon to 8 p.m. General admission prices and free admission times may not apply to specially ticketed exhibitions. Closed Monday, 4th of July, Thanksgiving, Christmas, and New Year's Day. For more information visit janm.org or call 213.625.0414.