FOR IMMEDIATE RELEASE - March 24, 2017
PRESS CONTACTS
Leslie Unger - lunger@janm.org - 213-830-5690

JAPANESE AMERICAN NATIONAL MUSEUM TRUSTEES SELECT ANN BURROUGHS AS PRESIDENT AND CEO
Los Angeles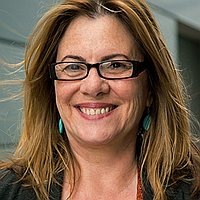 The Board of Trustees of the Japanese American National Museum today announced that Ann Burroughs has been named President and CEO of the museum. Burroughs had been serving in those roles in an interim capacity since June 2016.
"Ann has been a skillful leader of the Japanese American National Museum since her first day on the job. She quickly earned the respect and admiration of the museum's boards, staff, volunteers, supporters, and the community at large," said Norman Y. Mineta, Chair of the Board of Trustees. "She has helped articulate a vision for the museum that has resonated deeply with me, my fellow trustees, and our governors."
Chairman Mineta added, "During Ann's tenure as interim President and CEO, we came to recognize that her deep professional experience, her vision, and her passion for our mission made her ideally suited to the position. I know that Ann is the right person to lead the museum at this important time."
Burroughs brings more than 25 years of experience in nonprofit leadership and management, resource development, strategic planning, and strategic communications. She has worked at the executive director level, as an interim director, as a member of senior management teams, as a nonprofit consultant, and as an executive coach. She has deep experience working with organizations in transition, and with diverse communities in the US as well as multiple countries abroad. Burroughs is currently the Chair of the Board of Directors of Amnesty International USA, and has served on several other boards.
"The Japanese American National Museum is an incredibly vital and vibrant institution, with board leadership, staff, and volunteers who all demonstrate deep devotion and commitment to the important mission of the museum," said Burroughs. "I'm honored to continue on as President and CEO, and I am committed to reinvigorating and finding new ways to advance the museum's key values, emphasizing the importance of being vigilant about democracy and stressing the value of diversity in our world today."
Burroughs's work with Amnesty International USA is particularly meaningful to her because as a young activist in her native South Africa, she was imprisoned as a result of her anti-apartheid activism, and Amnesty International helped to secure her release.
Prior to coming to JANM, Burroughs most recently served as Senior Consultant at Social Sector Partners, an organization that focuses on supporting social sector organizations through strategic adaptation and repositioning. She previously served as Executive Director of the Taproot Foundation in Los Angeles and as the Executive Director of LA Works. She has also been a consultant to the Rockefeller Foundation in its Communications for Social Change Initiative, to HandsOn Network in its corporate engagement program, and to the government of South Africa.
# # #
NOW ON VIEW AT JANM:
Special Display—Only the Oaks Remain: The Story of Tuna Canyon Detention Station
Through April 9, 2017
This special display tells the true stories of those targeted as dangerous enemy aliens and imprisoned in the Tuna Canyon Detention Station, located in the Tujunga neighborhood of Los Angeles, by the US Department of Justice during World War II. Photographs, letters, and diaries bring the experiences of imprisoned Japanese, German, and Italian immigrants and Japanese Peruvians to life. This project was organized by the Tuna Canyon Detention Station Coalition; funded, in part, by a grant from the US Department of the Interior, National Park Service, Japanese American Confinement Sites Grant Program; and sponsored by the San Fernando Valley Japanese American Community Center.
Instructions to All Persons: Reflections on Executive Order 9066
Through August 13, 2017
Instructions to All Persons: Reflections on Executive Order 9066, commemorates the 75th anniversary of President Franklin Roosevelt's signing of Executive Order 9066, which led to the tragic and unlawful incarceration of 120,000 individuals of Japanese ancestry during World War II. Instructions to All Persons is intended to engage visitors in critical discussions of the Japanese American incarceration experience and its continuing relevance today. It aims to examine the social impact of language and encourage viewers to contemplate the lessons of the past, as well as to compare World War II experiences with current events.
New Frontiers: The Many Worlds of George Takei
Through August 20, 2017
New Frontiers: The Many Worlds of George Takei explores the life and career of pioneering actor, activist, and social media icon George Takei. By examining Takei's diverse experiences and achievements, this entertaining exhibition creates a portrait of a unique individual while offering an innovative means of engaging with the social history of America.
Common Ground: The Heart of Community
Ongoing
Incorporating hundreds of objects, documents and photographs collected by JANM, this exhibition chronicles 130 years of Japanese American history, from the early days of the Issei pioneers through the World War II incarceration to the present.
# # #
About the Japanese American National Museum (JANM)
Established in 1985, the Japanese American National Museum promotes understanding and appreciation of America's ethnic and cultural diversity by sharing the Japanese American experience. Located in the historic Little Tokyo district of downtown Los Angeles, JANM strives to provide a voice for Japanese Americans as well as a forum that enables all people to explore their own heritage and culture as well as the meaning of democracy and civil rights in America. Since opening to the public, JANM has presented over 70 exhibitions onsite and traveled 17 of its exhibitions to locations around the world, including the Smithsonian Institution and the Ellis Island Museum in the United States, and several leading cultural museums in Japan and South America.
JANM is located at 100 N. Central Ave., Los Angeles. Museum hours are Tuesday, Wednesday, Friday, Saturday, and Sunday from 11 a.m. to 5 p.m. and Thursday from noon to 8 p.m. General admission is $10 adults, $6 students and seniors, free for members and children under age five. Admission is free to everyone on Thursdays from 5 p.m. to 8 p.m. and every third Thursday of the month from noon to 8 p.m. General admission prices and free admission times may not apply to specially ticketed exhibitions. Closed Monday, 4th of July, Thanksgiving, Christmas, and New Year's Day. For more information visit janm.org or call 213.625.0414.