FOR IMMEDIATE RELEASE - September 22, 2017
PRESS CONTACTS
Leslie Unger - lunger@janm.org - 213-830-5690

TRANSPACIFIC MUSICLANDS OUTDOOR CONCERT SET FOR JAPANESE AMERICAN NATIONAL MUSEUM
Los Angeles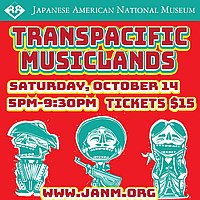 In conjunction with its new Transpacific Borderlands: The Art of Japanese Diaspora in Lima, Los Angeles, Mexico City, and São Paulo exhibition, the Japanese American National Museum will present Transpacific Musiclands, an outdoor concert celebrating cultural exchange between East Los Angeles and Japan on Saturday, October 14, from 5 p.m. to 9:30 p.m. Tickets for Transpacific Musiclands are on sale now for $15 for the general public and $12 for JANM members. Tickets include museum admission on the day of the concert, when galleries will remain open for concertgoers until 8 p.m.
Featured acts will include Quetzal and El Haru Kuroi, two Afro-Latino jazz-rock fusion bands from East Los Angeles; La Chamba, a Los Angeles–based band with Peruvian and psychedelic roots; and members of Conjunto J, a group from Japan that plays Mexican border music. Also joining in throughout the evening will be Maceo Hernandez of East LA Taiko; Tex Nakamura, formerly of WAR; LA's 2014 Poet Laureate Luis J. Rodriguez; and Ruben Funkahuatl Guevara, formerly of Ruben and the Jets. There will be DJ sets by Gomez Comes Alive and Shin Miyata.
Concertgoers will have access to food trucks and a beer garden (age 21 and over only). Food and beverages are not included in the ticket price.
Transpacific Musiclands has been curated for the museum by Shin Miyata, a Tokyo-based music promoter, record label owner, and cultural ambassador. For over 20 years, Miyata has introduced authentic and diverse Chicano artistic expression to the Japanese public by distributing Chicano music and organizing shows by bands from East LA.
The Transpacific Borderlands exhibition is part of Pacific Standard Time: LA/LA, a Getty-led initiative exploring Latin American and Latino art in dialogue with Los Angeles. The presenting sponsor of PST: LA/LA is Bank of America.
The exhibition examines the experiences of artists of Japanese ancestry born, raised, or living in either Latin America or predominantly Latin American neighborhoods of Southern California. It shows how ethnic communities, racial mixing, and the concepts of homeland and cosmopolitanism inform the creativity and aesthetics of this hybrid culture.
Transpacific Borderlands: The Art of Japanese Diaspora in Lima, Los Angeles, Mexico City, and São Paulo is on view through February 25, 2018. It is accompanied by a catalog featuring full-color images and essays by the exhibition's four curators along with writings by scholars of immigration and diversity from across the Americas. The catalog is available at the museum in the JANM Store as well as online at janmstore.com.
Major support for this exhibition and the accompanying publication is provided through grants from the Getty Foundation. Generous support for Transpacific Borderlands has also been provided by the National Endowment for the Arts. Additional support is from the Kosasa Foundation and the Pasadena Art Alliance.
The Transpacific Musiclands concert is co-produced by Barrio Gold Records, Miyata's label, and supported by the Los Angeles County Arts Commission. Tickets are available at janm.org.
# # #
About the Japanese American National Museum (JANM)
Established in 1985, the Japanese American National Museum promotes understanding and appreciation of America's ethnic and cultural diversity by sharing the Japanese American experience. Located in the historic Little Tokyo district of downtown Los Angeles, JANM is a hybrid institution that straddles traditional museum categories and strives to provide a voice for Japanese Americans as well as a forum that enables all people to explore their own heritage and culture. Since opening to the public, JANM has presented over 70 exhibitions onsite and traveled 17 of its exhibitions to locations around the world, including the Smithsonian Institution and the Ellis Island Museum in the United States, and several leading cultural museums in Japan and South America.
JANM is located at 100 N. Central Ave., Los Angeles. Museum hours are Tuesday, Wednesday, Friday, Saturday, and Sunday from 11 a.m. to 5 p.m. and Thursday from noon to 8 p.m. General admission is $12 adults, $6 students and seniors, free for members and children under age five. Admission is free to everyone on Thursdays from 5 p.m. to 8 p.m. and every third Thursday of the month from noon to 8 p.m. General admission prices and free admission times may not apply to specially ticketed exhibitions. Closed Monday, 4th of July, Thanksgiving, Christmas, and New Year's Day. For more information visit janm.org or call 213.625.0414.
About Pacific Standard Time: LA/LA
Pacific Standard Time: LA/LA is a far-reaching and ambitious exploration of Latin American and Latino art in dialogue with Los Angeles. Supported by grants from the Getty Foundation, Pacific Standard Time: LA/LA takes place from September 2017 through January 2018 at more than 70 cultural institutions across Southern California, from Los Angeles to Palm Springs, and from San Diego to Santa Barbara. Pacific Standard Time is an initiative of the Getty. The presenting sponsor is Bank of America.